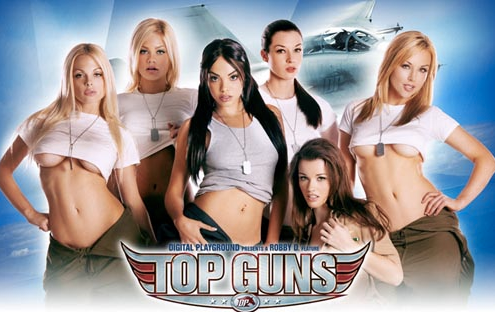 Studio
Based on
Starring
Jesse Jane, Kayden Kross, Raven Alexis,Riley Steele, Selena Rose, Stoya, Ben English, Charles Dera, Erik Everhard, Marcus London, Mick Blue, Scott Nails, and Tommy Gunn in sexual roles with Cody Bangs, Frank Bukkwyd, and more in non-sex roles.
StudioDigital Playground
StarringJesse Jane, Kayden Kross, Raven Alexis,Riley Steele, Selena Rose, Stoya, Ben English, Charles Dera, Erik Everhard, Marcus London, Mick Blue, Scott Nails, and Tommy Gunn in sexual roles with Cody Bangs, Frank Bukkwyd, and more in non-sex roles.
Based on

Top Gun by Tony Scott
Top Guns
"Top Guns" is one of Digital Playground's major big budget features. Jesse Jane ( and Riley Steele, the new top guns in the Air Force oppose the best pilots out there, but also have their direct competition Kayden Kross and Stoya. The stories of the Hollywood classic Top gun and this amazing drama-parody are intertwined at some point, but Digital Playground and the director Robby D also wanted to tell their own tale and to remain original to some level. This exciting movie that's chock full of narrow escapes, chases, and battles – just what every fun of Hollywood's hit fan would love to see, with the hottest girls this industry can offer, will take your breath away. The release is a Blu-Ray/DVD combo, the video and audio quality is very high, so this movie has everything to satisfy a porn parody fan needs.
The Scenes
The first scene brings together Jesse and Erik Everhard, as he tries to seduce her. They are alone in the bathroom, chatting, and after they shared some words he makes a move and kisses her. Then he starts to tear her uniform down and start licking her pussy, as she sits on the bathroom counter, before she gets to her knees and starts blowing him very skillfully. The sex was very good, in various positions, from missionary and doggy-style to reverse cowgirl, followed by a nice facial.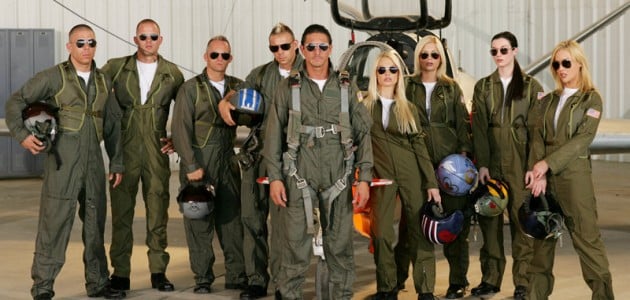 Between the sex scenes we can see how the competition increases between girls and boys in the Air Force, but also between main competitors in girl troop – Kayden (who is playing Val Kilmer's role) and Jesse (who is playing Tom Cruise role). Girls play some volleyball against guys to settle some disputes (and get their asses kicked), and after that, in the locker room, Raven Alexis joins the girls and tells them to stop fighting each other and work together to beat the boys where it matters the most – in the air.
In scene two Stoya asks Mick Blue to give her a few lessons, and after some seduction she starts stripping and invites him to taste her hairy pussy. You can see how much she enjoyed it, before she drops down and gives him a great blow, with some stroking and great eye contact mixed in. The scene is not very long, and right after some missionary and doggy pounding (which was great), he drops his load that landed mostly in her mouth.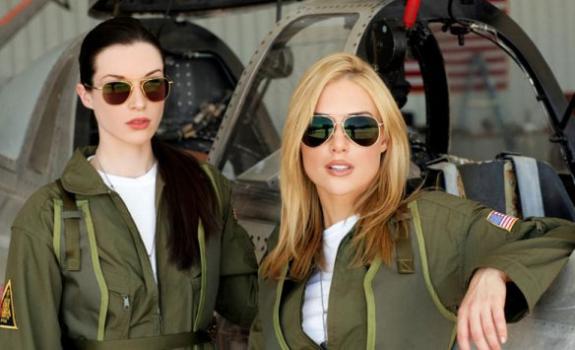 Next day was the day for test result – all of them gathered together to pass out the tests, the girls did it well and the men not that well. Riley left a note on Marcus London's notebook, which was an introduction to the next sex scene.
Riley sees Marcus at the local bar, comes to his table and asks him if he'd want a dance. After realizing the meaning of this offer, he finds out that he is going to be lucky. She starts to striptease and he can't get eyes off of her beautiful ass, so he starts touching her from behind and eating her pussy hardly. She returns a favor with a sloppy blowjob and shortly after that turns around for some great pounding. After some more fucking, as she was sitting on a chair, he pops on her leg and pussy.
Scene four takes place in the men's locker room. After all the boys went out except Scott Nails (who came back for something), Kayden Kross comes in. Now we have a couple of top notch pilots and a lot of heat and attraction between them. They start kissing hard after she handed him her panties, but she wanted more pleasure, so she pushes his head down to her pussy for some great oral work. Then he turns her to doggy for some more oral, now focusing on her ass. There was some great sex, too –doggy reverse cowgirl and missionary, right before beat off his semen to her face.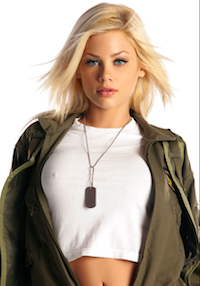 In scene five we have 6 girls against one guy – Tommy Gun. Selena Rose, Stoya, Kayden Kross, Riley Steele and Jesse Jane come to hangar to see if he'd like to fly with them, and after a short time they are getting it on. They even let mechanic Selena join in. All of them lined up, so he can fuck each of them from behind in a row. Tommy changed girls and fucked them in many positions (vaginally), but there was also some great lesbian action between these hot girls, before he pops in Selena mouth to conclude this awesome orgy.
The final scene brings together hot brunette Raven Alexis and Ben English, after she was impressed by his compliments towards women not only in military but everywhere. That meant so much to her, that she went to his office and gave him an experience that he'll never forget. She let him taste her boobies, before he puts her on the table and eats her pussy. The sex was hot, reverse, doggie, missionary and cowgirl made him plash her face pretty good, as a final touch to this scene.
Bonus scene involves Jesse Jane, Riley Steele and Scott Nails. Scott interrupts Jesse and Riley in their solo toy playing and they unite to make him "pay" for that, by giving him a great blowjob, after which they shared a load of his cum. 
Summary
This is one of the greatest movies of its kind by Digital Playground, and it shouldn't surprise because it's a big budget movie, with porn stars that other studios can only dream of. The story is well written and adapted for porn version of '80s blockbuster Top Gun, so you don't have go fast forward at any point, you could just sit down and enjoy. 
Top Guns is an exclusive of DigitalPlayground.com – 1 Month Full Access for $19.95 instead of $29.95 (Use the link below to get the discount) 
*Members only
Details
Release date
Directed by
Produced by
Running time
Country
Language
Awards
2012 XBIZ - Best Special Effects; 2012 XBIZ - Best Supporting Actress; 2012 XBIZ - Parody Release of the Year Drama
Release date

March 2011

Directed by

Robby D.

Produced by

Digital Playground

Running time

152 min.

Country

U.S.A

Language

English

Awards

2012 XBIZ - Best Special Effects; 2012 XBIZ - Best Supporting Actress; 2012 XBIZ - Parody Release of the Year Drama