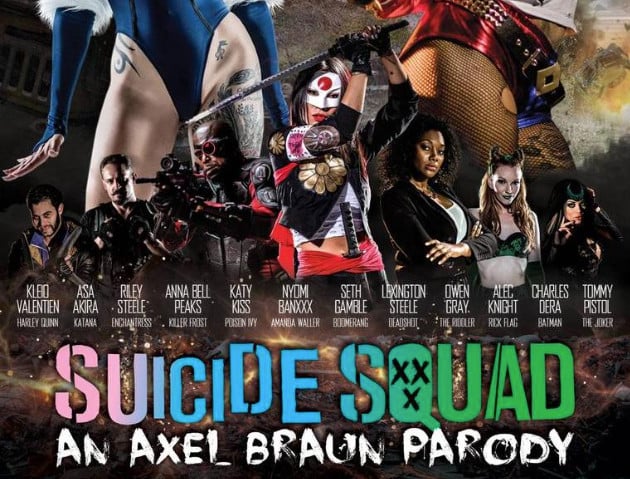 Studio
Based on
Suicide Squad - 2016 American Superhero film based on the DC Comics
Starring
Riley Steele, Asa Akira, Kleio Valentien, Anna Bell Peaks , Nyomi Banxxx, Katy Kiss, Lexington Steele, Alec Knight, Tommy Pistol, Charles Dera, Seth Gamble, Owen Gray
StudioWicked Pictures
StarringRiley Steele, Asa Akira, Kleio Valentien, Anna Bell Peaks , Nyomi Banxxx, Katy Kiss, Lexington Steele, Alec Knight, Tommy Pistol, Charles Dera, Seth Gamble, Owen Gray
Based on

Suicide Squad - 2016 American Superhero film based on the DC Comics

You could say that 2016 is definitely the year of superheroes and comic book adaptations. Earlier this year we had DC comics' Batman V Superman adaptation and it was a huge hit. It was a great opportunity for the best porn parody director Axel Braun to show his magnificent talent and give us a great XXX spoof called Batman V Superman XXX: An Axel Braun Parody. Only a couple of weeks later Braun issued another amazing porn parody called Supergirl XXX: An Axel Braun Parody for the same studio – Wicked Comix. In his "fourth Wicked Comix title, the legendary Adult film director takes on the most anticipated superhero movie of the summer with another hi-budget sexy spoof." Finally, the time has come for anti-heroes to be in the spotlight in the newest blockbuster called Suicide Squad.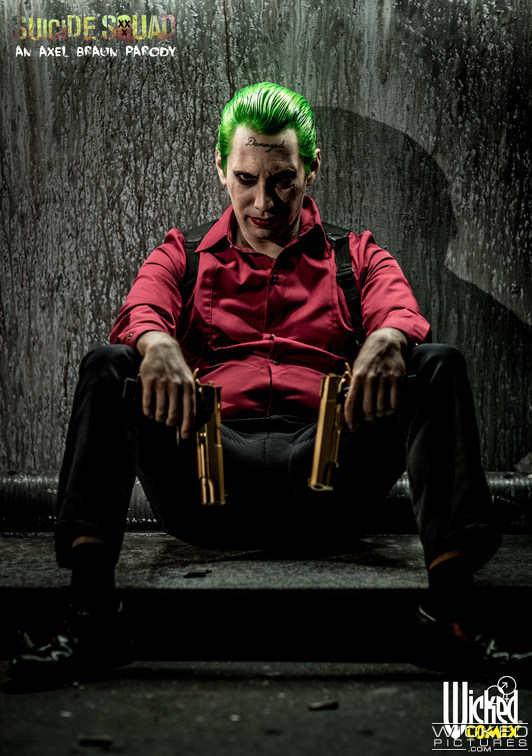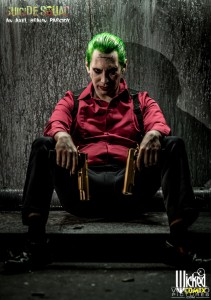 As we could have expected from Braun and Wicked, the cast was carefully picked and that's what makes this movie so hot. Kleio Valentien is in the leading role as Harley Quinn, Asa Akira appears as Katana and sexy blonde Riley Steele is the magnificent Enchantress. It's really great to see all those gorgeous porn stars in one place! The movie doesn't skimp on the sex, as there are five very tempting scenes that show stuff such as lesbian sex, anal, interracial, threesomes and more. It's already this summer's hottest parody and I'm sure it's going to become epic, as it's worth the attention and accolades.
Suicide Squad XXX – The Parody
Being a huge comic book junkie, Braun was dying to make a porn version of this newest superhero movie. A couple of days before the mainstream counterpart was issued, Suicide Squad XXX: An Axel Braun Parody saw the light of day. "I've been literally itching to make this movie since the mainstream one was put in development at Warner Bros. in 2009!" Braun said. "It's a huge project and another massive undertaking for me, but I've got a terrific script, a killer cast and some insane costumes, and I can't wait to put a sexy spin on these awesome characters!"
First of all, the best part of his movies is that you don't have to be a comic book fan in order to enjoy his parodies. Now, I can't say that this is his best parody yet, but it's definitely very entertaining. Hi surely picked a stellar cast, with Kleio Valentien, Asa Akira appears and Riley Steele in the main roles, but there's also a character we couldn't see in the mainstream counterpart, and those are Killer Frost played by busty Anna Bell Peaks and Poison Ivy played by Katy Kiss. These two get banged in a prison cell by The Riddler, which is another character that you can't see in the Hollywood's adaption. Famous Lexington Steele is the infamous hitman named Deadshot, Seth Gamble as Captain Boomerang, Nyomi Banxxx is playing Amanda Waller  If you ask me, Tommy Pistol, alongside with Kleio Valentien, showed amazing acting skills and made this parody so amusing. However, I believe that the scene with Asa and Lex was the most intense, as you can see Asa's pussy and ass being thorn by Lex's huge pole. There's also some lesbian sex thrown in the mix, as well as FFM and FMM threesomes.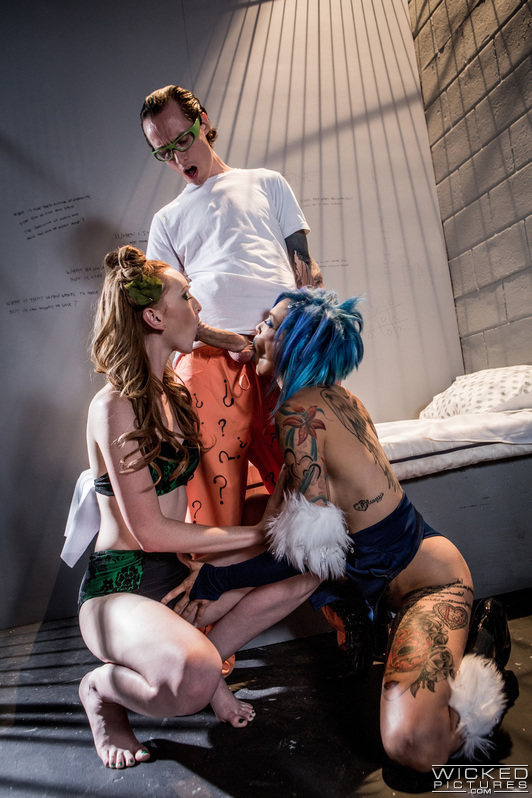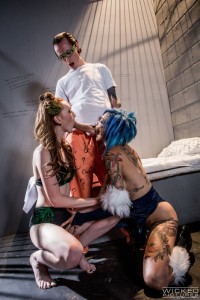 As for the costumes, they're as amazing and "insane" as Braun promised. Some of them look just like those in the Hollywood's blockbuster. These costumes always stay on, just like in all Braun's parodies. Well, some parts of their costumes have to go down, or at least they make a hole in it, because you know, there's a lot of hardcore sex that needs to be done. The lightning looks good as well, but there are some scenes in shadows, but that's how it needs to be done, because these villains/heroes usually give their best in the darkness. You should know that there are condoms used in this movie, because that's Braun's and Wicked's policy.
Suicide Squad XXX – The Scenes
There are five sex scenes in this movie, and each one offers different category of hardcore porn. Fans of lesbian sex, anal, rimming, IR and threesomes will enjoy a lot watching the action in this movie.
Right from the first scene you'll be mesmerized by a couple of biggest stars – Kleio Valentien and Asa Akira. Katana finds herself in the same prison cell with feisty Harley Quinn, trying to recruit her to become a member of the Suicide Squad. She uses her stunning body to convince Harley, so they start making out. Pussy eating and rimming are what these girls love the most, so you'll see some really nice close-up shots of them licking each other's holes. It's a pretty hot opening scene.
Deadshot, Captain Boomerang and Killer Frost are recruited, as well, and now it's time to add another member to the squad – the sexy Enchantress. Unlike the mainstream movie, this parody shows us Captain Boomerang and Enchantress getting down and dirty. She gives him the hottest blowjob in this movie, and plays with his balls seductively to prepare him for the hardcore sex. After some steamy hot cock riding, he cums into her mouth.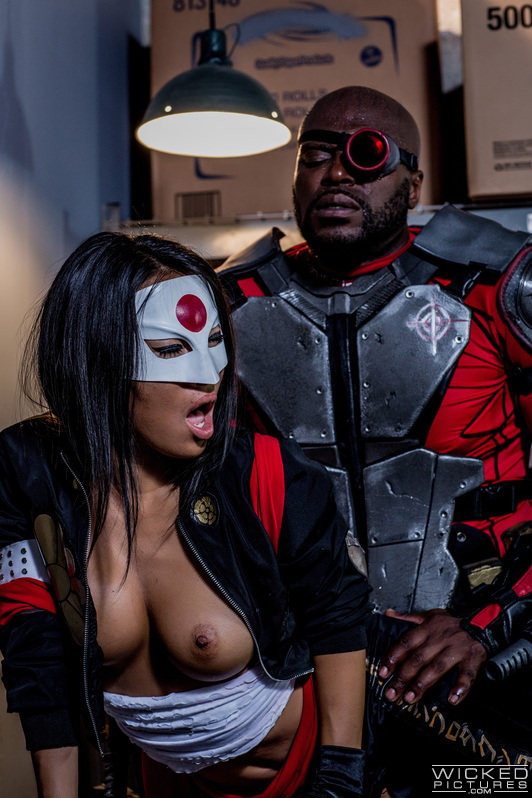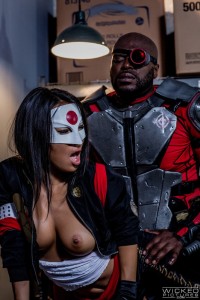 The Squad is at the Arkham Asylum, where Killer Frost decides to set Poison Ivy and The Riddler free so they can have a threesome. These two babes share his cock for a while, before each of them get some hard pounding. There's some sweet lesbian action as they get fucked by horny Riddler. They share a huge load of cum at the end and even try to swap some cum.
Next scene shows Deadshot and Katana trapped in one of the offices in the Asylum. Katana talks to her sword, but then realizes that she should try handling Deadshot's "sword" for a while. It's definitely the hottest scene in this movie, because Asa is so sexy and she enjoys getting pounded hard by Lex Steele. After deepthroating his cock, she takes this huge pole inside her pussy, and then inside her ass. Their costumes stay on the whole time, as they show us how it should be done. Lex destroys her ass and then spills his juices all over face and mask.
In the last scene we find a couple of archenemies – the Jocker and Batman sharing a girl – the sexy Quinn of Gotham. Harley's mouth and pussy are filled the whole time, as she switches from one cock to another asking for more. There's no anal or DP here, but she squirted a bit while sucking these guys' dicks. Both of them drop a nice load of cum in her mouth, making her the happiest girl in the world. The Squad leaves unharmed, but Batman is still happy because he's got them where he wants them – on his radar.
Conclusion about Suicide Squad XXX
Axel Braun's latest project Suicide Squad XXX has everything you need from a porn spoof. His story doesn't follow the mainstream counterpart's story all the way, and there are some characters and interactions you couldn't find in the Hollywood's movie. However, I find it refreshing and enjoyable. The cast and the sex are really amazing, and that's what should be the most important here. Costumes are just as awesome, but you could say that there are a few poor visual effects in some scenes. If you let that slide, you'll enjoy each scene in this movie, as they bring different types of sexual encounters. This parody is something you should definitely want to check out this summer.
Details
Release date
Directed by
Produced by
Running time
Country
Language
Awards
AVN Awards 2017 - Movie of the Year
AVN Awards 2017 - Best Parody
Release date

August 12, 2016

Directed by

Axel Braun

Produced byWicked Pictures
Running time

120 min.

Country

USA

Language

English

AwardsAVN Awards 2017 - Movie of the Year
AVN Awards 2017 - Best Parody