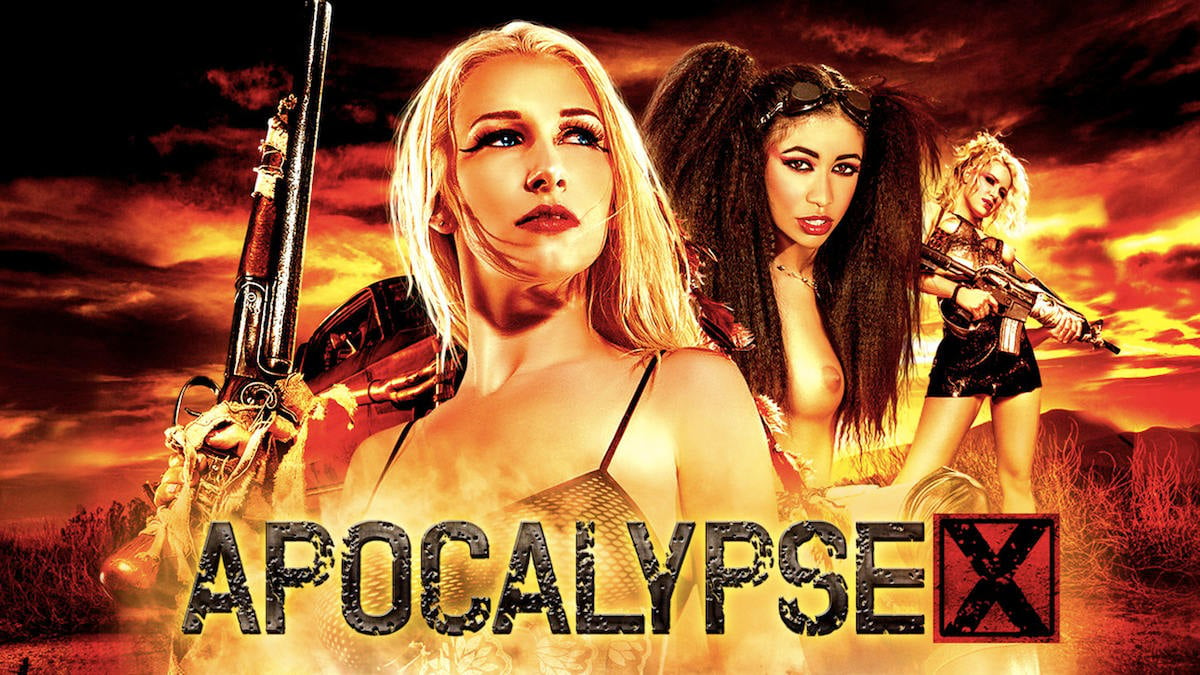 Studio
Based on
Starring
Lola Foxx, Anikka Albrite, Veronica Rodriguez, Eva Karera, Mischa Brooks, Abby Cross, Stevie Shae, Steven St. Croix, Mick Blue, Tommy Gunn, Derrick Pierce, Ryan Driller, Richie Calhoun
StudioDigital Playground
StarringLola Foxx, Anikka Albrite, Veronica Rodriguez, Eva Karera, Mischa Brooks, Abby Cross, Stevie Shae, Steven St. Croix, Mick Blue, Tommy Gunn, Derrick Pierce, Ryan Driller, Richie Calhoun
Based on

Post-Apocalypse Movie
From the company that brought you adult reinterpretations of famous bloc busters such as Kill Bill, Pirates of the Caribbean and Top Gun, here comes an xxx parody for the famous franchise Mad Max, which is a treat for all the men who saw the last instalment of the story and often fantasize of being a stud in that post-apocalyptic wasteland, to bang all those touch bad-ass chicks. The name of this awesome parody is Apocalypse X and it offers everything you need for a good time in your favorite fantasy universe. Enjoy 3 hours of hardcore desert sex with the most gorgeous and bossy looking porn stars of Digital Playground. More than that, the cinematics of this movie are incredible, with some really well-shoot outdoor scenes, even at night.

Apocalypse Xxx – Highlights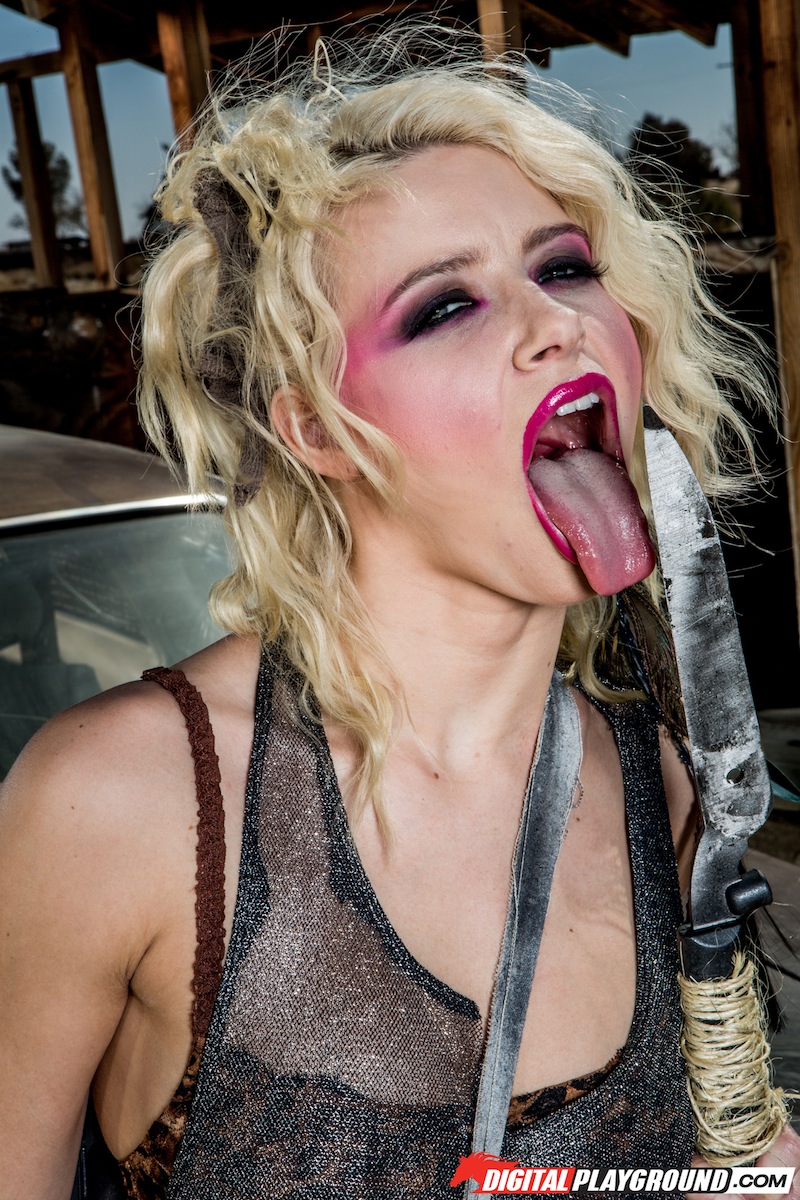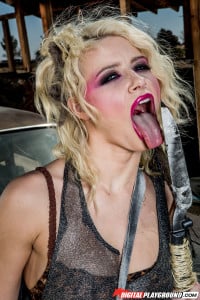 The movie follows the story of Razor, a loner chick with a big brave heart and even bigger boobs, who is not afraid to put up with the evil that's The story takes place in a post-apocalyptic future, where all the natural resources on Earth are gone and people are killing each other over the last drops of gas and water. Razor, known as The Ghost, is a witty vigilante who wants to bring the Reapers to their knees. The Reapers are a gang of crazy bikers, led by Scar, and all they do is ride the desert and steal everything they find. To fulfill her mission, Razor has to use everything she can, even if it means stealing gasoline or lure her enemies in deadly traps with her formidable looks and huge sex drive.
Everything begins with our hero on top of the hood of her muscle car, looking over the desert to find some gas she could loot. She soon spotted a guy banging his hot blonde chick on the hood of his car, but right after, out of nowhere, the Reapers show up and they start chasing Razor through the desert. What follows is a crazy car/bike chase, with shots from revolvers, machine guns and even a rocket launcher. You wouldn't expect that from a porn parody, but again, we are talking about Digital Playground's version of Mad Max XXX.
The next scene is set to give us a look inside the Reapers' gang and show us how they live. Even though their night life is interesting, with wild desert parties, flame jugglers and lots of booze, the focus is pointed over two biker girls who are having a quick chat around a fire somewhere in the Reapers camp. As you would expect, the scene turns into a sensual and passionate lesbian moment, in which the hot babes wearing black leather are getting naked and start to please each other under the night sky in the middle of the desert. The movie has a total of 7 scenes and all of them are insanely intense. Besides the lesbian scene, you'll also get a FFM threesome and many other kinky fetishes that makes porn so lovely.
Apocalypse X – Casting
The cast of Apocalypse X has some heavy names of the industry. Razor, the main character is played by Abby Cross, a 22 years old American hottie who really knows how to perform the role of a horny bad-ass vigilante. But she couldn't do all the work by herself. Luckily, a squad of 6 other hot porn stars played along her, including: Anikka Albrite, Stevie Shae and Veronica Rodriguez.
Conclusion
Even if this is clearly a parody of the Mad Max franchise, Apocalypse X is not following the plot of the original stories, creating an original one that matches the story needs of an xxx production. The elements that make this parody a spoof of Mad Max is the universe itself. Everything is desert and people are fighting over gas. Also, Apocalypse X has some sweet cinematics, with wild desert settings, some crazy car chases and hot looking leather outfits. The budget was decent for this movie, but they should have invested more in CGI. All in all, this is a cool movie and you should watch it.
 Where to Watch Apocalypse X
– Apocalypse X

 Parody

 

is

 

an

 

exclusive of

 

Digital 

P

layground. You can watch it

exclusively

 on the official website – Formats available: TRUELIFE HD (1080p) HD (720p) MEDIUM (480p) LOW (320p)
Use the link below to join Digital Playground One Month for only 

$19.95

(33% OFF)
Join DIGITAL PLAYGROUND >>