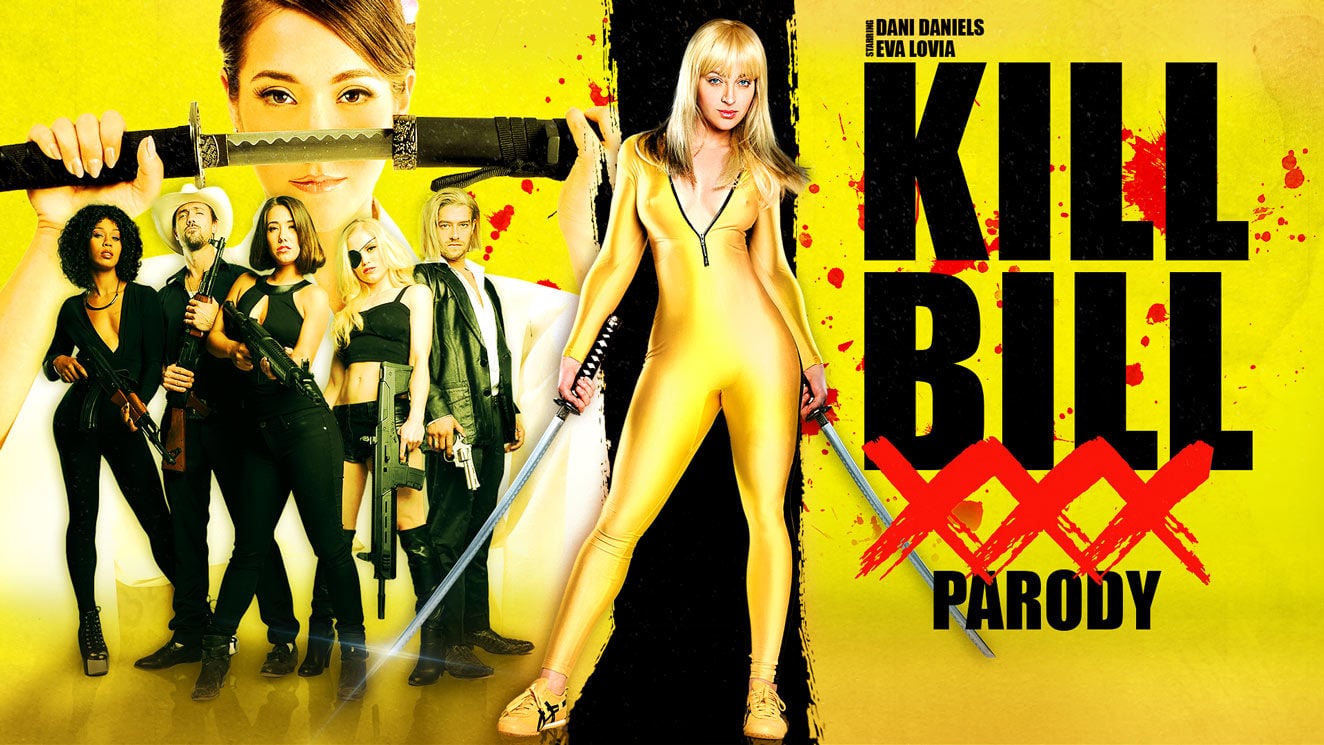 Studio
Based on
Starring
Dani Daniels, Eva Lovia, Bridgette B, Misty Stone, Ash Hollywood, Keiran Lee, Tommy Gunn, Derrick Pierce, Mick Blue, Richie Calhoun, Xander Corvus
StudioDigital Playground
StarringDani Daniels, Eva Lovia, Bridgette B, Misty Stone, Ash Hollywood, Keiran Lee, Tommy Gunn, Derrick Pierce, Mick Blue, Richie Calhoun, Xander Corvus
Based on

Kill Bill: Vol. 1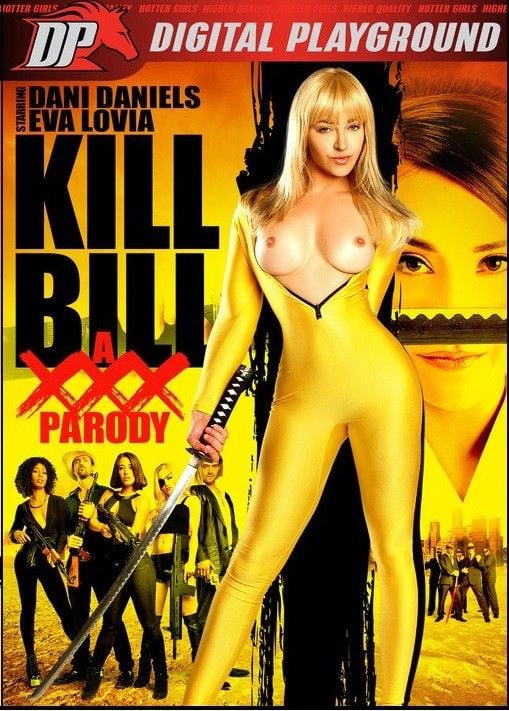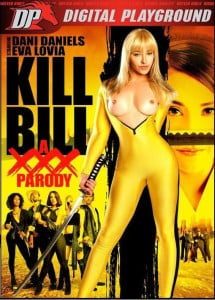 Everybody knows Quentin Tarantino's classic from 2003 called Kill Bill with Uma Turman in the leading role as a notorious assassin who seeks vengeance on the team of assassins who betrayed her. This is a huge blockbuster and a classic, so it's no wonder why Digital Playground, one of the leader studios in adult film industry, wanted to make a porn parody of such a popular movie.
There's a woman in the leading role, which you don't see very often, and perhaps that's one of the main reasons why they wanted to do a porn remake, where killing is replaced with hardcore fucking. What made Kill Bill special and unforgettable is the director and the cast, so after the first glance on DP's parody, we can say that Kill Bill: a XXX Parody is going to be a huge hit in porn world. There's a great story to begin with, a young and hot girl seeking for her revenge, which perfectly fits for a great porn parody. Digital Playground realized that opportunity, so they gather around an all-star cast and decided to make a movie that won't just give you hardcore screwing in each scene, but a movie with a story, all wrapped up in a great parody.
DP has assembled a great team, with Dani Daniels in the main role, DP's contract girl Eva Lovia, Misty Stone and Ash Hollywood as members of the infamous assassination squad, Xander Corvus as notorious killer Bill and Venus' ex lover, and many other porn stars will make this movie become one of the top sellers. All their movies are top notch and professionally produced, and Kill Bill: a XXX Parody also meets those standards. It's a high budget movie, shot in full HD, so you'll have even greater experience than you've expected.
The parody follows the original story, so you'll see all the most important characters from the mainstream counterpart, such as Hattori Hanzo, old Japanese martial arts master, all members of the Deadly Viper Assassination Squad here named "the Deadly Floral Arrangement", Budd is Will in this movie and so on. You'll see amazing performance by Dani Daniels in the leading role, and in my opinion she's a great choice for this part. Although she doesn't look anything like Uma Turman it's even better, because it's a porn parody and you don't want to see some skinny girl running around with a sword, but a girl with a big booty that bounces every time she runs and fights. You'll see amazing costumes too, great performance by all the other girls, especially Eva Lovia, which is my favorite here, and great acting (for porn movie) between the fuck scenes. Sex scenes are hot, shot in different angles, with great lightning and sound, so they're very watchable and enjoyable. In terms of sex, for me, this movie is all about big butts, since all of these hotties, especially Dani, Eva and Misty, have nice and round butts. Kill Bill: a XXX Parody can offer you funny moments, erotic and sensual moments, and many action scenes and of course some premium hardcore screwing in 6 amazing scenes.
Kill Bill XXX Parody – Main Scenes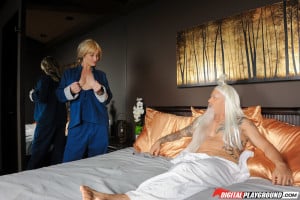 The movie is divided into nine chapters, where each one tells a story. However, there are only 6 sex scenes, all of which are hot in their own way.
The opening scene shows great hardcore action, where Vivian (Misty Stone) gets naughty with a drug dealer (Keiran Lee). There are some great angles on her big booty here, which was probably the highlight of the scene. After a few hot positions, he sprays her tongue and face with hot jizz.
Fourth scene is probably the best one here, definitely the hottest one in my opinion, where Lily Tiger (Eva Lovia) and her sparring partner (Mick Blue) get naughty after some sword fight practice. Eva is so amazing while she takes Mick's cock in doggy style and takes his jizz all over her furry pussy.
The last scene finally shows how hot Venus and Bill were for each other. It's starts as a sensual and erotic scene, but eventually it turns into some hardcore screwing and Dani's butt was once more the main attraction. Great scene, ending with a hot creampie.
Kill Bill: a XXX Parody – Conclusion
Kill Bill: a XXX Parody is a great porn twist of a popular movie, with 6 hot scenes and great story that follows all the hot sex scenes. The movie is really professionally filmed, they have a large cast and crew and many people in non-sex roles. Great costumes, a great story for porn movie, actors that stay in the characters and six hot sex scenes are what make this movie very enjoyable.
 Where to watch it
– Kill

 

Bill; a XXX Parody

 

is

 

an

 

exclusive of

 

Digital 

P

layground. You can see it

exclusively

 on the official website – Formats available: TRUELIFE HD (1080p) HD (720p) MEDIUM (480p) LOW (320p)
Use the link below to join Digital Playground One Month for only 

$19.95

(33% OFF)
Join DIGITAL PLAYGROUND >>
Details
Release date
Directed by
Produced by
Running time
Release date

05-22-2015

Directed by

Jakodema

Produced byDigital Playground
Running time

2h 50 Min (Scenes: 6)

Country

U.S.A

Language

English

Awards