This is a parody of a TV show that was popular back in the '90. The story follows the female warrior Xena (here played by Phoenix Marie), a very sexy and skillful fighter in a tight leather skirted outfit overlaid with metal armor, and her her traveling companion Gabrielle (played by Lexi Belle), who's also Xena's greatest ally and best friend. This flick also features some well known mythical characters such as Hercules, Aphrodite, Autolycus, Cupid, Draco, Ares and others. The odd thing here is that Xena and Gabrielle have their scenes at the end of the movie, but maybe it's because the creator of this piece wanted her to be the cherry on top of his cake. Director Jordan Septo and Exquisite Films are responsible for this project.
Scenes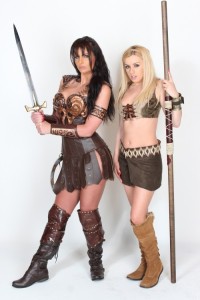 In the first scene we have
Chanel Preston
and
Randy Wright
, a couple of hot girls ready to anything to get out of debt problems.  They owe the money to Autocyclus (
Tommy Pistol
), but they don't have the money, so they come up with an idea how to pay him, a classical introduction to a sex scene. He isn't going to spare them, so he takes their two pussies, but first he makes them slob his knob. Chanel is the sexier one here, but Randy endeavors to get her piece of that cock. After some pussy eating and cock sucking, Chanel is the first to feel it in her wet pussy. After he moved back and forth from one pussy to another, he drops a load on Randy's ass and Chanel licks it off, and it ends with some cum swapping.Aphrodite (
Nicole Aniston
) was up next when she got a visit from Ares (
Tommy Gunn
). She has to persuade Ares not to report to Zeus what her son Cupid is up to on the Earth. Of course, she uses her feminine parts to convince him, and he accepts it with both hands. She has beautiful eyes and looks so cute as she starts to mouth his manhood, putting a great effort into it. After she's prepared his cock for her wet pussy, she bends her over and she shows off her beautiful ass and firm legs. First she takes his meat from behind, then cowgirl style, and after some spooning they finish with a pop shot on her pretty bald pussy.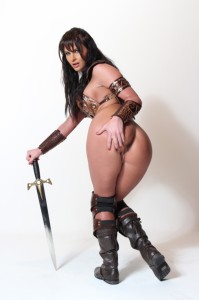 When Draco (
Lee Stone
) brings Cupid to test one of his arrows on Alti (
Juelz Ventura
), she becomes attracted to him and willing to let him do whatever he desires. First he eats her pussy and then she kneels before him for a nice blowjob and deep throating. After she made him ready for her pussy, he slides it in; they fuck in various positions, and reverse cowgirl really highlighted her amazing ass, although there wasn't any anal. After a sweaty and steamy sex he drops a load in her mouth for her to swallow.In the fourth scene Cupid (
Seth Gamble
) aims to hit Xena, but he shoots Gabrielle (
Lexi Belle
) and that's how these two get it on. After she sucked his dick to get him up, he fingered her pussy, ate her clit, and she provided some dirty talk along the way. They fucked from missionary style and spooning, to cowgirl and doggy style, and she looked very hot in all those position, especially when she rode his cock in cowgirl very energetically.Xena (
Phoenix Marie
) is worried about her friend Gabrielle, but Hercules (
Rocco Reed
) is there to help, and he promises her that they are going to search for Gabrielle in the morning. They have a lot of free time and they decide to spend it on hot and hard sex. He approaches to her from behind, kissing her neck and playing with her tits. Then she gets on her knees to taste his meat while he is in a chair. After she deepthroated his cock several times, he slides his pecker into her ready pussy. Then she bends over to take it from behind while standing against the wall, and he pounds her as hard as he can. He gets to fuck her ass then, with some A2M between positions. After the reverse cowgirl anal ride he cums into her anal gape.Fifth scene is all about girls, so
Xena
and
Gabrielle
have their lesbian tryst to conclude this movie. The girls start kissing and touching in a very passionate manner, paying attention to the boobs. They go down on each other back and forth, with lots of fingering involved as they move into the 69. There is some scissoring and after they cum the girls kiss passionately and we fade out.
Date posted: September 2, 2014