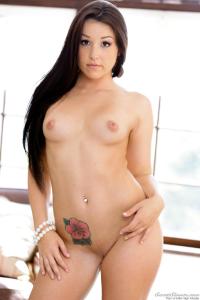 Lola Foxx (also known as Lola Fox, Katie or Jessica Junkstuffer) has combined with her body two of the most contradictory (and each more enticing than the other) features – a petite figure (she is just 5 feet/152 cm tall) and a bubble butt that weighs half of her entire weight.
Born on the first of November 1991
, cute Lola has always been aware of her main asset – even if, when she was still young and at school, she didn't like her ass so much. As she later on revealed, she didn't date much either, concentrating instead on more serious relationships. She was quite tame until she became 18, with just 5 boyfriends tasting her sweet body until she entered the adult industry.
And that is even if she acted quite the contrary. After she
lost her virginity at the age of 16
and losing interest in such activities because she found it too painful, she used to act and compare herself with the
slutty virgin from American Beauty
, even if she herself was quite conservative.However, she did have her secret pleasures, her first wet dream being about another girl – ever since she was in the 6
th
grade she knew that she will always love beautiful women.Lola Foxx started striping when she reached 18 years of age and she found it empowering – as she later on called it, this was the power of the pussy and she was only beginning to understand it. So from here until shooting hardcore films was just a single step.
And that step consisted only from shooting girl on girl scenes for about 6 months – she
started when she was 20 years old
and her mind was set on making a career out of it. And even if she was a bit nervous before her first shoot, she got all the support she wanted and became a real pornstar – not just the crew with which she shot
her first scene
was professional and supportive, but also her entire family.Although she has been in the industry for only about 3 years, she does know what she wants to try next. First of all,
she wants to try anal
in front of the camera. But
her biggest fantasy is
actually a
blowbang
with at least 5 Roman soldiers, ending up in a full gangbang, while she had her hands tied behind her back.As far as what she has already done is concerned, what she really loves is cum swapping,
Riley Reid
being the one who initiated her. As far as the kinkiest things she has done off-camera, cute Lola Foxx said that she did have sex in a cinematograph filled with people.So if you are into cute and petite girls with huge asses, Lola Foxx is the starlet you really want to check out. Enter
Lola Foxx VIP
and you will certainly enter her again! See Super Cute with Manuel and you will be definitely convinced!
Date posted: February 6, 2015