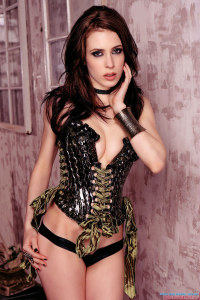 Aiden Ashley is an American pornographic actress, adult model and occasional stunt performer. She is relatively new to this work, she's entered adult industry in 2009, and since then she's appeared in more than 80 movies and scenes. At first she did only g/g scenes, but when she signed with Axel Braun, she started doing b/g scenes, and became very popular after a huge success in Axel Braun's porn parody "The Dark Knight XXX". All that success and great performances led to some important award nominations and accolades, such as AVN Award nomination in the category "Best New Starlet" and "jGrrl of the Month" for popular website Juliland.com. Besides shooting movies for notable studios, she's posed for many famous photographers and adult magazines.
Life and career
Aiden Ashley was born on February 28, 1990 in Arizona. Ashley attended a Catholic high school and was a great student, always ahead of her class, and she used her smarts to be rebellious. While in school, she was the president of the art club, an editor for the high school yearbook, and the captain of both the varsity cross country and the varsity softball Jr. Olympic teams. Then she went to Arizona State University, and majored in music business and minored in fine art. She also took night classes for music engineering and worked for a big radio station as a DJ. Aiden is an adrenaline junkie, and loves skydiving, bungee jumping, racing BMX, snowboarding and even flying the trapeze.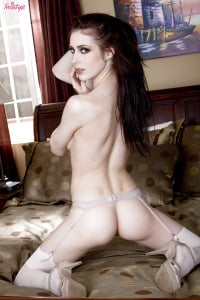 In 2009, when she entered porn industry, Aiden was only 19 years old. Couple of days after sending her bio and pictures to an agent she had a meeting and signed the contract. One day later she was on the set, doing her first shots and first scene. Since then she's worked with many great porn studios, such as Vivid, Pure Play Media, Wicked Pictures, Elegant Angel, Digital Desire and Mofos.
At first she did only solo and girl/girl scenes, her first scene was with Celeste Starr. Couple of years later, in summer of 2011, she signed with Axel Braun Productions and started performing in boy/girl scenes, which were distributed by Vivid Entertainment. Her role of Catwoman in Braun's parody "The Dark Knight XXX" in 2012 brought her huge success and she was nominated for Best New Starlet that same year. Besides filming hardcore movies, she's been photographed by Glenn Francis, among others, and also posed for a pictorial in the December, 2010 issue of Hustler magazine.
Curiosities
She has ADD (Attention Deficit Disorder).
She is adrenaline junkie, and enjoys skydiving, bungee jumping, racing BMX bikes and snowboarding.
She worked as a professional DJ and is a recording artist.
She appears in Slash's new music video
She hasn't done any tattoos, yet. But she has her nose, navel and ears pierced.
She describes herself as "truly bi-sexual".
Aiden's quotes
On how she got into business: "After a Friday night out in Hollywood, I proclaimed that I wanted to be in the adult industry and ran upstairs to get my laptop. I then proceeded to take pictures of myself in the living room and emailed them to agents. By noon Saturday, I had a meeting and signed with an agent. Sunday I was doing my first shoot. By Monday, I had a new career path that I love."
"I just love thrills. I actually have a fetish for heights, I seriously like going to sit on cliff when I need to relax. And I love music, and all forms of art. Since I was young, I have used creating art as an outlet to express myself. I paint using mostly acrylics."
"I admire a girl with beauty inside and out. This makes for a great performance because if I can be mentally attracted to the girl, as well as physically, I forget there are cameras even present. I admire men that have confidence. There is a difference between confidence and being cocky. I hate cocky."
"One of my personal favorite sex acts is partaking in ménage a trios. This probably is because I often like girls sexually more than males. So, this experience was a dream come true. Before I received the script, I was really hoping Axel would let me have some female interaction in this movie, and he did. I like having the best of both worlds, a strong male and a supple female serving me."
Awards
2011 AVN Award nominee – Best Solo Sex Scene – All By Myself2012 AVN Award nominee – Best Group Sex Scene – Orgy: The XXX Championship2012 AVN Award nominee – Best New Starlet
Summary
Aiden Ashley is a rising star of porn, and after her role of Catwoman in "The Dark Knight XXX" she's shown that she is going to be a true porn star one day. She enjoys pleasuring both men and women, and we are going to see more of her in the future, because she's here to stay.
Date posted: December 2, 2014