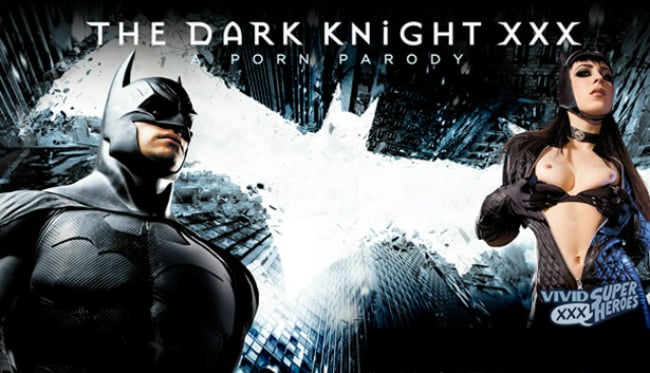 Studio
Based on
Starring
Aiden Ashley (Catwoman), Dani Jensen (Poison Ivy), Penny Pax (Batgirl), Brendon Miller (Joker), Derrick Pierce (Bane), Giovanni Francesco (Batman)
StudioVivid Entertainment
Starring

Aiden Ashley (Catwoman), Dani Jensen (Poison Ivy), Penny Pax (Batgirl), Brendon Miller (Joker), Derrick Pierce (Bane), Giovanni Francesco (Batman)

Based onThe Dark Knight by Christopher Nolan
The Dark Knight XXX: A Porn Parody
Do you like nude scene in action movies? Well, here you can have both the action and great sex scenes, featuring the most famous porn stars at the moment.  You have Batman, Batgirl, Catwoman, Poison Ivy, Joker, Bane and more characters, in costumes that are realistic as in the Hollywood counterpart, with great make-up and sex scenes that will make you stay hard throughout the film. There is not much of a story and it's rather funny sometimes, but that's what are parodies all about. What is important is that you have gorgeous stars doing what they do best!
Audio and Video
In this aspect the movie can be considered as a masterpiece, because the visuals are so good with some green screen effects too. The audio was presented in a basic 2.0 Dolby Digital, everything is professionally done, and it doesn't surprise when you know that the studio behind this project is Vivid entertainment, one of the leaders in porn industry. All this makes watching this movie even better.
The Director
The Dark Knight XXX: A Porn Parody was directed by Axel Braun, who is an award winning Italian adult film producer and director, and he is known for his productions of this kind of movies.  He has directed more than 400 movies since 1990. His best –selling and best-renting movie in 2010. was Batman XXX: A Porn, and because of the success of Batman, Vivid Entertainment formed a way to capitalize on the superhero and sci-fi genres, by creating Vivid Superhero.
The Stars and the Scenes
In the first scene there is Batgirl (Penny Pax, Barbara Gordon), looking hot in a skintight batgirl outfit, making the sacrifice to save his father Jim Gordon (Tom Byron) by getting busy (orally, vaginally, and anally) with Joker (Brendon Miller). The character of the Joker is very well brought to life and in this scene, like in all the others the costumes stay on. In the next scene Poison Ivy (Dani Jensen) occurs after the fight between Nightwing (Brian Street Team) and Batman over the relationship with her. You can see that Nightwing is under Ivy's enchanting spell, so much so that he is willing to do anything for her, and to her. The scene starts with passionate blowjob, followed by some hot vaginal positions before a sloppy load on her thigh. In scene three the Batman (Giovanni Francisco) is at his secluded den, thinking about past events that occurred in the previous scenes of the movie. Catwoman (Aiden Ashley) enters and breaks him from the trance and then explains him the situation with Bane, trying to convince him to return to Gotham. After a short time of seduction, Batman is not in a position to negotiate, as the Catwoman unzips her leather costume and takes his cock. Next scene, the fourth one, is the shortest one, because it includes only a blowjob scene (a good bj scene!). Convinced to come to Gotham, Batman goes to see Zatanna (Christy Mack) and John Constantine (Clarke Kent), so Zatanna could tell him where the villain Bane is. This scene would be perfect if it had some actual fucking, but it's fine because the oral work here is hot and Christy is an excellent performer. In the last scene Catwoman (Aiden Ashley), Kathy Kane (Andy San Dimas; Batman's ex-fiancee who's been captured by Bane) and Bane (Derrick Pierce) make a great threesome in the bad-guys lair, with some great double-blowjob work and good old classic fucking, followed by a shared facial between Catwoman and Kathy Kane
Summary
This is the right movie for those people who prefer that the costumes stay on the whole time during the sex. Although first two scenes are not much connected with the last three, you can see some connection in the Bane plot line, so the story is not a complete disaster like in the most of the parodies (you don't have to fast forward every time just to watch the "action"). It's not a ridiculous movie as some may think, on the contrary it's worth watching.
Details
Release date
Directed by
Produced by
Running time
Country
Language
Awards
"Best Actor" - AVN Awards Nomine, "Best Supporting Actor" - AVN Awards Nominee 2013,"Best Art Direction" -AVN Awards Nominee 2013,"Best Boy/Girl Sex Scene" - AVN Awards Nominee 2013, "Best Parody - Drama" - AVN Awards Nominee 2013, "Best Makeup" - AVN Awards Nominee 2013
Release date

July 2012

Directed by

Axel Braun

Produced by

Vivid

Running time

152 min

Country

U.S.A

Language

English

Awards"Best Actor" - AVN Awards Nomine, "Best Supporting Actor" - AVN Awards Nominee 2013,"Best Art Direction" -AVN Awards Nominee 2013,"Best Boy/Girl Sex Scene" - AVN Awards Nominee 2013, "Best Parody - Drama" - AVN Awards Nominee 2013, "Best Makeup" - AVN Awards Nominee 2013