Spideypool XXX: An Axel Braun Parody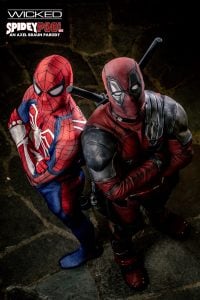 It's been a year since we've seen an Axel Braun parody. Last year he did an award-winning parody Black Widow XXX, and now, in the late 2022, we get to see another masterpiece by this amazing director also known as the King of Parodies. SpideyPool is where Spiderman and Deadpool meet, and these comic books are already very popular in Marvel fandom. Fortunately for all Marvel fans and porn parody fans, Mr. Braun decided to make our dreams come true and create this hot, new movie for Wicked Pictures, which features stars such as Kenna James, Blake Blossom and Seth Gamble. As usual, the cast was selected carefully and all the performers did a great job in this one. They stated that this is one of the funniest parodies that they've done so far, so you'll be able to enjoy this movie on multiple levels. All scenes from this movie are now available on Wicked's website, so you know where to check them out!
The Movie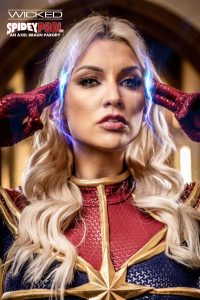 After a year of waiting, it is finally here. Although they haven't shoot a Spideypool movie in Hollywood so far, Axel Braun did it. It's as entertaining as all those Marvel universe movies, but it also features hot hardcore sex. The cast is very carefully selected and they obviously put great effort in this project. We have already seen some of the stars such as Seth Gamble and Ana Foxx in Axel Braun's previous superhero parodies, but we also get to see some faces such as Blake Blossom and Tyler Cruise. Spiderman/Peter Parker is young, shy and goofy, while Deadpool/Wade Wilson is filthy, kinky and bold guy that always does what he wants, so seeing them in the same movie is strange and entertaining at the same time. Speaking of strange, you'll see Dr. Strange in this movie as well, and Ryan Driller did a great job portraying this popular character. He gets to bang another gorgeous blonde, busty star Kenzie Taylor, who returns as Captain Marvel. As you'd expect from Wicked and Axel Braun, all scenes are well directed and the costumes are perfectly created. There are some special effects that look good enough for a porn parody. Besides very hot sex scenes, they provide lots of funny and witty moments that make those porn scenes even more enjoyable.
The Scenes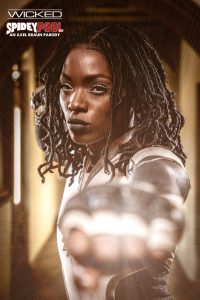 First we meet Peter Parker and his girlfriend Mary Jane. Nothing happens between them because she is late for her audition. Right there at the theatre Mary Jane (Kenna James) meets Deadpool, who is also trying out for a certain part. After a few lines, these two start making out and Deadpool takes out his big cock for MJ to suck it. After preparing his cock, she takes it inside her pussy in different positions, including doggy, missionary and cowgirl. She also does pussy-to-mouth, and then takes a huge facial. This kind of performance should get her that part, and she looks extremely hot with that load on her face. Afterwards, Deadpool comes to Spiderman's place and tells him that he banged his GF and that's when they start working together. In the second part these two superheroes meet up with some of their fellow heroes such as
Domino (Ana Foxxx), Captain Marvel (Kenzie Taylor) and Dr. Strange (Ryan Driller)
. In this scene we get to see some nice special effects, perfect costumes and hot hardcore sex scene featuring Captain Marvel and Dr. Strange. Kenzie does deepthroating, pussy to mouth and takes a huge cumshot on her beautiful tits. In the last episode we get to see 2022 AVN Best New Starlet Blake Blossom as Gwen Stacy aka Spider-Gwen. Spiderman travels to another universe where he meets this gorgeous, busty hero. It doesn't take them long to start making out as they are both very horny. He bangs her in several different positions and her big, natural tits are in the spotlight. Although there are only 3 sex scenes in this movie, the quality of the action is top-notch and there is a lot to see in this movie.
Conclusion about Spideypool XXX
It was worth the wait. Spideypool XXX looks very good and will bring you lots of fun on many different levels. It offers exactly what you'd think – entertaining and hot hardcore scenes. The cast looks great and their performances will surely make you entertained and satisfied. Deadpool is here for the fun part, and Spiderman is a young guy who will make many young people's dream come true – to bang a gorgeous blonde Blake Blossom. Ana Foxxx comes back as Domino in a non-sex role, but it's still nice to see her in a costume. Dr. Strange and Spider-Gwen have some special effects in their episodes, and all these short moments make this movie very enjoyable. This movie is made up of 3 sex scenes, all of which are available on Wicked's official website, so make sure you check them out.
Visit Spideypool XXX >>
Date posted: September 23, 2022