Are you familiar with "the Gang" from the popular TV show called It's Always Sunny In Philadelphia? This porn version created by Digital Playground is equally funny and will make you as horny as ever at the same time. Digital Playground is known for making great parodies, and this is definitely one of the funniest ones in their entire collection. It's also very entertaining and sexy thanks to those gorgeous pornstars that were cast for this project. Eliza Ibarra, Brenna Sparks, Cali Carter, Jade Kush and Tiffany Watson will make your heart pump harder and surely skip a beat once they start doing what they do best. The acting is also pretty good and the whole movie is very entertaining. There are no special effects like in superhero parodies, but the story is well written and the costumes are nice. This parody was issued in the form of series, so you'll find all 4 episodes in the Series section on Digital Playground official website.
The Movie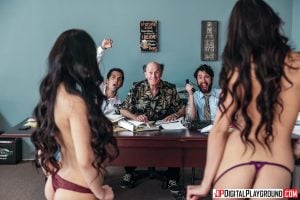 We've all watched at least a few episodes of Charlie Day and Denny DeVito's show named It's Always Sunny In Philadelphia and laughed at their silly jokes. In this show the members of The Gang are five egocentric friends that are always conspiring against each other and trying to stab each other in the back. In the porn version filmed by Digital Playground the members of The Gang are actually working together on a project that luckily for us involves a lot of nudity and hardcore sex. As the title suggests, the guys are about to make a porn movie and get rich quickly, so they start auditioning for talent. They are very lucky, as their idea attracts some extremely hot female performers such as Eliza Ibarra, Brenna Sparks, Cali Carter and Jade Kush, who are willing to do all sorts of dirty things just to be in this new porn movie. I'm talking about the naughtiest things such as deepthroating, blowjobs, threesome action and big facials. The girls look amazing when their legs are spread wide and their pussies destroyed by big dicks. The cast is amazing here! Tommy Pistol is perfect as Gnarly (Charlie in the mainstream counterpart), and the rest of the crew are just great performers so the entire series is very entertaining. They all put a lot of effort into making this series look both funny and hot and in my opinion they succeeded. Crank (Frank Reynolds) is hilarious, but he doesn't participate in the sex scenes. Sack and Menace are Mac and Dennis, and Sweet Dee is Sweet Vee, who's played by extremely sexy Tiffany Watson.
The Scenes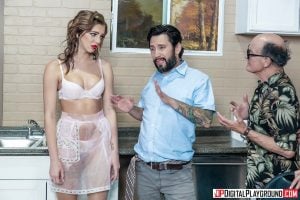 In the first episode we get to meet the members of The Gang – Gnarly, Sack and Menace talking about things that they like the most – tits. Sweet Vee comes to the pub and the guys immediately ask her to show them her perfect set of titties. She refuses and gets saved by Crank, who shows up with his million dollar idea for the gang to make a porno!
The guys immediately start looking for female performers and Sack (Xander Corvus) is the first one to find one. He is actually very lucky because sexy Eliza Ibarra overheard that they were looking for girls that want to be in porn, so she decides to audition. They start "the audition" in the toilet and her beautiful red dress gets taken off in a blink of an eye. She deepthroats and titty fuck his cock for a bit, and after that sloppy BJ he starts banging her from behind in the standing position, which is extremely hot. Eliza is so sexy and great at riding dicks. Her body is perfect and I'm so glad that she got her face and tits covered in cum at the end. Of course, she is hired for the movie! In the second episode a couple of hot Asian strippers Jade Kush and Brenna Sparks are in the pub trying out for the audition. Their big tits mesmerize everybody as they strip and tease. The girls somehow end up in a threesome with Gnarly (Tommy Pistol). He got pretty horny but stayed in the role the whole time. Girls share his cock and give him a sloppy BJ first, and then ride his cock right there on the bar. At the end he spills his cum all over their beautiful faces and it's all very sexy. Unfortunately for Gnarly, the whole scene was in his dreams!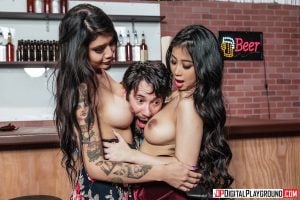 Cali Carter is the pornstar we meet in the third episode. She's at the pub to shoot her scene for the Gang's porn movie, but they're missing the male performer. Menace shows up, but now he wants to be called "Mike Oxlong". He agrees to be in the film and they quickly get to the business. Cali is pretty dirty, horny and obviously dominant girl. She's also great at deepthroating, so she shows off her skills in this scene. There is a lot of spanking, chocking and throat fucking in this one. The scene ends with a huge cumshot on Cali's tongue and tits, and a standing ovation for Mr. Oxlong. In the last episode Sweet Vee (Tiffany Watson) finally decides to appear in guys' porn movie. They don't have male performers, so Sack agrees to fuck Vee as he's the only one who's not related to her. It's the good old "plumber" scene, so before he unclogs her pipes, the plumber wants to make out with the girl and that's what they do. However, the guy who has a crush on Vee (Tyler Nixon) joins the action and the scene turns into a three-way. Vee is more than happy to satisfy both of those dicks, and her holes are always filled with hard cocks. They fuck on the kitchen table the whole time and the guys drop their load on her face and chest at the end. This episode is the icing on the cake!
Conclusion about The Gang Makes A Porno
The Gang Makes A Porno is one of the funniest and most entertaining porn parodies ever! Tommy Pistol did a great job playing Gnarly and if you've ever watched It's Always Sunny In Philadelphia you'll love his character. Tiffany Watson and the girls make the sex scenes very hot. The hottest one in my opinion is the first one with the young star Eliza Ibarra, but if you prefer threesomes, deepthroating, hard pussy plowing and big cumshots you'll love each episode in this parody series. I'm sure that the fans of this popular sitcom will love its porn parody, but even if you haven't seen this show you'll find this series funny and sexy. It's a must-watch series!
Date posted: November 8, 2018