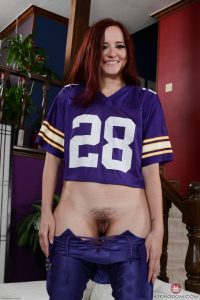 Ariel Blue was born at April 15, 1993, in small town near Orlando, Florida. She looks like a girl next door with her red hair and brown eyes. But her round, meaty ass, makes us happy she entered the porn world. Before porn, however, her life was no different than those of other teenagers of her age. After high school, she went to study geology at the University of Florida. She never worked in that field though. She worked as a server in one fast food restaurant but soon started to hate that job. She lost her virginity in her freshman year in college and everything changed since then. She worked hard to gain experience in sex and she fucked around 50 guys before she started her pon career. She is a close friend of porn actress Casey Calvert, who helped her enter the adult industry.
The Submissive Princess
Ariel Blue aka Maci May shot her first scene on Florida in 2016. As with the most of new girls in porn, it was a solo scene. At the start of her career, she was straight and preferred dicks on her sex plate, so she made mostly boy/girl scenes. But soon she started appearing in girl/girl scenes, too. She is especially turned on when she is treated like a whore and punished with the dick. She likes dominant men who can satisfy her in missionary position. Ariel also holds special talent for blowjob and deepthroat and says she enjoys being choked while being fucked.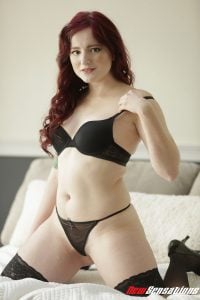 By now, she was engaged in several porn categories: anal, facial, creampie, squirt, double penetration, threesome etc. Evil Angel, New Sensations, Kick Ass Pictures, Devil's Films, Team Skeet and Digital Playground are just some of the studios that recognized her talent. She says she was against sex work before her porn career, but she still isn't clear why. This job, she says, gave her financial stability, made her sexual fantasies real and made her satisfied with her life.
Hobbies and Interests
Ariel likes to spend times outdoor. Her free time is filled by cycling, hiking, free climbing, swimming and chillaxing by the beach. She also likes to read and play video games. Ariel also often goes to concerts of alternative punk rock bands. Her favorite food is meat and she especially enjoys barbecue. She fantasizes of fucking Nicolas Cage, Leonardo di Caprio and David Tennant, especially all three of them at the same time.
But there are things about Ariel that were not so great for her: She was raped and robed on one party and even though she recovered pretty well, it left a huge scar on her heart. Therefore, there are chances that she may never want to return to porn, naturally. That would be really sad thing for her fans, but it's understandable in these circumstances. However, we still hope that won't be the case. In any case, we wih Ariel all the best in the future. Keep ya head up, girl!
Date posted: January 3, 2019