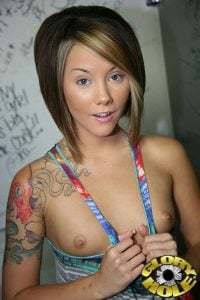 Ashton Pierce is a woman that will forever be stuck in the body of a busty teen but with the experience of a woman that is her age. She seems to work with a lot of distributors, so there is a small chance that this actress of six years by such people at White Ghetto, Brazzers Network, and Devil's Film. Black Listed 1 was a mixture of facial only and reality porn flick that you find at Vince Vouyer Unleashed. It was created in 2009, and it is heartwarming to see that she started her career being her naturally slutty self instead of putting on a slutty persona. Her most recent flick, First Time Auditions 34, can be found at sites own by Reality Kings and created in 2015. Do I think that we will see any of this actress in the future? No. It is plain and straightforward, but I am sure that her fans knew what they were in store for when their favorite star only released less than four flicks a year.
All Over My Face, Every Time
Ashton just does not have much known about the majority of her movies to put them in a category, but one that I see is facial only content. I would love to see more, but all of the flicks where you can see her take a faceful of spunk to the face are Interracial Gloryhole Initiations 1, Office Confessionals 10, Black Listed 1, Jon and Kate Fuck Eight, and Sluttier Future for All. It seems that the only common niche that is worth mentioning is her reality niche as seen with: Black Listed Brunettes, My New Black Stepdaddy 3, Watching My Daughter Go Black 1, and Spring Break Fuck Parties 1.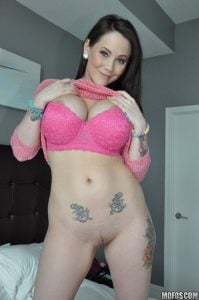 Finally if you want to know about all of her works that IAFD could not categorize then take a peek at Mother and Daughter Cocksucking Contest 2, Cock Sucking Teens, Mothers Teaching Daughters How To Suck Cock 3, My Hot Stepsister 1, My Step Sister Is A Slut, Pervs on Patrol 14, Jack Me Off 2, Christy Mack and Friends, Face Sitting Schoolgirls 6, and First Time Auditions 34.
Once Again, Thanks, ADT!
Once again I find myself unable to find anything about a pornstar but luckily the guys at Adult DVD Talk has my back for this! They were able to get me a decent amount of reasons about why this girl does not have a lot of attention, but it is nothing that you have not heard me talk about already. Once again another great pornstar career ruined by the fact that they left the industry and came back with a different name. Ashton was able to take this one step further by changing the way that she looks. You might see her breast and think that they were always amazing but apparently back when she was doing flicks in 2009, she had nothing but A cups. In 2013 Ashton came back with a nice pair of tits and a bit more weight. I would still love to see someone get this actress in an interview where we can at the very least learn how she started in this career.
Date posted: July 11, 2017