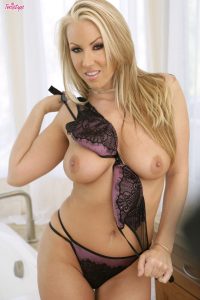 Looking for a 100% American bimbo then you will find all of that and more with Carolyn who has a body that can stop traffic at 5 pm. Despite the fact that she might not have won a reward at the very least she can say that she is leagues more attractive than some of the babes that have one. There seem to be some names that are missing by IAFD, but something tells me that they got a majority of her movies since 2007. Speaking of which one of the first flicks that starred in from that year by the people at Chelsea Pfeiffer Entertainment in a film under the name of In the Christmas Spirits. It seems that she is slowing down since there were only two films that she was in last year with the latest with the help of Bang Productions in the movie called MILF Soup 42. If I had to take a bet, then I would say that she is done since there was nothing that she released that was in the year 2025 and the sheer amount of time that she has spent in the industry.
The Cum Guzzling Bimbo
If there were three niches that Carolyn fulfilled during her day in the industry, then those would be lesbian only, facials, and creampie niche. Some of her lesbian only work consist of such titles as Cougars Crave Young Kittens 7, Lesbian Bukkake 17, Butts 101, Lip Service, Finger Licking Good 5, Anal Beach Buns, Lesbians Love Sex 2, and Bitch Banging Bitch 2. This is only half of the lesbian films that she has been in if you don't think that this length is impressive.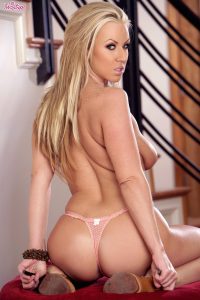 Now here is every third movie that she has been that just focus on her taking a hot, thick load to the face: Women at Work 3, Wire, Look at Me Whore 2, Seasoned Players 14, Big Boob Orgy 2, Big Natural Tits 3, Top Heavy Tarts 11, Seasoned Players 3, Praise The Load 2, Fresh Facials 1, Fishnets 9, Boobaholics Anonymous 3, and MILFs In Heat 1. Now to skim over just a few of her movies where you can guarantee to see her get filled to the brim with cream is such movies as Busty Creampies 1, Internal Injections 4, In It Goes Out It Cums 4, In It Goes Out It Cums 4, Incumming 12, and MILF Cumpies.
A True Lover Of Porn
So who is Carolyn off of the cameras? Well, she has a chance working for the mainstream media as a makeup artist, but she has found a calling in porn that has been alluring her ever since the age of ten. Back before she was in the world of porn she used to have a wild sex life that involves exhibitionist and swinger parties. One of her more wackier off camera sex was fucking her Heroin OD'd boyfriend in the ICU. An interesting fact is that she said that she wouldn't do a gangbang, anal, and interracial videos which are all things that she hasn't done. And before you start shouting she is racist, she fucked plenty of black dudes off camera because her last boyfriend was a cuck. I will admit that her excuse of not wanting to get 'shot out too fast' was a pretty superficial reason not at least to get railed by one big black cock in her time in the industry.
Date posted: May 1, 2017