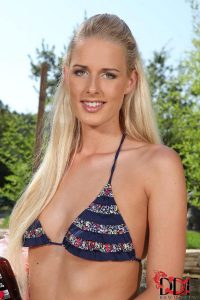 Chelsey Lanette is a little time freak with an all around body with her model-like appearance, double Ds, and slappable plump ass of hers that looks perfect being split by a hard dick. She seems to love bouncing around distributors as her favorites only have five flicks by her as seen with companies as Private and ddfnetwork.com. Her first movie, Hotel Erotica, was produced by her favorites at DDF. It was a small time flick where you can see her take a huge load surprisingly in the face. Her most recent movie Ladies of the Night includes some tasteful scenes of her shaved pussy. Can we expect more out of this actress? Well, no. The last two years has been terrible years for her to the amount of content that she producing is dwindling. Still, I am going to keep my fingers crossed that we see more of her as the year goes on.
All The Ladies Love Pearls
There is one main that you come to see out of Chelsey which is facial content. She does not have a lot of experience in anything as she can be seen with a pearl necklace in Private Specials 110: Cheating Babes, Hotel Erotica, Private Gold 185: Intimate Studio, My Hot Roommate 11, Tudor Lounge, and Private Gold 191: Private College Girls. Now if you were interested in the little anal experience that she has had then DP Chicks 5, Be My Anal Lover, Fill It Up Please, Rocco's Perfect Slaves 1 and It's As Simple As ABC, I Like All Colors of Cock in Me 3.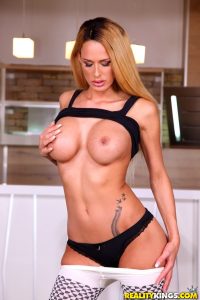 Chelsey only has a little bit less experience with a girl on girl flicks as seen with: Lipstick Romance 3, Bound to Obey, and Gape Lovers 8. A surprising amount of her content IAFD just does not know anything about as seen with: She's Got Legs 3, Strassenflirts 82, Perverted Ass Massage 4, Best of Blondes, Ma Voisine Se Tape Des Inconnus, and Bound Before Him.
Barelist Beating Captain Jack
BareList interviews
have a pretty good track record with me as Adult DVD Talk are the only place that I saw that does pornographic interviews better. You always know that an interview is going to get a good review by me if they start off with personal questions such as how this actress join the adult industry. It started with her sending an email to Kim Holland about wanting to make a movie then you know what happen afterward. It seems that she has not joined the adult industry than would have been busy with her studies. There is some interesting questions such as her favorite sites to work on, unique talents and a question that I want people to read the interview to find out more about. So if you want to learn more about the real Chelsey, then there is no better interview to do it then Barelist.
Date posted: July 29, 2017