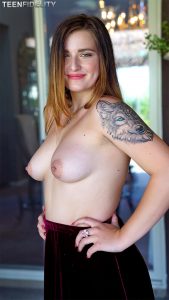 Dakota Rain was born December 15, 1997 in Petaluma, California. Her athletic body, green eyes and brown hair are an obvious reason why this girl fits so well in the porn world. Her point of life is quite simple – to find your purpose and give yourself into it, and to avoid doing harm. She is currently studying and before her porn career she worked in HR, but soon discovered that she doesn't fit the harsh business world well. Therefore, she found her purpose in porn where she was drawn to the fact that everyone is happy and naked. Her beautiful tits are decorated with two piercings and she also has a large wolf tattoo on her left shoulder.
Young and Super-Fuckable
Dakota Rain made her first scene when she was 19 years old, on March 8, 2017, for Kelly Madison network. At the same time, this was her statement that she knows her way with the dick and is quite familiar with all the kinky stuff that many older actors have to offer. She shot all other scenes for Team Skeet, where she found her porn home in terms of expressing her talent and devotion. Plus, she says she loves working with people she admires.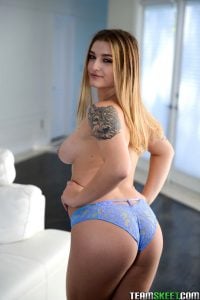 She likes missionary position, because she likes to watch what is happening, but loves doggy position too, because that way she gets the most of the dick. She likes her sex rough, especially biting, slapping, bondage, choking and creampie. She says she has tried anal sex in her private life so we hope we'll have the chance to see it online too. Dakota rain streams to be a great porn actor because she is one of those girls that can cure any type of pain.
Ordinary things
There are no unusual things in this girl's life. She'd like to spend her life on Hawaian and Jamaican beaches. She likes snowboarding and dance, yoga and walks and runs in the nature. She often visits reggae festivals because that music makes her feel good.
Date posted: February 4, 2019