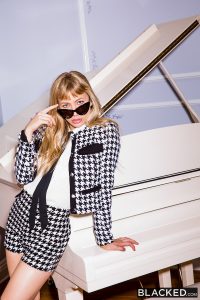 Ivy Wolfe aka Emma Scarlett was born on September 3rd, 1996 in Southern Pines, North Carolina. She grew up in workers family and had completely normal childhood. She considers herself just a normal person and her work in the adult industry she classifieds as a manifestation of passion for erotic each of us has. She lost her virginity when she was 15 years old. She entered the porn industry through a friend who has the experience in shooting porn videos. She gave her contacts and explained the protocols. All her close people know what she is doing for a living and she isn't shy about it. She says she doesn't care about opinions other people may have about her. She is bisexual and was experimenting with both girls and boys even before her porn career. In some of the interviews she said she never counted the number but that she may fucked over 100 men. So experience is on her side for sure.
Living Her Dream
Ivy is another new face in porn industry as she's entered the porn world in the first half of 2017. At the very first sight one may think this is some naive and innocent girl but everything on her videos is totally opposite. She says she likes rough sex because she can't cum without it.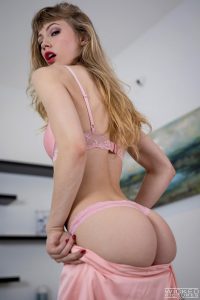 Whether she masturbates, plays with her dildo or some huge dick is filling her tiny pussy, this girl just guarantees to get you horny because she adores being fucked. One of her fetishes is men cumming inside her pussy and mouth.
Off-Screen
Ivy is interested in photography and modeling and plans to do it for a living after her porn career. Singing and dancing are integral part of her life. She prefers electronic music and one of her favorites acts are Disclosure. If she could fuck a celebrity that would be Miley Cyrus, Jennifer Aniston or Kat Dennings.
 In 2019 she won the most important award that a debutant can win in porn: the AVN Awards for Best Newcomers coupled with the second awards - 

Best All-Girl Group Sex Scene with 

Eliza Jane & Jenna Sativa.
Date posted: February 1, 2019