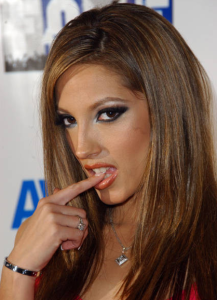 Jennifer Corrales aka Jenna Haze (born on February 22, 1982) is former pornographic actress, model and currently a director in porn industry. In her eleven years long career she has won a great number of adult industry awards, including some of the most valuable in this business - the 2003 AVN Award for Best New Starlet and the 2009 AVN Award for Female Performer of the Year. This made her the second performer in history to ever win both awards during her long and illustrious career. In 2012, she was inducted into both the AVN and XRCO Halls of Fame. The best way to explain her work is: Jenna Haze is a porn legend and every single Jenna Haze scene is a classic.
Personal life
Jenna was born and raised in conservative Orange County, California, and has two sisters and one brother. She had to work since she was 15 to help her family, so she dropped out of school and even tried stripping (but quit after only one day). It was while in junior high that Jenna discovered boys and sex. She lost her virginity on the first day of high school, as she says - "to a guy I didn't really like, just so I could lose it." She made connections and entered the adult film industry in 2001 at the age of 19. Year 2008 was maybe the most important for her, since on January 10, 2009, Haze and Belladonna hosted the 2009 AVN Awards, and Haze won Female Performer of the Year. Now, as many other porn stars, Jenna has her own Fleshlight, a sex toy designed for penetration and masturbation, which is fashioned to look like an oversized flashlight.
Career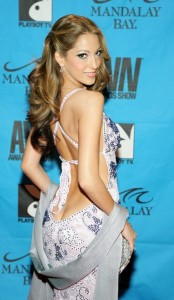 At first Jenna was shooting some low-budget movies, and a few months later, she realized that she did not need an agent and started to represent herself. After she took a "breather" during the Christmas season of 2001 and not making any films for several months, she came back in 2002 was hired by Jill Kelly Productions for one film. Jenna enchanted them, so they offered her a contract and she worked there from 2002 to 2005. There she enjoyed the idea of having a group of girls around her and working for a company run by a woman. Soon after signing with JKP, she began a serious relationship with an industry cameraman and began a three-year period of performing exclusively with women. After splitting with her boyfriend, Jenna returned to working with men in the 2006 in multi-award winning release Jenna Haze Darkside, produced by Jules Jordan Video. The same year she started feature dancing, represented by the agency Lee Network, first achievement was a nomination for Best Feature Entertainer at the 2007 Night Moves Awards. Her film work was also rewarded in 2007, with AVN Awards for Best Oral Sex Scene and Best Group Sex Scene, as well as a nomination for Female Performer of the Year. 2007 was important year for Jenna, since her movie "Jenna Haze Oil Orgy" became the first adult movie to be released on Blu-ray format and her official website was launched by Premium Multimedia. She retired in 2012, but remained in the industry and continued to direct and produce.
Interesting stuff about Jenna
Jenna used to work as a waitress at Marie Callender's restaurant.
She isn't related to actor Scott Haze.
She is of mixed Spanish, German and Irish descent.
Jenna is bisexual.
Jenna's quotes
On her first movie Jenna was only supposed to perform a double BJ, but ended up fucking both participants. She said:
"From there I just kept going; I couldn't get enough! I shot scene after scene after scene. I was definitely enjoying it! I felt like this is what I was made for".
Jenna did only girl/girl scenes for three years and she explained it this way:
"My boyfriend and I started to get serious and my morals took over. I didn't feel right about sleeping with other guys while I was emotionally attached to someone else."Source: 
AVN.com
Should you check her out?
Of course! Jenna Haze is one of the best in the business, Hall of Famer and AVN Female Performer of the Year award, so there's no chance you won't like her work. That the kind of passion that Jenna provides on the screen is what made her what she is today. For more than a decade to follow, she would thrill the industry with her passion, her lust, and her fantastic ass. In one word: the legend.
Date posted: August 7, 2014