Early Life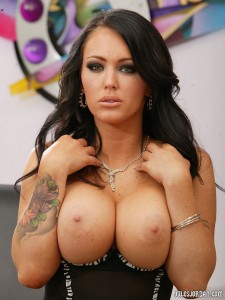 Jenna Presley was born on April 1, 1987 in Chula Vista, California. Her real name is Brittni Ruiz.  Jenna was a stripper in Tijuana, Mexico, where she was stripping every weekend for two years. At the time she was underage.  When she was seventeen, she got anorexia nervosa and started receiving treatment for the illness which lasted for almost two years. In 2005 she graduated with honors from Hilltop High School and attended Santa Barbara City College for a short time. There she studied broadcasting and journalism and worked as a telemarketer.
Porn Career
While still in college, Jenna began stripping at the Spearmint Rhino in Santa Barbara. There she was discovered by the owners of the porn studio Astrux. That contact led her towards the adult film industry. Her debut happened in September 2005 when she was 18 years old. But things weren't going smooth for Jenna. She was only one month in the industry when she caught gonorrhea. During her active years, Presley appeared in more than 300 films. In 2006 she got in the second season of the show
Jenna's American Sex Star
. She ended up in the finals, but won the second place. In October 2007 Jenna decided that she will no longer shoot scenes with men. Although she made that decision, she continued with the boy on girl scenes in the following 2008 and 2009.In 2010 she was named by
Maxim
as one of the 12 top female stars in porn.
Complex
ranked her 17th on its list of "The Top 100 Hottest Porn Stars (Right Now)" in 2011. Jenna was famous for her ability to ejaculate, something that she discovered during a sex scene with Nick Manning. During her porn career, she was engaged twice. A tragedy occurred in Jenna's life when her fiancé was stabbed to death by a motorcycle gang in front of her eyes. Jenna completely retired from the porn industry in 2012.
Personal Life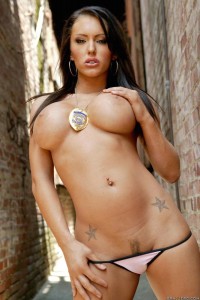 She was three years in the porn industry, when her grandparents took her to The Rock Church in San Diego, where she willingly took Christianity as her faith and "Jesus as her personal Lord and Savior". She was inspired by Rachel Collins, a Christian pastor at XXX Church, and decided to completely retire from porn industry (November 2012).After she ended her career, Jenna worked in business sales and went to college where she studied psychology. In a 2013 interview, Jenna announced that she was in the process of writing a book about her past struggles with drugs in the industry and about her Christianity faith. While she was in the industry, Jenna used crystal meth, ecstasy, oxytocin and cocaine because she was trying to lose weight.In August 2013, Jenna took part in
The View
with Craig Gross, pastor of the Triple X Church, where she discussed her conversion to Christianity. Jenna had her breast enlarged. She has several tattoos – one on the back of her neck; band around her left bicep; lettering on her right side of torso; flowers on her right forearm; star on each pelvic bone; fairy on her tailbone; crucifix with flowers outside her right calf. She also has her left nostril pierced, as well as her tongue and navel.
Date posted: September 16, 2016