Life before porn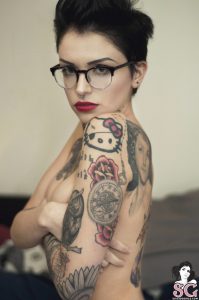 Leigh was born on November 30, 1991 in Menifee, California. She was never a good student and was often found sleeping in classes or arguing with the teachers when they would have woken her up.  She never liked the idea of traditional learning so didn't really try to be a good student. Leigh was a funny, entertaining type of girl, the clown among her friends. She didn't have a big circle of friends, but the ones that were close to her, she treated them like her family.
Porn career
Prior her porn career, Leigh worked as a model and had features in many different types of mainstream magazines such as INKED and Marie Claire. As a big fan of the porn industry, she used to watch porn even before she got into it. She declares herself as a nerd who loved watching comical porn because she loved the funny and realistic aspect of it – just like in real life.Leigh started her career in 2011 when she was twenty-one years old. She gained attention fast thanks to the numerous tattoos she has on her body and her un-traditional porn star look. Her petite frame and the bad girl vibe she spreads, brought her many scenes in the alt-porn genres, but she also did great job in genres such as interracial, lesbian, masturbation, striptease, threesome, bondage and hardcore.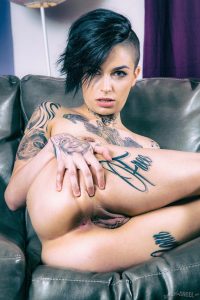 At the beginning of her career she collaborated with Burning Angel; the director Joana Angel did a lot of scenes where Leigh performed. Leigh has stated that she and Joana are very close friends and that whenever she collaborates with her she feels safe and good.
Personal life
Leigh has a lot of tattoos and in fact it helped her get all the necessary attention she needed to become a porn star. She has a huge skull tattooed on her stomach, a sleeve on her left arm, words "Born" and "Free" on the back of her thighs, Medusa all over her back, wolf on her chest, mandala flower on her throat and many smaller tattoos on her fingers and knuckles.She also has various piercings on her body, including one on her lower lip, on each nipple and on her left cheek. Leigh is known as a porn star who loves to communicate with her fans, so people who follow her on Twitter, can expect to get an answered question.Her advice to women is to communicate with their partners and say out loud what they want in bed. When comes to masturbation, Leigh has stated that she doesn't masturbate, solely because she can't reach orgasm without another person's present.She is bi-sexual. Besides as a model and porn star, Leigh also works as a makeup artist.
Might Interest You:
Date posted: January 24, 2017