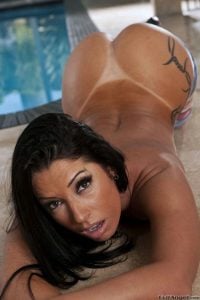 If there is one thing that you should know about Monica is the fact that she is a Latina and proud. There is plenty of porn that she has been in that has been entirely in Spanish such as Melancia, Exploracao Anal 2, Rio Loco, Revolução Anal, Fernandinha Fernandez e Amigas, and 1 Metro e Meio de Bunda 9. These aren't the only titles that wanted to bring attention to her Latina heritage such titles as Horny Brazilian Mothers & Daughters 1, Horny Big Butt Brazilian Mothers 3, Big Slippery Brazilian Asses 2, Big Butt Brazilian Sluts 2, Miss Big Ass Brazil, Big Wet Brazilian Asses! 3, Round Latin Asses, Phat Azz Brazilian Orgy 6, Bouncy Brazilian Bubble Butts 7, and Latin Adultery 11. One of the last videos that she created, in 2013, dealt with one of the odds and ends niches that she fills such as Nerdy 4 Eyed Freaks. Her very first video, back in 2007, she did be a perfect way to introduce her with Goo 4 Two 5. There is nothing that beats a cum covered latina.
All About That Ass
One of the biggest niches that Monica was able to fill during her time in the industry was the big ass/anal niche with such films such as Bore My Asshole 4, Cheek Freaks 7, Assault That Ass 13, Anal Integrity, In the Butt 6, Booty Balls, Look at That Big Ass 4, Asses of Face Destruction 9, Phat Bottom Girls 3, Big Wet Butts, Monster Curves, Anal Overdose: POV+, and Buttman Focused.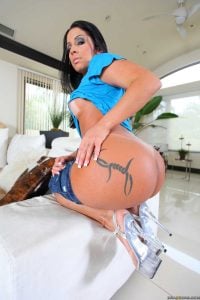 There was also a handful of videos that dealt with her being confused for a phat ass white girl such as Big Ass Crackers and Bomb Ass White Booty 14. As long as you do not count the odd fetish video that she did such as The True History of Strap Attack: FemDom then she is a latina that fills the big ass/anal niche so well that it was the cornerstone of her career.
Only In Spanish
Unfortunately, all of the interviews that was found about Monica was all in Spanish. The rest of the interviews out there were all fake. There were a few Spanish speaking people in the comments who was arguing about some of the facts that she said in the video. It seems that off-camera she is just as much as an anal lover as you could imagine.
Date posted: March 15, 2017