Early Life
Mystica is a California girl, born in Riverside on June 13
th
. She grew up with her mother after her parents got divorced when she was two years old. One thing that she really hated was doing homework and she was a terrible student with bad grades and only a few friends. It was a hard time for her to finish school and graduate and she is sure that she will never go back to school ever again. Through her high school years she was in a relationship with a guy with whom she lost her virginity when she was fifteen years old. Her boyfriend and she were cheating on each other constantly – he would have cheated on her with girls who were after his parents' money and she would cheat on him out of revenge (having sex and giving blowjobs to kids from her school). Prior porn she has slept with about twenty guys and gave blowjobs to about sixty people (which compared to a scene she filmed in one day where she slept with 9 people is not bad at all, says Mystica).
Porn Career
Before she started doing porn she worked as a hostess in a restaurant, she worked in Forever 21, also at a grocery store and she still has a regular job in her hometown Dallas. Her story on how she got in porn is not the same as most other porn stars. She was always telling her ex boyfriend that if he breaks up with her she would end up doing porn. Just when they broke up there was a thing "
do a scene with James Deen
" application.  She applied and sent her pictures but got second thoughts immediately. When she got an e-mail from the agent she knew that that was it. James Deen asked her whether she wanted only one scene with him or if she was interested into making a career out of it. That's how she decided to use the chance and James connected her with certain people and that's how it started. The first scene she filmed was POV with James, but she wasn't uncomfortable with people around because in high school she would have sex with people on parties on the couch while others were watching. In the movie Diary of a Sex Slave she was with 9 different people. Her favorite position is pile driver and she likes rough things stuff like choking, hair pulling and slapping.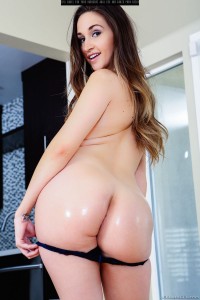 Mystica is only one year in the industry and no matter how crazy it may sound, but her ex boyfriend and she are together again – he supports her and is happy if she's happy with her porn career. Her entire family knows about her job – her father asked her what her stage name was so he wouldn't run into the scenes, her stepmom actually watches her scenes and thinks that she is really cool while her mother isn't really happy with her choice. Mystica picked her name because it means an air of mystery just like she is in her real life, while Jade is one of her favorite healing stones.
Personal life
She used to be married to a man who was ten years older and she has a daughter. When she doesn't film she likes to be at home and play with her child, go at the zoo or at the museum. Mystica has social anxiety and likes having an alone time after a day surrounded with many people. In five years she hopes she'll have more scenes filmed, maybe even direct some of them and also do toy deals.
Date posted: August 10, 2016