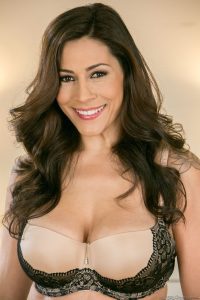 Raylene blends two worlds with her curvaceous Latin frame and her alluring American attitude. These two traits went to create the perfect latina that was able to accomplish a lot since the moment that she entered the performing circle. When you have twenty plus years of experience in the field, then it becomes difficult to say what people these actresses like, but you could have frequently seen Raylene on Zero Tolerance, Wicked Pictures, Vivid, and Elegant Angel. My hats go off to any actress who can be in over 400 films in their career lifetime. Nitro Productions in 1996 released her first movie called Intimate Interviews 3. Despite the fact that many sides she was in retirement at the time, she came out with a film last year called Adult's Hottest Latinas. The guys down at Pleasure Productions are to thanks. Can we expect more out of the legend still? That answer is a firm no. You can find more of her content on her website but do I see her releasing any more movies? No. She even said herself that she is in retirement now.
Summing Up A Legend
With the years of experience that Raylene has had then it becomes impossible to put her 500+ archive into groups. The niches that I can take a hunch that her fans come to see her in is lesbian only and facial content. Just a bit of her lesbian only content includes the work of Lesbian Seductions 46: Older/Younger, Girl on Girl Time, Lesbian Beauties 10: Latinas, Silver Foxes And Tight Young Boxes, Seduction of Raylene: An All Girl Gang Bang Fantasy, Lisa Ann Lesbian Milf Adventures: Mommy Needs Pussy Too, Jerk Off Instructions 41: Two Girls, Toying With Your Emotions, and Cookies n' MILF.
Even this amount of content would be impressive for a newbie but it is just starting with Raylene as her facial content includes the titles of Shane's World 4: Wet and Wild 1, Austin Powers XXX: A Porn Parody, Mommy Got Boobs 17, MILFs Seeking Boys 2, It's Okay She's My Mother In Law 9, Official To Catch a Predator Parody 1, Big Butt Cowgirl Pinups, and Your Mom Tossed My Salad 6.
Wrong Time? Nah!
This interview
despite only being two minutes manages to cover a lot of pros and cons that are in a lot of video interview as of late. One of the biggest drawbacks is that the actress looks as if the interviewee had just blindsided her. There is nothing that looks more unflattering than having a beautiful woman forcing herself to smile. One of the biggest pros is that they brought up many interesting topics in a short amount of time. The most interesting of all facts being that she is no longer in the industry, but you can go to her site for 'new content.' Sadly, we will never learn of her origin story of getting to the industry which always leaves a sour taste in my mouth.
Date posted: July 4, 2017