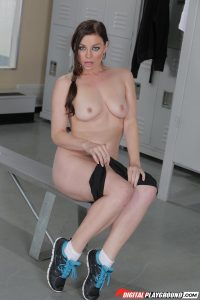 Sovereign Syre  was born on July 4, 1986, in New Orleans, Louisiana. She had a normal childhood and was a typical girl next door who played sports (soccer and swimming) and was a good student. Syre was a pretty girl was competing in beauty pageants. She was in academic clubs too and was really competitive and wanted to be well-rounded. After high school she went to college, worked as a tutor for English as a second language, teaching students from different countries. She also worked as a ballet teacher, as a waitress and a bartender and so on.
While still in college Syre started writing a book; eventually, she dropped out of college in order to focus on her writing but she needed money to support herself. She started doing nude modeling at the beginning and later focused on porn even though at the dawn of her career she hated the idea of shooting porn because she thought it was disgusting. Syre spent her first six months in the adult entertainment industry shooting exclusively for Noelle, who was treating beautiful porn star as her muse. Syre believes that she was very lucky to have people mentor her the whole way through.
Syre's official debut was in 2011 when she was twenty-five years old. At the beginning, she was only shooting girl on girl scenes in a variety of genres. Her first scene came in My Sister Celine with Dylan Ryan, which Noelle made for Sweetheart Video. Even though she started off as strictly girl on girl performer, later in her career Syre started shooting hardcore heterosexual videos in genres such as threesome, bondage, BDSM, blowjobs and so on.
Although most porn stars wait at least five years before they start directing films, Syre proved that she is a total badass who is capable to make a porn film right at the beginning of her career. She directed her first film Lesbian Surrender with Filly Films who gave her the budget and she finished the film.  She is also performing in that film.
Smart, educated, pretty and talented, Syre is an amazing girl who is bisexual, although she does not like to label her sexuality. She had a polyamorous relationship when she started shooting porn and later had a steady relationship with a woman.
Date posted: September 14, 2017