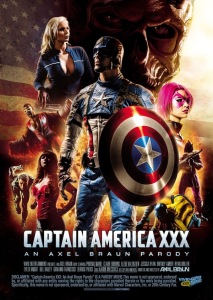 This is another great adult spoof of an American comic book hero by the well known duo – award winning director Axel Brown and Vivid Adult Studio. Great cast led by Aaron Wilcoxxx in the titular role, beautiful female performers (such as Britney Amber, Phoenix Marie and more), great make up and costumes are all mixed up in a great adult parody. It's a story of a "frail young man who was enhanced to the peak of human perfection by an experimental serum, in order to aid the United States government's imminent efforts in World War II" and now he is fighting for the Cosmic Cube against Baron Zemo, Sin, Crossbones, and Batroc, with the help of Sharon Carter, Diamondback, Falcon and Quicksilver.
Scenes
In first scene Captain America (Aaron Wilcoxxx) was first to get some, in a small room with a military girl - a busty blonde Britney Amber. After he ate her pussy, they switch so Britney can slob his knob. The uniforms stay on the whole time, as she gets on his cock to ride him cowgirl style. She is looking very excited as she takes his meat in various positions – cowgirl, reverse cowgirl and doggy style, before receiving a nice facial. You can see the enjoyment on her face because she is fucking her hero.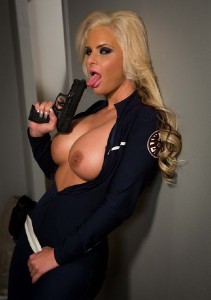 The second scene shows Crossbones (Derrick Pierce) and the evil redhead Sin (Claire Robbins) in a dark and secluded shooting range devising a plan to kill Captain America, while practicing shooting on his mannequin. She stays in character the whole time, with facial expressions and all that kind of stuff, as she takes his cock for a nice sloppy blowjob. After the blowjob, he fucks her hairy pussy, first missionary, then cowgirl, again missionary and doggy style in the butt, finishing with cum on her tongue and chest.
There was a fight between the sex scenes, over the Cosmic Cube, which involved pink-haired girl Diamondback (Kleio Valentien) and Captain America against villain Batroc (Giovanni Francesco), Sin and Crossbones. At the end Sin captures Diamondback. Villains Baron Zemo (Ryan Driller) and Hellcat (Jessica Ryan) are introduced, discussing their plans for world domination. Diamondback gets to share her cell with another hero Falcon (Tyler Knight).
In the third scene Sharon Carter, alias Agent 13, played by gorgeous busty blonde Phoenix Marie was up next with Batroc (Giovanni Francesco), after making a deal worth $250 million. Batroc, a villain with long mustaches, starts touching her big boobs in order to get her off. Then she starts sucking his cock, and in return she gets a rim job while on all four. He fucks her doggy style, missionary and cowgirl, with lots of oral work and dirty talk by Phoenix in between. After another doggy he dumps a load on her ass. Again the costumes stay on the whole time.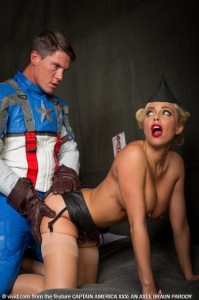 Quicksilver (Bill Bailey) and Falcon (Tyler Knight) are getting lucky in the fourth scene. Quicksilver and Diamondback set Falcon free, and the Cosmic Cube makes them hot for each other, so they engage in a hot threesome. She gets on her knees and alternates between two cocks, making them ready for her pussy. Then she turns her ass to Falcon and takes Quicksilver's dick in her mouth. Then the guys switch back and forth, from missionary and doggy to cowgirl. At the end she gets down to deepthroat the cocks before a nice facial finish.
In the last scene Hellcat (Jessica Ryan) and Baron Zemo (Ryan Driller) are talking about world domination and that turns them on in no time. She wraps her big lips around his dick and plays with his balls. He fucks her missionary, doggy and cowgirl style, and after some more deepthroating he pops all over her face.
Summary
This movie honors and spoofs some of the best known superheroes and features some hot female performers that will make you enjoy throughout the movie. Great costumes, a story good enough for porn movie and five hot sex scenes are what make this movie very watchable.
Date posted: December 19, 2014