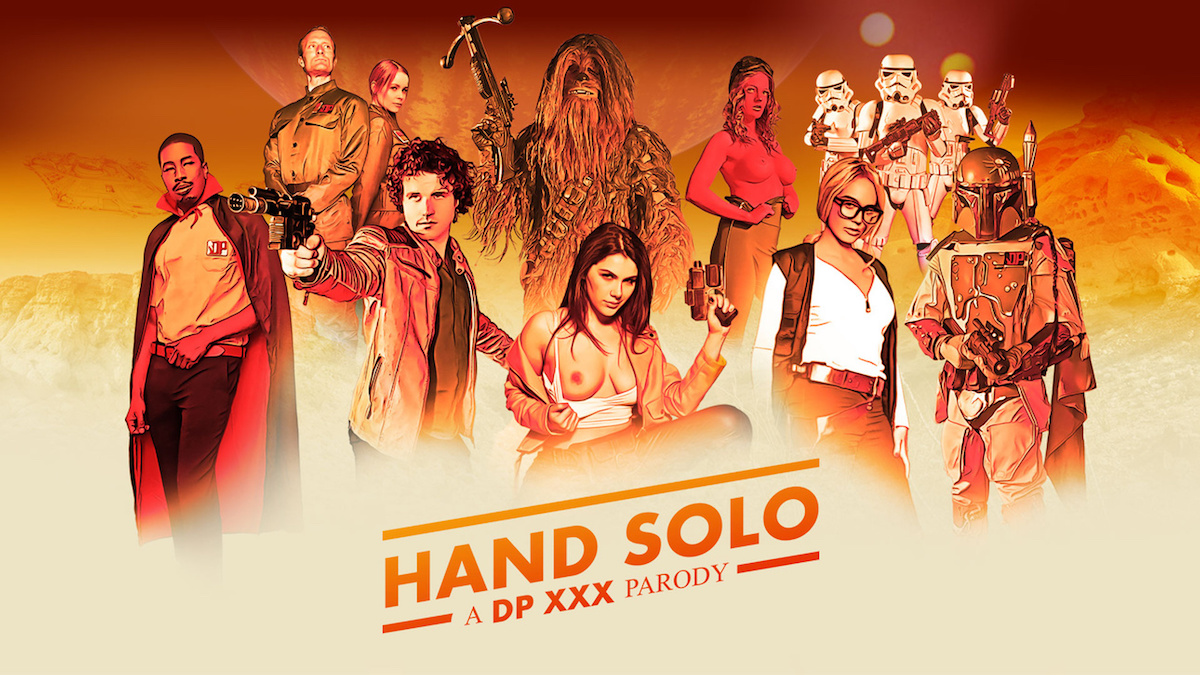 Studio
Based on
Solo: A Star Wars Story (2018)
Starring
After issuing two great spoofs of the popular Star Wars movies named Star Wars Underworld and Star Wars: The Last Temptation, Digital Playground has done it again. Days after the long-awaited addition to the "Star Wars" canon named Solo: A Star Wars Story came out, Digital Playground issued their version of this popular story called Hand Solo: A DP XXX Parody with Robby Echo as Solo, Valentina Nappi and Athena Palomino as his trusty crew of misfits, and Danny D as Choda Fett, who's also the producer of this movie. The movie has an entertaining story that's slightly different than the one in the mainstream counterpart, and of course it's filled with raunchy scenes that look amazing thanks to those gorgeous pornstars. Although the effects are like those in the Star Wars movies from the 70s, they don't make this movie any less entertaining as this is a porn parody and not a Hollywood movie. The costumes are great, especially the Chewbacca or "Screwbacca" as they call him. It's definitely a must-see parody right now!
The Movie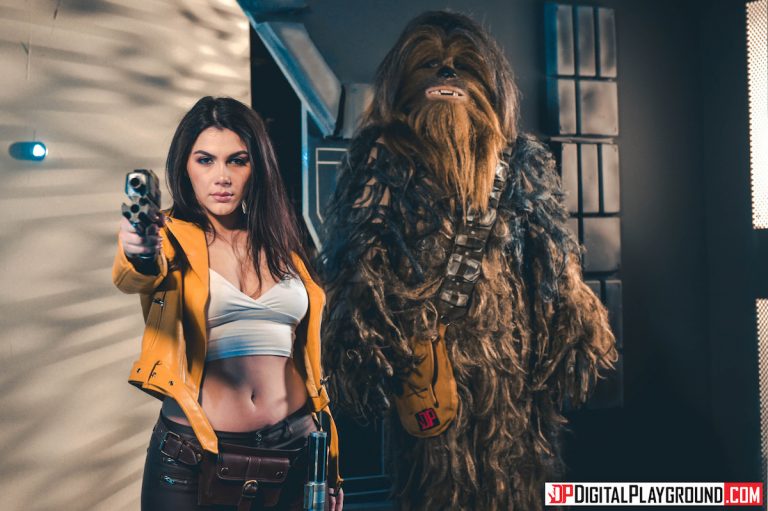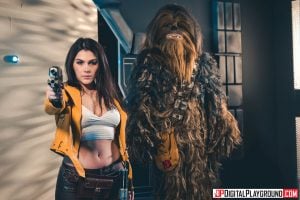 They said that "the force is not with Han Solo" and that it's "the first star wars movie to flop", but I liked it as I'm a huge fan of Star Wars universe. Harrison Ford is always going to be the first person to think about when you mention Han Solo, but Alden Ehrenreich was OK, too. Now there's another movie character to think about when you say Solo and that's the main protagonist of Digital Playground's newest parody named Hand Solo. This naughty smuggler from a galaxy far, far away, "joined by his trusty crew of misfits, takes a perilous journey through space with the ultimate goal of becoming the most revered smuggler in the galaxy (and every inviting pussy that comes with it)!" Robby Echo is awesome as the young Solo, and Isiah Maxwell is also great as young Lando Calrissian, but it's the girls that make this movie so interesting. Valentina Nappi, the curvy Italian pornstar is perfect as Solo's sexy new companion, and Athena Palomino and Carly Rae Summers are here to make this movie even hotter. These pornstars are all big booty fans' a dream come true. You can also see Solo's best friend and trusty sidekick Screwbacca, but thankfully he appears only in non-sex parts of the movie. This movie will give you all kinds of hardcore scenes, including interracial sex, threesome and one-on-one banging, but no lesbian sex except that tiny bit of girl-girl fun in the threeway scene. Digital Playground never disappoints when it comes to costumes and I'm sure you'll be satisfied with all the outfits. The special effects are not the best, but they're okay for the porn parody. Overall, Digital Playground did a great job once again and I'm sure that fans of porn parodies are going to be satisfied with this one.
The Scenes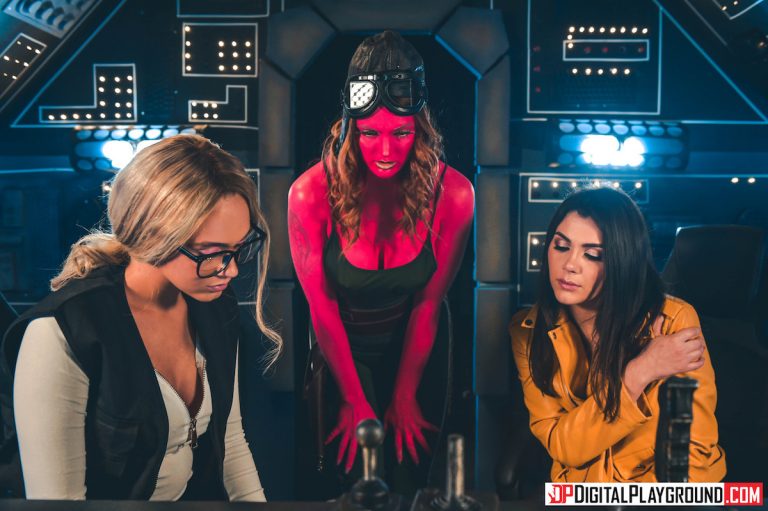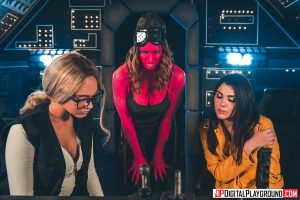 The opening scene shows young Hand Solo (Robby Echo) and young stripper Raina (Valentina Nappi). When Solo overhears that a smuggler's ship exploded around a nearby planet, leaving its precious cargo among the wreckage, Solo decides to chase it and earn some quick credits. Raina offers her help so they go and ask a guy who appears to be the young Lando Calrissian (Isiah Maxwell) to lend them his ship. They gamble for it, Solo loses, but Raina seduces Lando and steals the ship keys. It wasn't an easy process as she had to take his cock deep down her throat and ride it until he came all over her mouth.
Once they get on ship, Solo and Raina meet Nomi (Athena Palomino) and Screwbacca and offer them the ride. Well, it's not like they had any other choice. After they survive the meteor shower, Nomi and Solo hook up. She wants to thank him for saving their asses, so she offers him hers for a nice rimjob and he accepts it with pleasure. Athena is extremely hot pornstar and that cumshot that landed on her beautiful tits was just as sexy.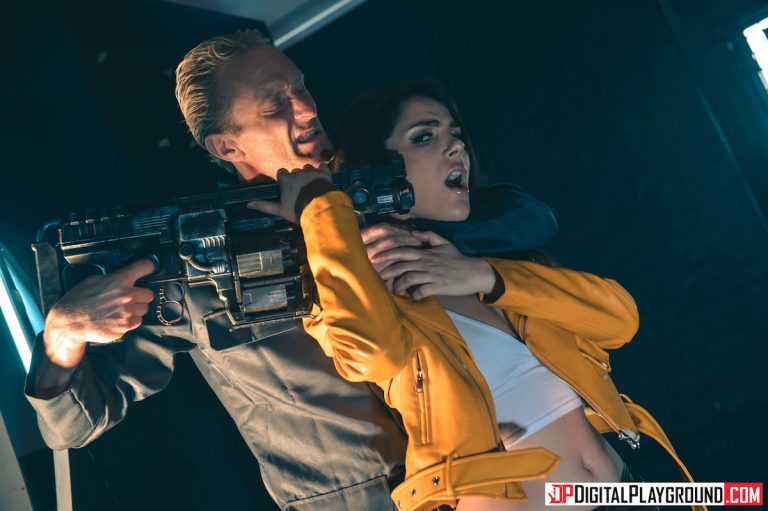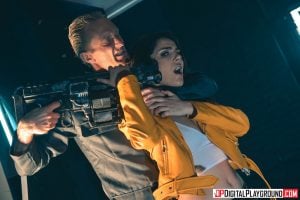 This naughty crew gets an unexpected visit from a well-known bounty hunter Choda Fett (Danny D) and his sidekick Jax (Carly Rae Summers). Solo and Screwbacca get captured, so Jax and the rest of Solo's crew make the plan to bring them back to the ship. Nomi and Jax seduce Choda Fett and make him do exactly what they want. In the process they share his huge cock and ride it as was the last cock in the galaxy.
In the last scene, Raina and the rest of the crew rescue Hand Solo and Screwbacca. Raina is so happy to see Solo unharmed so she drops down on her knees and starts sucking his dick. Her booty is something I could watch all day and you shouldn't miss it either. Her pussy got fucked hard and I liked the doggy style part the best. 
Conclusion about Hand Solo: A DP XXX Parody
This movie has all you need from a porn parody – entertaining story, hot cast, naughty sex scenes and great costumes. If you're a Star Wars fan you'd definitely want to see this newest flick by Digital Playground, but even if you're not that into the Star Wars movies you'll be satisfied with those steamy sex scenes thanks to extremely sexy pornstars such as Valentina Nappi, Athena Palomino and Carly Rae Summers. There's nothing that in this movie that really disappointed me, so I give it a big thumbs up and hope that Digital Playground will keep making such hot movies as Hand Solo parody.
Details
Release date
Directed by
Produced by
Running time
Release date

May 30, 2018

Directed by

-

Produced byDigital Playground
Running time

2h 28 min

Country

USA

Language

English

Awards

-