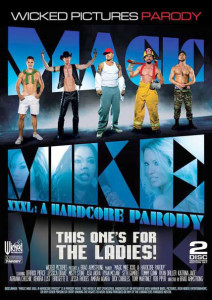 Magic Mike XXXL A Hardcore Parody is a production we all expected. After all, the original movie is pretty damn hot, and twisting its story for porn is really not a hard thing to do. However, that doesn't make it less awesome. Also, the male porn stars who performed in this parody are just as hot and fuckable as the
original crew of Channing Tatum and his squad of strippers. Wicked Pictures
, the company that brought this to us, has actually moved pretty fast. While the original movie was launched on 1
st
July of this year, the parody was released less than two weeks later, and it's already making waves on the internet.
The Porn Stars
The
triple X version of Magic Mike XXL
is going to get you hard, but also a bit jealous on the guys performing in it. Their bodies look like Greek sculptures and the moves they have will have you convinced that each and every guy in the
porn parody is either a great actor or a formidable stripper.
This is probably one of the few porn movies that focuses just as much on the male performers as it does on the female ones. That's a
totally new approach
, and even if for some might seem a little off, personally I think it's great. I know lots of dudes out there who can and will appreciate the beauty of a good looking male porn stars. Because Wicked Pictures knows that a big part of the audience cares about whose banging hot chicks on camera, they
selected the best of the best for the roles
of Mike, Ken, Dallas, Tito and Big Dick Richie. If you are familiar with gay porn, you will recognize most of the male cast, because many of them are actually gay performers. Ryan Driller is one of them, and he is actually known as Jeremy Bilding in gay porn. Besides him, this movie also features Tony Martinez, Tommy Gunn, Seth Gamble, Derrick Pierce and Brad Armstrong. As for the ladies, you will get
famous porn stars like: India Summers, Maddy O'Reilly
,
Amirah Adara, Jessa Rhodes, Asa Akira, Bridgette B. and Kendra Lust.
The Plot
As said before,
twisting the original plot to fit a porn parody is extremely easy in this case
. The striptease industry and the porn one are close related, so much so, that many porn stars are actually ex-strippers. So the plot of Magic Mike XXXL A Hardcore Parody is pretty simple. To explain it to you, I will use an actual line from the movie, said by Mike himself: "We're a bunch of good looking studs that can fuck all night. We got a club full of horny girls.
Let's make some fucking porn!"
After the trailer, I honestly expected the action to be much like those VIP private party porn movies, in which everybody gets in a club and has an orgy. However, this parody is actually about the group of strippers fucking their way up the corporate lather until they get the endorsement needed for producing a porn. It's fun to see how the tables have turned! If usually we get some silly sluts fucking powerful men to get what they want, in this movie it's all about hot mindless dudes using their bodies to get what they want from the ladies in charge. The
porn action is just as awesome as the plot
, with nine hardcore sex scenes featuring several kinks and fantasies including group sex, threesomes, anal, cumshots, a lot of stripping and tons of muscles. The
dialogue in this parody is well written
and you can see that the porn industry has improved, because the acting put out by the porn stars is pretty good. All in all, this parody is a well-done project and with a bigger budged, it could have been more successful than the original movie.
Date posted: July 20, 2015