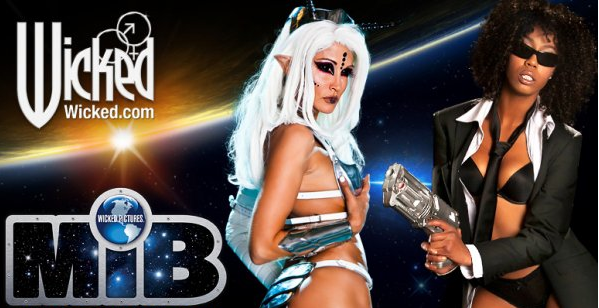 Studio
Based on
Main in Black by Barry Sonnenfeld
Starring
Randy Spears, Ethan Hunt, Misty Stone, Xander Corvus, Marco Rivera, India Summer, Isis Taylor, Jack Vegas, Eric Masterson, Tommy Pistol, Jessica Drake, Brad Armstrong, Alektra Blue, Kaylani Lei, Tommy Gunn, Mia Lelani, Nicole Aniston
StudioWicked Pictures
Starring

Randy Spears, Ethan Hunt, Misty Stone, Xander Corvus, Marco Rivera, India Summer, Isis Taylor, Jack Vegas, Eric Masterson, Tommy Pistol, Jessica Drake, Brad Armstrong, Alektra Blue, Kaylani Lei, Tommy Gunn, Mia Lelani, Nicole Aniston

Based on

Main in Black by Barry Sonnenfeld
Men In Black: A Hardcore Parody
A great collaboration of a well known porn movie director Brad Armstrong and Wicked Pictures brings us another high-end porn parody of a very successful sci-fi movie with a similar title called "Men in Black: A Hardcore Parody". It's a story about two agents on a mission to save the world from evil aliens, but in this version those aliens are sexy females called Vaginians, led by Wicked's major porn star Jessica Drake. Randy Spears takes over for Tommy Lee Jones and Ethan Hunt for Will Smith in a movie filled with funny references, some great effects and a great cast. Director Armstrong appears in the role of Edgar and he has the voice of actor Vincent D'Onofrio completely down.
Scenes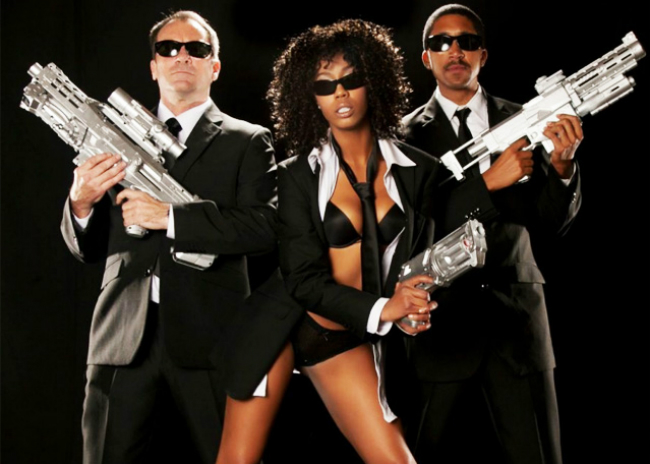 The story starts with agents K and J (Randy and Ethan) discussing with their boss Edgar (Armstrong) about tracking down the Vaginians. We also get to see Frank, an alien talking dog, which is always funny. In order to find the evil aliens they split up, so agent J (Ethan Hunt) goes to the morgue to his girlfriend doctor (India Summer) to find some clues. She is attracted to his appearance and after moments of seduction she is on her knees pulling out his cock and taking it in her mouth deeply. She takes it from behind, missionary while lying on the table and reverse cowgirl, all vaginal with some oral work between positions. At the end she gets off of him and jerks him off, no facial there only few drops on her tongue. In the second scene a space bug in form of a human (Brad Armstrong again) films two female aliens (Nicole Aniston and Mia Lelani) in a lesbian action. The costumes are very original and although the girls are wearing insect costumes, their bodies underneath it are pretty hot so it shouldn't be a problem.  There is some nice sloppy pussy licking, pussy and ass play and dildo using. At the end they are interrupted by two agents K and J, who charge them for making the alien sex tape without permit. Soon the agents are gone, and the aliens continue their deed, now with "the director" involved. The girls take out his cock and start sucking it. They switch back and forth until he pops on one girl's chest.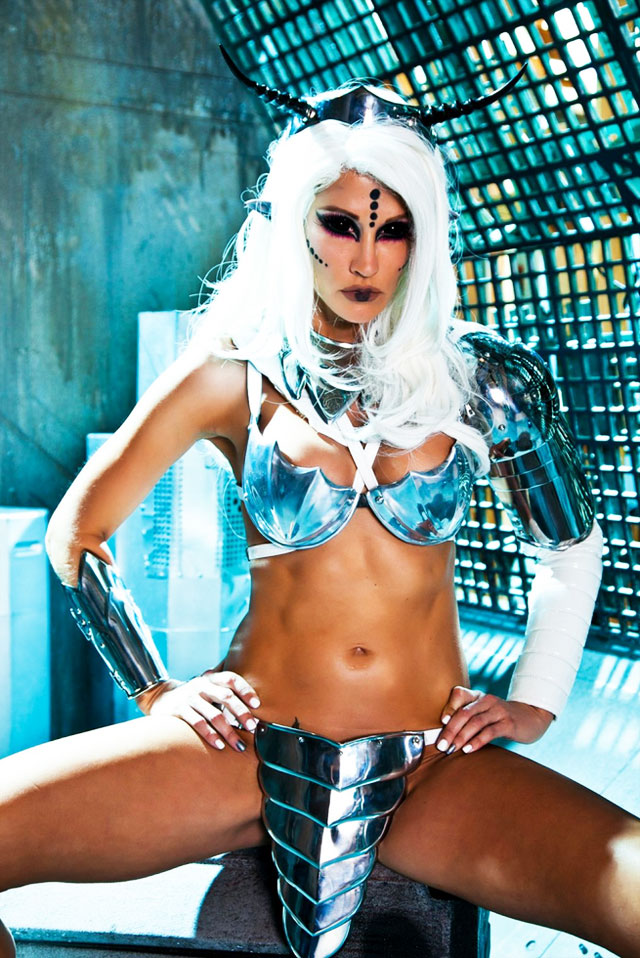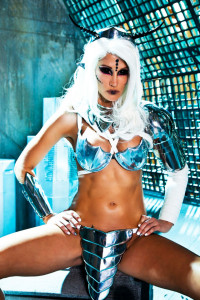 Two agents continue to investigate and go to check on sexy dominatrix Alektra Blue, who is ready to spank some ass, and she has Xander Corvus for that, a two headed freak playing Johnny Knoxville's role (he looks and sounds a lot like his mainstream counterpart). She makes him kneel and suck her pussy and he spice things up with some ass play. She returns a favor with some knob slobbing and titty fucking. Then she turns around and takes it from behind, first vaginally then anally. She takes it in the ass some more in missionary position before he spays her wet pussy.
In scene four Kay (Randy Spears) dreams about his girl Kaylani Lei in some corn field. She has three boobs, so he has an extra one to play with. After some cock sucking and titty fucking, she rides him reverse cowgirl, making all her boobs bounce. They spoon a little bit more and at the end he pulls his cock out and drops his load on her boobs.
In scene five Edgar and Agent Kay make a plan to use Agent Jay as bait, but first they turn him into a drop-dead girl (Misty Stone) so he can become attractive to alien female abductors. She has to pick out her new weapon and try out her new body, which leads to a nice masturbation scene. She uses the flashy thing and some other toys to satisfy herself, but no one joins her so no sex action here, and at the end some pecker puppets come out, so this pretty hot solo scene becomes both funny and ridiculous.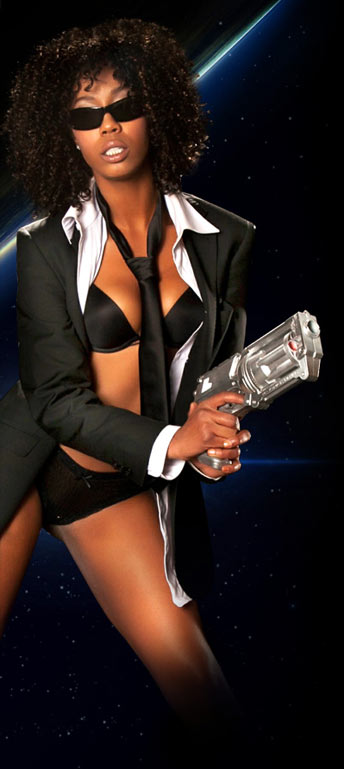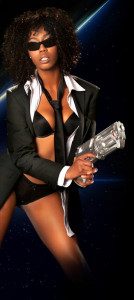 Next scene takes place in a pawn shop where a space princess (Isis Taylor) meets Tommy Pistol – an alien lowlife, looking for some intergalactic jewelry. Tommy was meant for this part and the similarity between him and his mainstream counterpart is obvious. Isis is wearing a skin-tight uniform which really highlights her tremendous booty. After getting what she was looking for the payment method here is obvious. She drops down to deepthroat his cock and lets him play with her natural titties. He fuck her from behind while bending over the counter, then missionary style and before it is over she gets on top of him for some cowgirl ride. He drops a round of spunk in her mouth, but she spits it out. When they were done the couple of agents in black come to visit them and agent Kay blows alien's head, but he grows one back, which was another great effect and nod to the Hollywood's hit.In the last scene a group of agents are on their ultimate mission to save the planet from evil female aliens. The girls (Jessica Drake, Misty Stone, Alektra Blue, Kaylani Lei) are wearing some sluty space costumes and the guys (Randy Spears, Jack Vegas, Marco Rivera, Tommy Gunn and Eric Masterson) are in their regular black suits. Some of the girls start sucking the dicks and some of them are making guys suck their pussies. All the girls looked hot and there were some great angles on their main assets, bouncing asses and tits. A great pussy pounding led to a bunch of facials, an ass pop, and Misty taking a pop on her pussy.
Summary
A great production, great cast, bunch of special effects, a story that isn't just random and gives a nod to its mainstream counterpart are all mixed in this thrilling parody. This two-disc set is loaded with extras as well. It's recommended for fans of parodies and spoofs, sci-fi and beautiful girls doing nasty stuff.
Details
Release date
Directed by
Produced by
Running time
Country
Language
Awards
AVN Awards 2013 Winner: Best Makeup; AVN Awards 2013 Winner: Best Special Effects
Release date

June 2012

Directed by

Brad Armstrong

Produced byWicked Pictures
Running time

131 min.

Country

USA

Language

English

Awards

AVN Awards 2013 Winner: Best Makeup; AVN Awards 2013 Winner: Best Special Effects