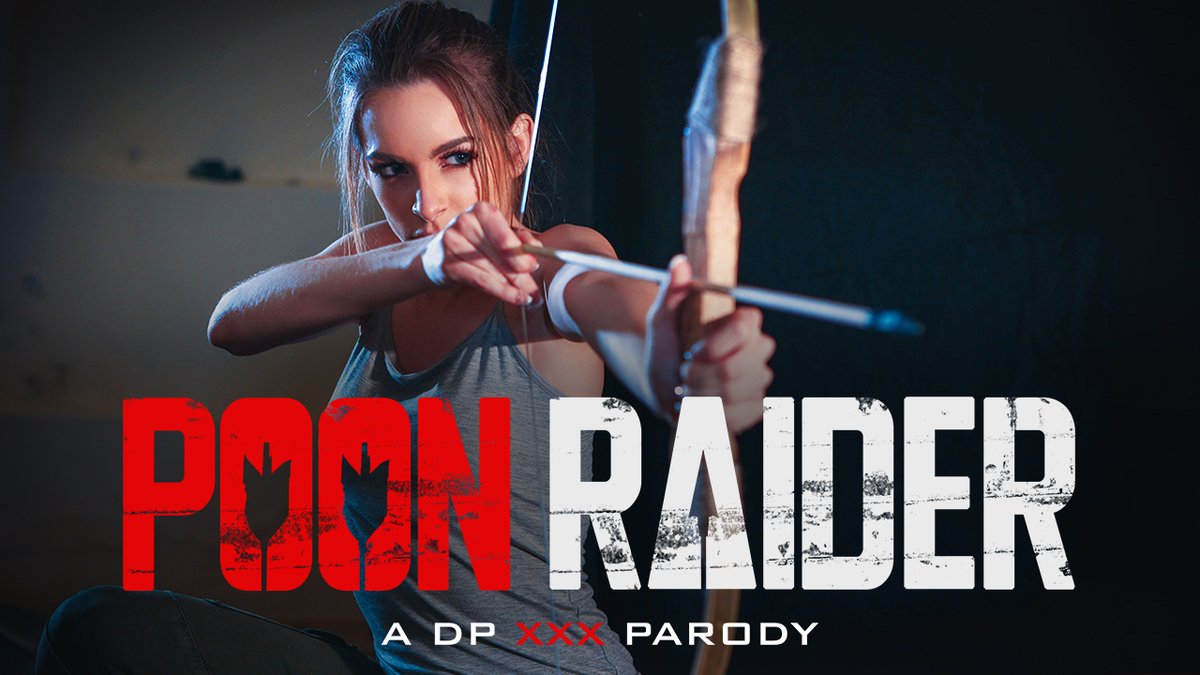 Studio
Based on
Tomb Raider 2018 - (Fantasy Action Movie)
Starring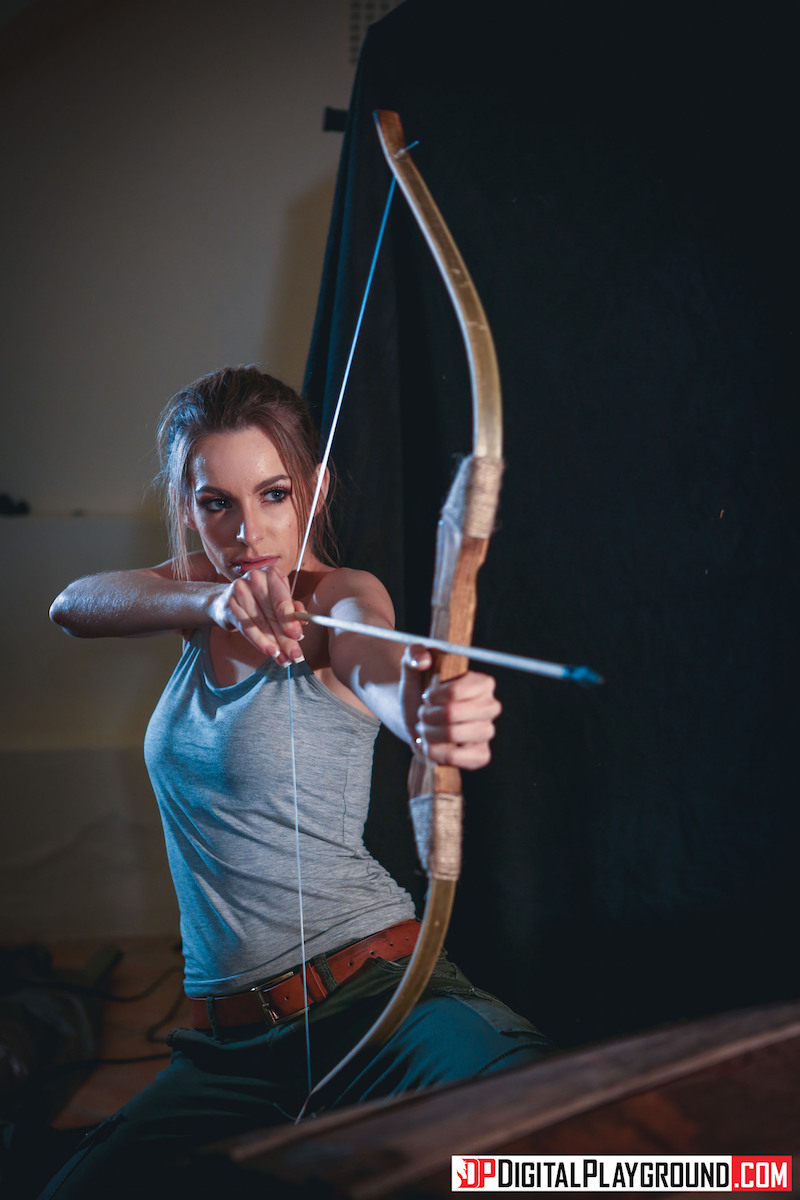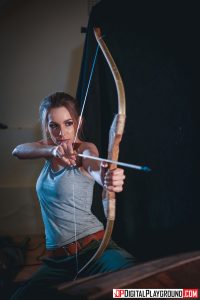 She is fearless. She's strong. She's smart. She is Laura Crotch and you're going to love her! After the death of her father, she arrives home to acquire Crotch Industries only to find out that her stepmother, the new Mrs. Crotch, has a different plan for the company. Both her stepmother and Laura are looking for the same rare artefact, but Mrs. Crotch has some much needed help from her assistant Ryan and Laura's sidekick Rina. So will Laura manage to get to her father's artefact first? You'll need to check out this parody to find out. Now we all know that Angelina Jolie will always be Lara Croft, but it seems that this movie parodies the newest Tomb Raider with Alicia Vikander as Lara, because the main actress in Poon Raider Kimmy Granger looks a lot like Alicia. I think that they nailed it when they picked Ms. Granger for this movie because she looks tough and very sexy just as the porn version of new Lara Croft should be. Unfortunately, this movie doesn't show much of Laura's adventures or action that we're used to seeing in the Hollywood's counterpart, so it looks more like a drama than the action/adventure movie. Still, the sex is amazing and that's why you should definitely check out this hot parody.
A New Porn Adventure for Lara Croft
Poon Raider is a hot new parody launched by Digital Playground and we all know how good they are at hardcore spoofs. This movie is just as hot as their previous projects and they covered almost everything you'd want to see in a porn movie, including pussy licking, lesbian sex, blowjobs, cumshots, threesome action, face sitting and more kinky stuff. Main actress Kimmy Granger is a good choice for the part of Laura Crotch, even though I prefer curvy girls and would pick Angelina type of girl rather than someone who looks like Ms. Vikander. Granger's fake British accent could be annoying for some people, but her acting is quite decent. The rest of the crew is pretty average I must say. Tina Kay is her nemesis in this movie, and their lesbian scene is probably the hottest scene in this movie (definitely the hottest one if you ask me). Rina Ellis plays the sidekick, and although I'm not her biggest fan I admit that she knows what she's doing and knows how to satisfy a huge dick such as Danny D's. Now, Lara Croft is a hot babe known for her adventures, but unfortunately this movie doesn't have that. This movie is rather a drama/thriller with a few moments that will remind you that this movie is parodying Tomb Raider, but other than that it's a simple scripted porn movie. There are no special effects here, no special costumes, only a story and good old fucking.
The Scenes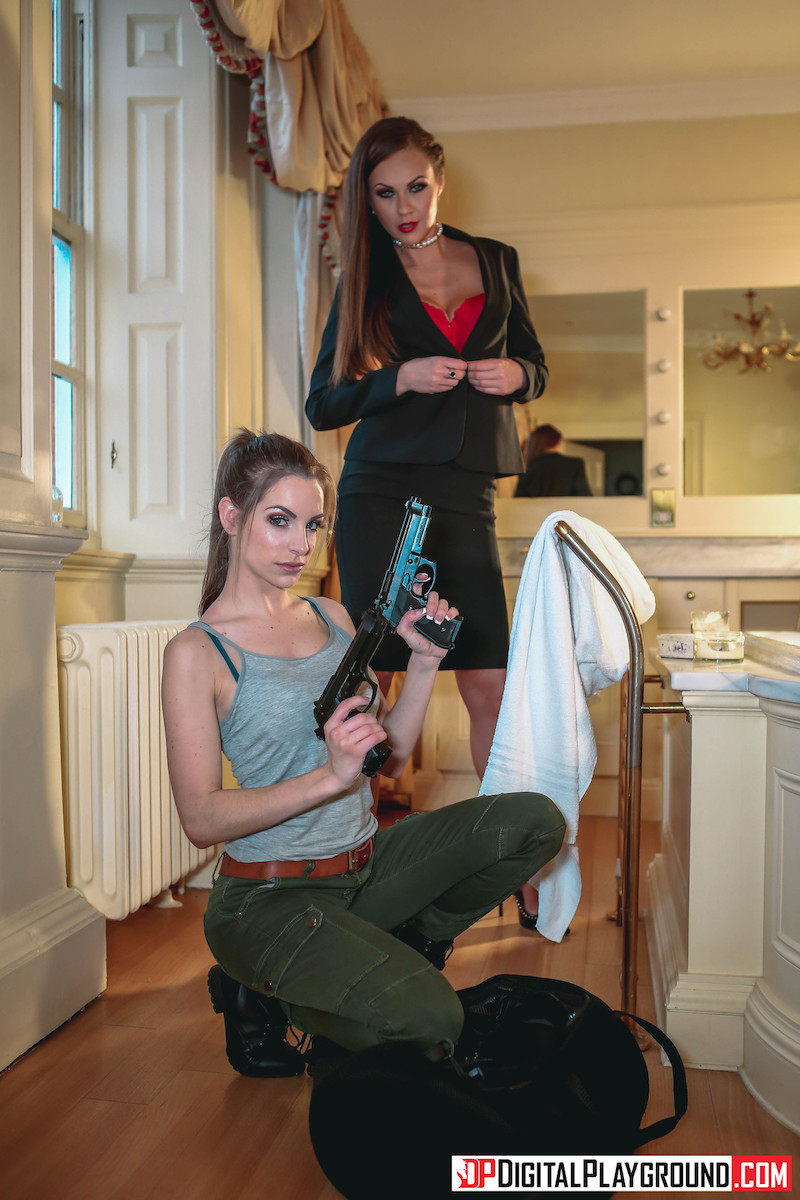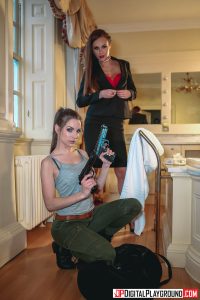 The opening scene shows Laura Crotch (Kimmy Granger) and her sidekick Rina (Rina Ellis) at Laura's mansion. It looks like somebody wants Laura out of there, so she has to stop the guys trying to take their stuff out of the mansion. She first uses her fists, and she got to the guy in charge of this operation, she used her big guns – her mouth and her wet pussy. This first scene is a classic boy/girl scene with a sloppy blowjob, hard pussy banging and big cumshot at the end.
In the second scene Rina Ellis goes to Mrs. Crotch's office, but finds her goon Danny D. After confronting him the things heat up and they start making out. Rina definitely knows how to deal with big dicks and be dominant girl. She slobs Danny's knob like a pro in this scene and takes it as deeply as possible. I loved the way he played with her anus while fucking her cowgirl style, as well as the way he sprayed her face with jizz.
After dealing with the stranger at her own house Laura decides to take a bath, but Mrs. Crotch (Tina Kay) decides to pay her a visit. They fight for a few moments, but it appears that Mrs. Crotch wishes Laura no harm. As a matter of fact, she seduces and dominates young Laura right there in the bathtub. This is my favorite scene because their wet bodies look so amazing in this scene! I only wish it was a bit longer because it's so sexy. Also, I'd love to see Tina lick Kimmy's ass a bit, but Kimmy got dominated here, which was still very hot. Loved this lesbian tryst!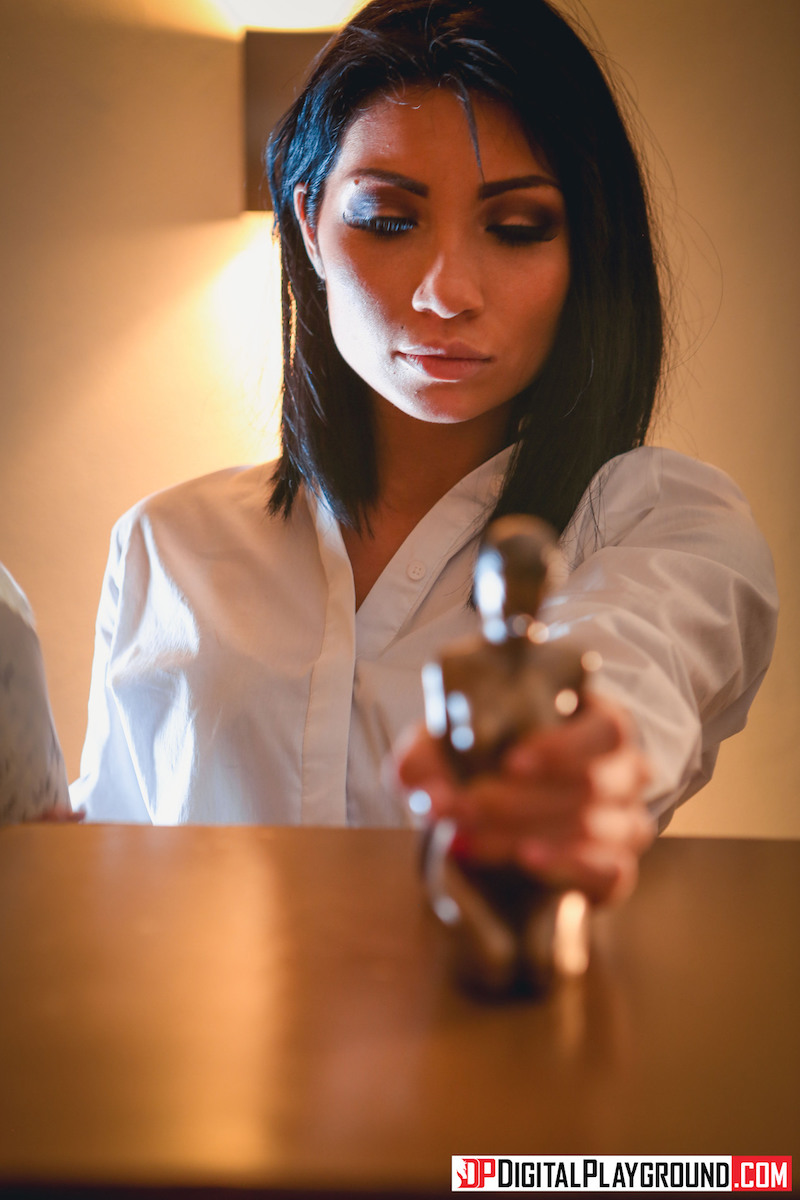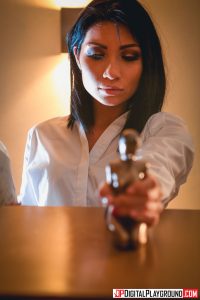 Rina and Mrs. Crotch reveal their true self in the next scene and Laura falls into their cunning trap. Apparently, Rina has found the lost ancient artefact and now has the unlimited power. The girls tie Laura up, and decide to celebrate their victory by fucking Ryan Ryder right in front of her. This hot threesome has everything you need – double head, sloppy cocksucking, facesitting, lesbian play, choking, pussy to mouth and a big cumshot. Suddenly, when the hard banging was over, Laura sets herself free and destroys the ancient artefact. The bad guys are defeated and Laura leaves with her favorite guns in her hands.
Conclusion about Poon Raider A XXX Parody
I love everything Digital Playground has done so far in their parody segment. Tomb Raider is a hot new movie and it was only a matter of time before some studio issued a parody of it. I missed those adventure scenes that this movie is known for, but I enjoyed Kimmy Granger's scenes nevertheless. There are a few other things I didn't like about this movie. It's a bit short, it has only three actresses some of whom wouldn't be my first choice for this movie, and they also didn't give all their performers aliases. Kimmy Granger and Tina Kay are named Crotch which is funny and nice word play if you ask me, while Rina Ellis and the guys go with their stage names. This is not the best parody on Digital Playground's site, but their sex scenes are always hot and that's why you should take a look at this sexy parody.
Details
Release date
Directed by
Produced by
Running time
Release date

March 14, 2018

Directed by

-

Produced byDigital Playground
Running time

2h 10 min

Country

USA

Language

English

Awards

-