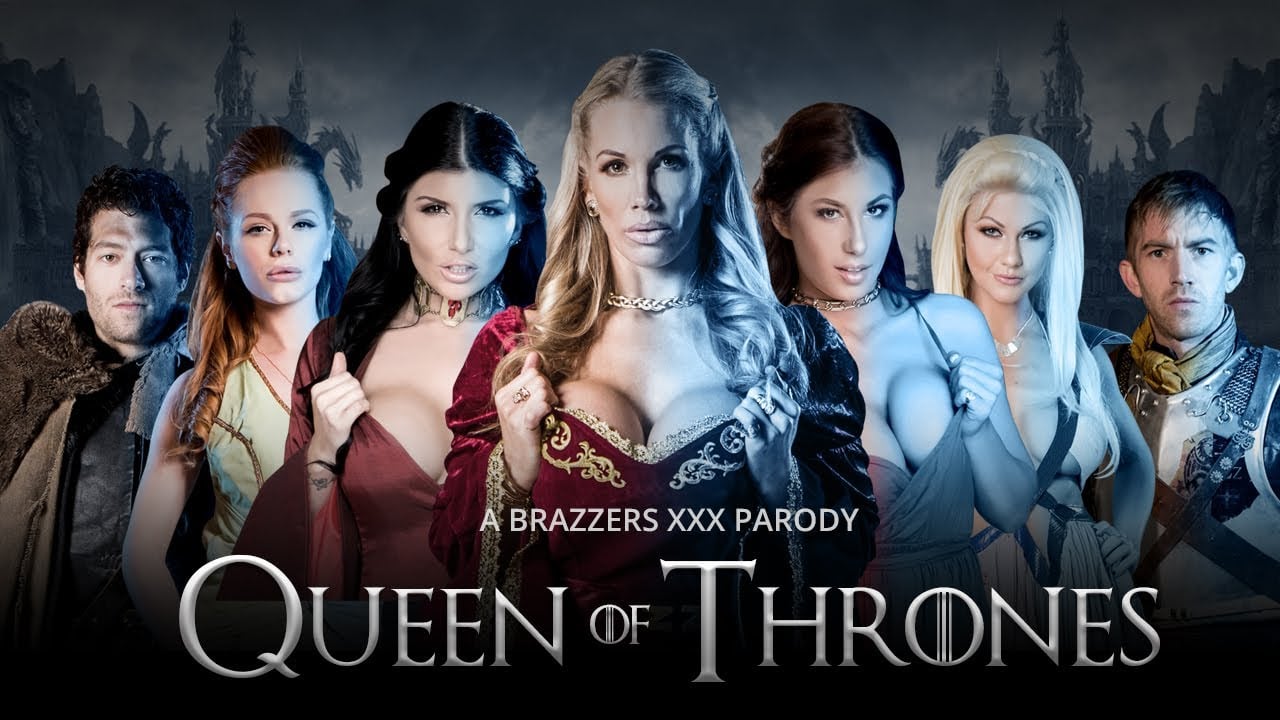 Studio
Based on
Game of Thrones - TV Serie
Starring
While the seventh season of Game of Thrones has the entire world mesmerized and shocked, Brazzers decided to make another hardcore parody of this epic tv serie. There have been a few movie that parodied this HBO show before, but the Brazzers decided to issue a four part series that shows what happened in this fantasy world where everybody's plotting against everybody. In this series we'll see what happens in the Westerness under a new Queen's reign. John Doe, the king of the North, is facing the imminent threat of the dead walkers. He needs to join forces with the freshly crowned Queen Sexcei, and just as you'd expect, it's a tricky business.
Queen of Thrones – 4 Part Series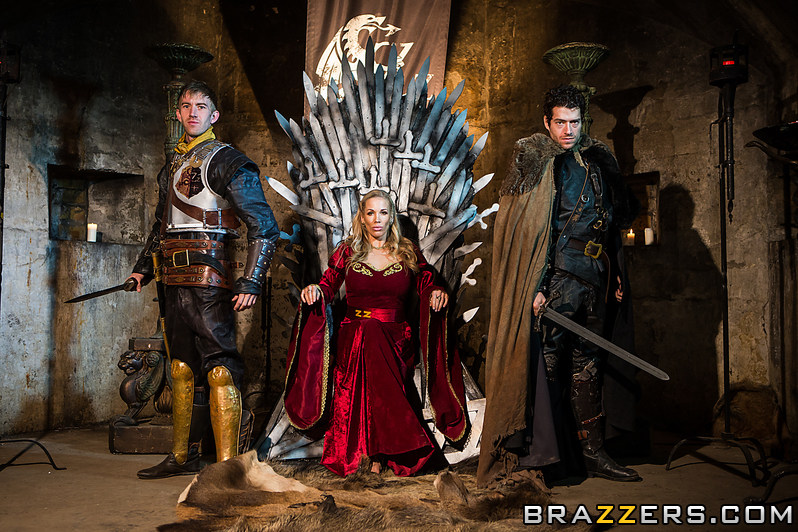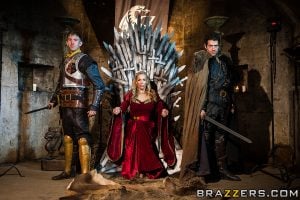 In the first episode John Doe (Xander Corvus), the bastard from the North, comes to South to warn the Queen Sexcei (Rebecca Moore), that the dead walkers are marching towards them. He gets thrown in the cell, so the Queen, her step bro Jeromay (Danny D) and some peasant/performer (Tina Kay) are left alone to have some real fun. Back at his room Jeromay starts banging this whore, and when the Queen walks in, the Bannisters agree to share this slutty girl and bang her silly. You can see a lot of deepthroating, pussy eating, lesbian play and spanking with lots of dirty talk with British accent.
Second scene shows brave lad John Doe (Xander Corvus) and the Red Strumpet (Romi Rain) in John's cell. The busty MILF treats this young man with some hard fucking he'll never forget. He plays with her huge melons before sliding his big cock down her throat. The slutty witch is obviously very hungry for some big dick, so she lets this guy fuck her ass as well. Her tits bounce the whole time as she rides John's dick.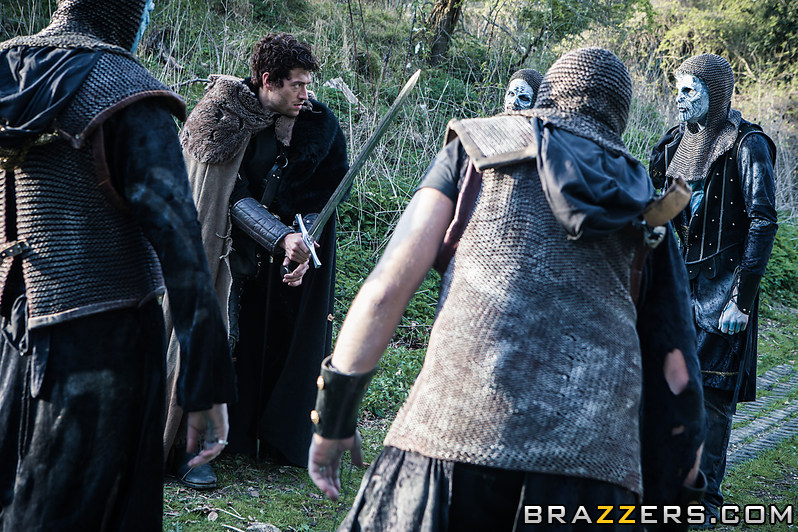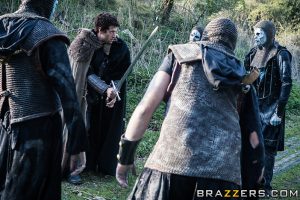 In the third episode Jeromay (Danny D) comes to the brothel looking for John. In order to keep John hidden the Red Strumpet (Romi Rain) needs to keep Jeromay busy, and as everyone would expect, she's quite good at it. With the help of a whore (Ayda Swinger), she makes Jeromay stop looking for John and it turns into a nasty threesome. The girls enjoy sharing his huge cock and has no problem with that. He fucked both of their pussies hard and the girls played with each other as well. When he couldn't wait no more, Jeromay cums all over Ayda's tits and Romi licks everything off. Such a hot threesome! At the end of this episode John and Jeromay fight and Jeromay gets killed.
The best way to conclude a porn parody is a group sex scene, and that's exactly what you'll see in the last episode of this sexy series. First we get to see the Queen (Rebecca Moore) and her handmaiden (Ella Hughes) getting down and dirty while the dead walkers gather at the gate. John Doe shows up and kills the dead creatures, but the Queen has to bend the knee. She shows her gratitude and fucks the bastard and two other guys. All three of them fuck her throat first before destroying her sweet pink pussy. They decide to fuck her ass as well, and her big tits look really hot as she bounces on those dicks. The guys fucked Sexcei right there on the Iron Throne and she loved every bit of it. The best part is when two guys fuck her throat alternately while she rides the third guy's dick. After cumming on her big and gorgeous tits, they make her walk the Walk of Shame, and she looks as stunning as ever.
Conclusion about Queen of Thrones: A XXX Parody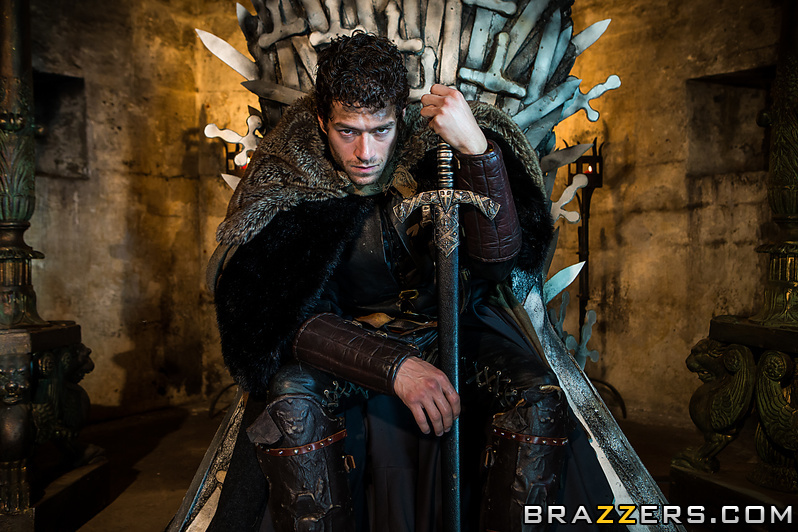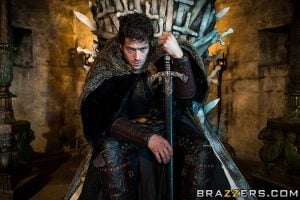 Queen of Thrones: A XXX Parody is such as hot parody. It was perfectly designed and executed and I really liked all the episodes. I like the way they picked some of the sluttiest British pornstars for this parody, because they made it look so hot and authentic. Romi's anal scene was probably the hottest one, but I loved the Rebecca's scenes as well. Acting, camera work, effects, costumes – everything was perfect and I'm really happy that Brazzers did this parody, because it's something you could watch many times because it never gets boring. I believe this parody can make both the fans of the GoT show and the people that have never watched this show very happy and horny. Winter has come!
Details
Release date
1° Episode: July 30, 2017
2° Episode: August 06, 2017
3° Episode: August 13, 2017
4° Episode: August 19, 2017
Directed by
Produced by
Running time
1° Episode: 35 min.
2° Episode: 31 min.
3° Episode: 37 min.
4° Episode: 32 min.
Release date1° Episode: July 30, 2017
2° Episode: August 06, 2017
3° Episode: August 13, 2017
4° Episode: August 19, 2017
Directed by

-

Produced byZZ Series by Brazzers
Running time1° Episode: 35 min.
2° Episode: 31 min.
3° Episode: 37 min.
4° Episode: 32 min.
Country

USA

Language

English

Awards

-