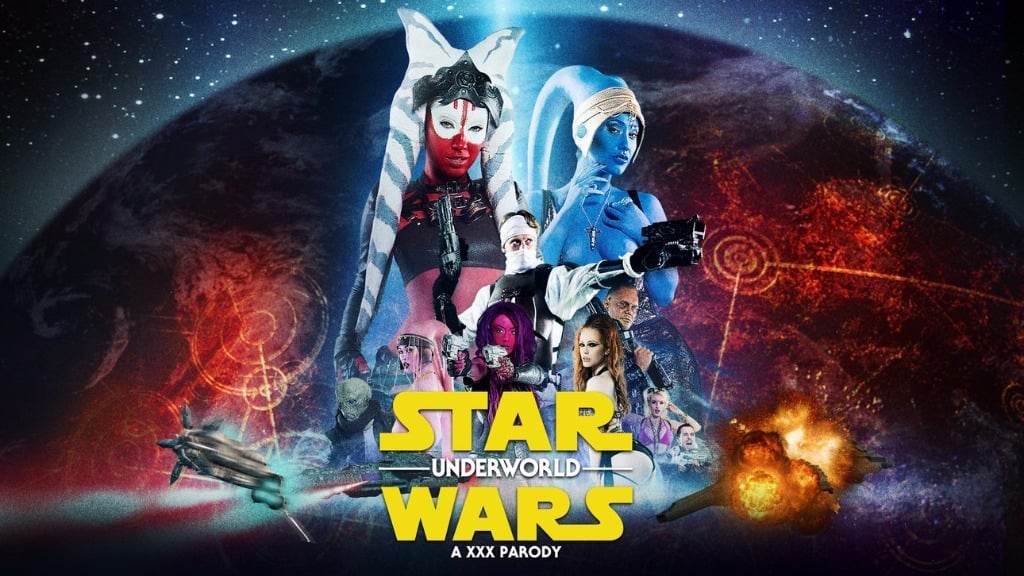 Studio
Based on
Star Wars: The Force Awakens (2015)
Starring
Aria Alexander, Eva Lovia, Misha Cross, Alessa Savege, Ella Hughes, Juan Lucho, Luke Hardy, Marc Rose, Monty Don, Nacho Vidal, Nick Moreno
StudioDigital Playground
StarringAria Alexander, Eva Lovia, Misha Cross, Alessa Savege, Ella Hughes, Juan Lucho, Luke Hardy, Marc Rose, Monty Don, Nacho Vidal, Nick Moreno
Based on

Star Wars: The Force Awakens (2015)
Star Wars fans will be thrilled to hear that Digital Playground has made their dreams come true again! After launching a couple of thrilling scenes dedicated to Star Wars saga such as Star Wars Force Awakens: A XXX Parody and Star Wars Force Rising, they've finally completed a full parody which is definitely going to be one of the hottest parodies in 2016! Star Wars Underworld: A XXX Parody is an amazing blockbuster that offers six steamy hardcore scenes with the hottest pornstars in the biz. You'll see both of DP's most popular models – Aria Alexander and Eva Lovia in some very naughty scenes, as well as some other hot aliens and humans. Production value is high, which is something everybody expects from Digital Playground. The story is just as entertaining as the sex part, but unlike their previous Star Wars parodies, this one doesn't spoof any of the Star Wars episodes, but follows the stories of other fictional and extremely very hot female characters. You'll still get alien bounty hunters, Senator's sexy daughter and more sexy aliens that are willing to take big human dicks inside their tight holes. You'll find threesomes, face-fucking, lesbian sex and some huge facials in these scenes, and it's all available in full HD on Digital Playground official website.
Great Story, Amazing Models & Stunning Costumes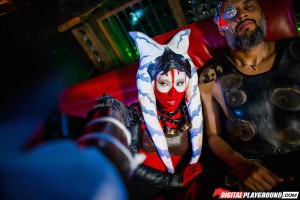 Digital Playground is one of the biggest players in the adult film industry, especially when it comes to making exquisite porn parodies, and their latest project is a true masterpiece. The craze for Star Wars adventures continues to rise after the newest movie Rogue One was released, and only a couple of days after that premiere DP issued their version of this popular blockbuster. However, you won't see much of sexy rebellions doing their thing, because this movie focuses on sexy bounty hunter Danni Ori played by DP's exclusive girl Aria Alexander and "corrupt Senator's sexy daughter" Eva Lovia. You'll see at least one of these two hotties in each scene, and there are six scenes in total. Costumes, body paint, animations and even lighting are superb, and even the parts of the movie without hardcore action are interesting and entertaining. These guys made excellent choices when they picked the performers for this movie. Now, although the movie focuses on DP's exclusive girls, I loved all the girls that appear in this movie and the way they stayed in character the whole time. I guess they all enjoyed filming this movie so much and that's why you'll have the perfect experience while watching this parody. Deepthroating, hardcore doggy-style fucking, lesbian action with licking and fingering, facial cumshots and threesome sex are the categories you can expect to find in these scenes. Sexy models make those scenes even hotter, just like you'll expect from Digital Playground.
Star Wars Underworld XXX – Scenes
Aria Alexander is a well known bounty hunter on the Black Moon and her objective is to find and retrieve Senator's sexy daughter – DP legend Eva Lovia, who got kidnapped while partying in the nightclub. Danni now has to join forces with legendary bounty hunter Dengar and track down her sexy blue alien friend. In order to persuade him to go with her, Aria gives Dengar (Luke Hardy) a nice blowjob and a taste of her tight pussy.
These two bounty hunters then find of the hottest thugs in the Underworld (Alessa Savage) looking for answers, which leads to a steamy sexual tryst. Alessa takes Luke's hard dick down her throat and inside her wet pink twat. He also gives her a huge cumshot at the end just to make sure she won't lie.
On the other side of the Coruscant Eva gets banged by her kidnappers. She's very horny as always and takes both of these dicks and even takes a couple of huge cumshots. Her big round blue butt is in the spotlight during the entire scene and she looks quite amazing covered in blue paint.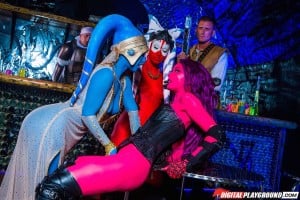 In the next scene Eva is in a brothel, but she only observes the action this time, as one of the villains enjoy the company of two beautiful females – one alien, one human. These chicks look very hot and they're actually a couple of famous Euro pornstars we all know – Misha Cross and Ella Hughes. You'll see another amazing threesome with a hot double blowjob and shared cumshot at the end.
Aria, a clever bounty hunter, poses as a brothel whore and joins Eva in a threesome with Nacho Vidal, only to rescue her with a little help of her companion Dengar. Nacho's big dick is served well by these two hotties, but he gets terminated by Dengar and the girls escape.
In the last scene Alessa Savage comes to prove her loyalty to Eva and Aria, and these girls know how to make her do that. This turns into an amazing and colorful lesbian threesome with three extremely hot aliens and it's definitely a great way to conclude this interesting story.
Conclusion about Star Wars Underworld: A XXX Parody
Star Wars Underworld: A XXX Parody is definitely one of the hottest porn parodies in 2016! Digital Playground did an amazing job picking out the right crew for this movie. I expected to see Eva and Aria in the main roles, but all the other girls are just as hot. Costumes, body paint and all the props are quite great and exactly what you can expect from a high-budget movie such as this parody. This movie is over two hours long and I'm sure that every Star Wars fan, comic book fan and hardcore porn lover will enjoy this DP blockbuster.
Details
Release date
Directed by
Produced by
Running time
Release date

December 15, 2016

Directed by

n/a

Produced byDigital Playground
Running time

2h 43 min.

Country

USA

Language

English

Awards