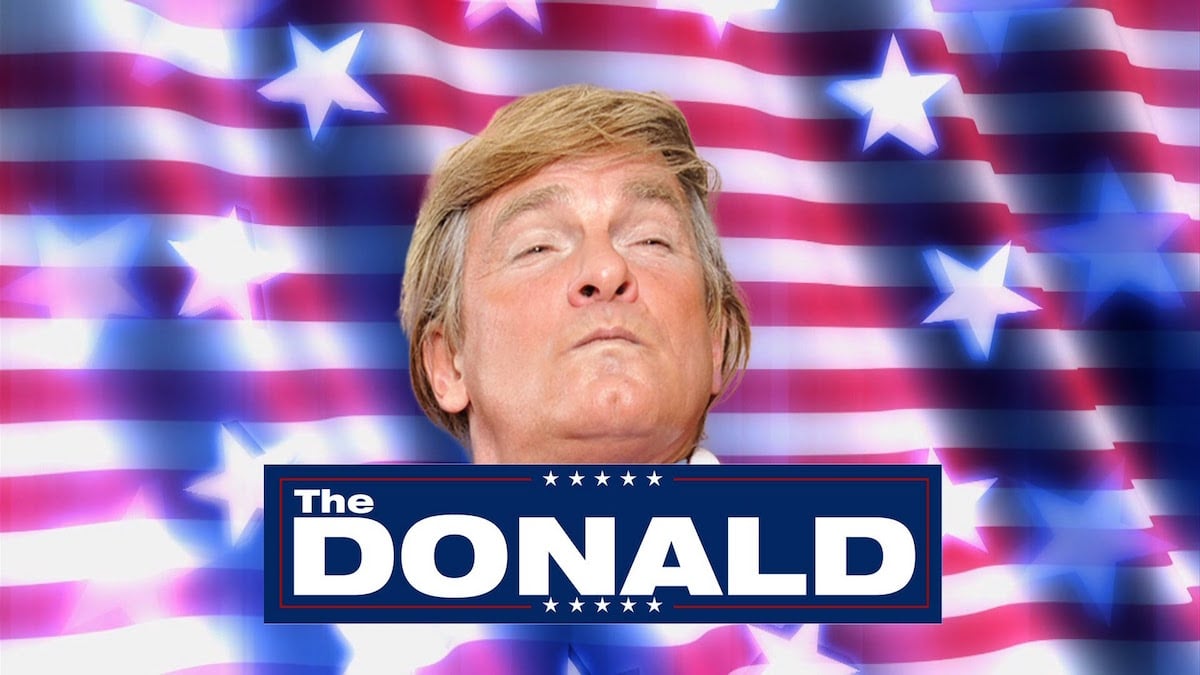 Studio
Based on
Starring
Britney Amber, Christie Stevens, Natasha Starr, Alyssa Lynn, Subil Arch, Skylar Madison, Donnie Rock, Evan Stone, Mark Zane
StudioHustler Video
StarringBritney Amber, Christie Stevens, Natasha Starr, Alyssa Lynn, Subil Arch, Skylar Madison, Donnie Rock, Evan Stone, Mark Zane
Based on

US Elections 2016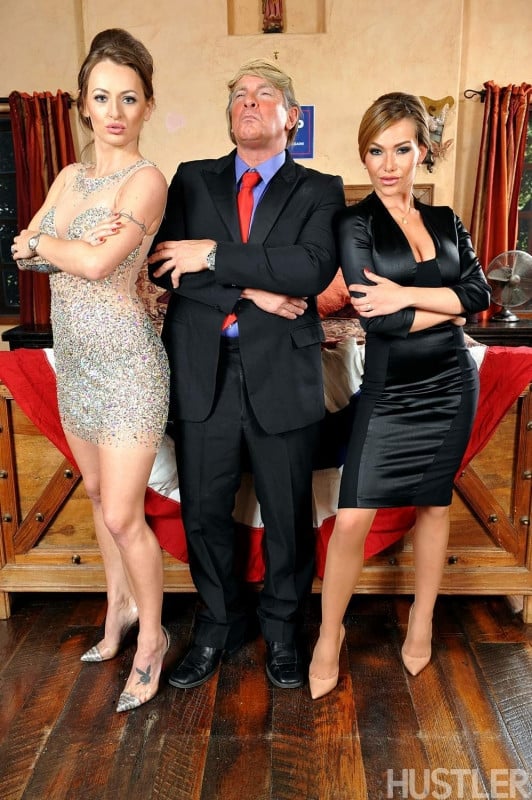 Controversial presidential candidates made the upcoming elections enormously popular. This is of course is a great marketing opportunity for any product that's related to those people and the whole election process. One man saw that opportunity and decided to seize it. This man is the founder of one of the major adult film companies called Hustler and his name is Larry Flynt. With the help of great and popular porn stars, this parody should be one of the most popular porn blockbusters these days. The movie is described as "satirical mockery", as it hasn't been a secret that Flynt never liked the Republican nominee for the upcoming presidential race. Someone said that "Larry Flynt took the pulse of the nation", which led to this hilarious, but very sexy parody. Flynt stated that this porn parody was his contribution to the most entertaining Republican Party contest in recent history, and I can't wait to see what he's prepared for all of us porn lovers. I've have no doubts that this is one very funny parody, because it comes from the studio that launched This Ain't Game Of Thrones and This Ain't Duck Dynasty. However, the main question is – is it sexy enough? Well, if you take a look at the cast, you'll see names such as Britney Amber, Christie Stevens, Natasha Starr and other porn stars that can make any scene look steamy hot. All in all, the parody is amazing on many levels and it's recommended to any hardcore porn parody fans.
The Parody
First a few words about the main character that this parody is based on. Donald Trump is a well known businessman, the founder of the gaming and hotel enterprise called Trump Entertainment Resorts and a television personality, but that's not it. These days he's one of the most popular contestants in the US presidential race in 2016. He's statements have been so controversial, so it shouldn't surprise you that there are parodies inspired by his work.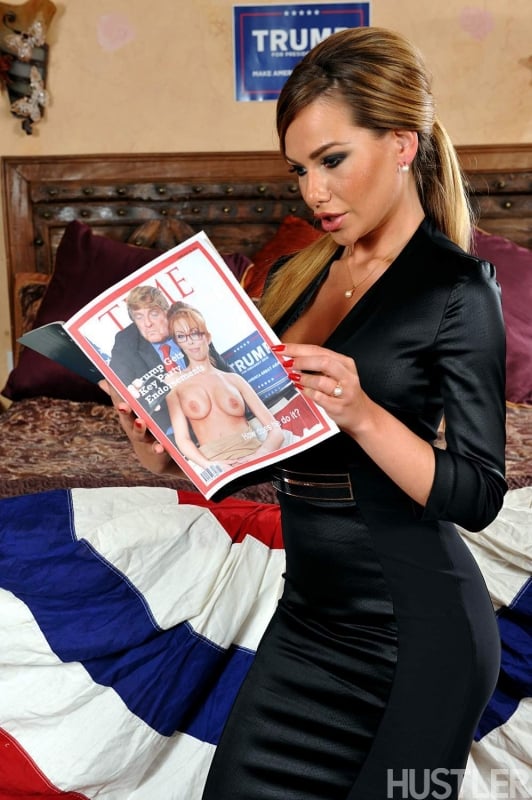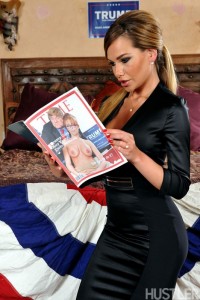 Larry Flynt is no fan of Trump's, but he wanted to turn the whole story of this Republican candidate into something funny and appealing to all hardcore porn fans. The hardcore parody is a natural step, so he handpicked a crew for that project, and after a first glance I can say that he picked it very well. The story follows the battle between two Republican candidates – Sarah Palin, played by busty Britney Amber, and Donald Trump, played by the porn legend Evan Stone. It's all so entertaining and exciting, because "Hustler Video pairs the couple in a porn parody that dares to go where mainstream satire cannot." The story tells about the ways of Republican Party's front-runner Donald Trump selection of his potential vice presidents. You'll also see Trump's, as well as his opponents' (Marco Rubio and Ted Cruz) sexual affairs during the whole process of election.
The entire parody is funny, but there's a whole other side of this parody that's very entertaining, which is why we're here. I'm talking about the sex part, which looks amazing thanks to some porn legends and popular porn stars. It's a Hustler parody, so you already know you can expect steamy hot sex with experienced porn stars, which is exactly the case in this movie. Besides Evan Stone, male performers are Donnie Rock and Mark Zane as Marco Rubio and Ted Cruz. The female cast is just as great, and you'll see hotties such as Natasha Starr, Subil Arch, Skylar Madison, Christie Stevens and Alyssa Lynn. Britney Amber appears as Alaska's former governor Sarah Palin in a naughty lesbian scene, as well as in the sex scene with Evan Stone, which was the highlight of this movie.
Scenes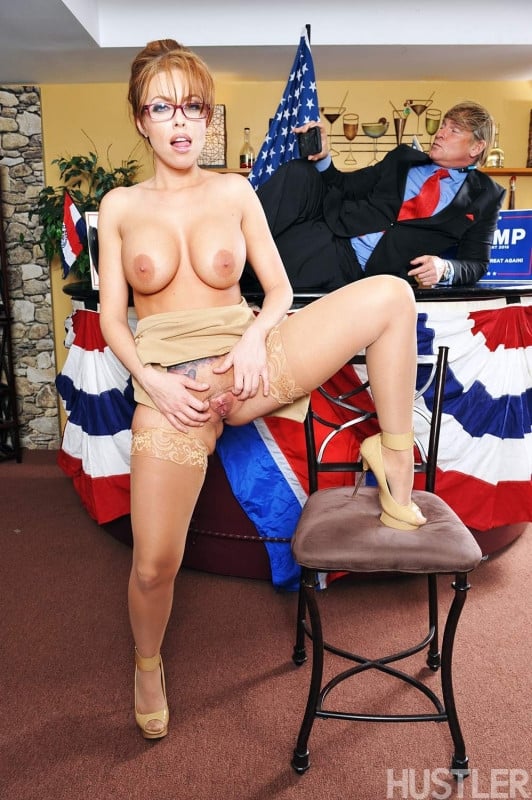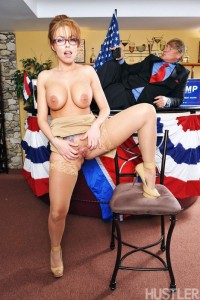 This movie consists of five scenes that offer about 20-30 minutes of hardcore sex, but you'll also find lots of goofy parts in between. Different kinds of categories are covered by all those scenes, including lesbian sex, threesomes, deepthroating, masturbation and of course cumshots. There isn't any kinky stuff, such as anal, bondage or spanking, but it's all very entertaining anyways.
The opening scene introduces special guest Britney Amber in a sexy lesbian tryst. In this scene she's being very nasty, as she gets seduced by a slutty Domme called Alyssa Lynn. I can say that these MILFs are having a great time, as you'll hear them moan while licking and touching each other. You can see them finger each other's pussies and lick each other's clits. There's some rimming and scissoring as well. You'll also notice that Britney Amber's impersonation of Sarah Palin is very good and also very entertaining.
Second scene shows Donald with a couple of sexy blondes at some kind of convention. After the presentation ends, one of those blondes, named Skylar Madison, ends up in Ted Cruz's (Mark Zane) bedroom. She enjoyed riding his cock, before he turned her over and fucked her from behind, playing with her butthole and spanking her ass cheeks. Quickly, after some more reverse cowgirl riding, he came all over her face.
In the next scene another Republican Party candidate gets lucky. Now it's time for Marco Rubio (Donnie Rock) to have some sexy time with another feisty blonde named Christie Stevens. The sex was hardcore as I expected, but there wasn't any anal banging or titty-fuck, which I expected to see from this experienced porn star. However, she showed great sucking and riding skills, so the scene looks pretty hot.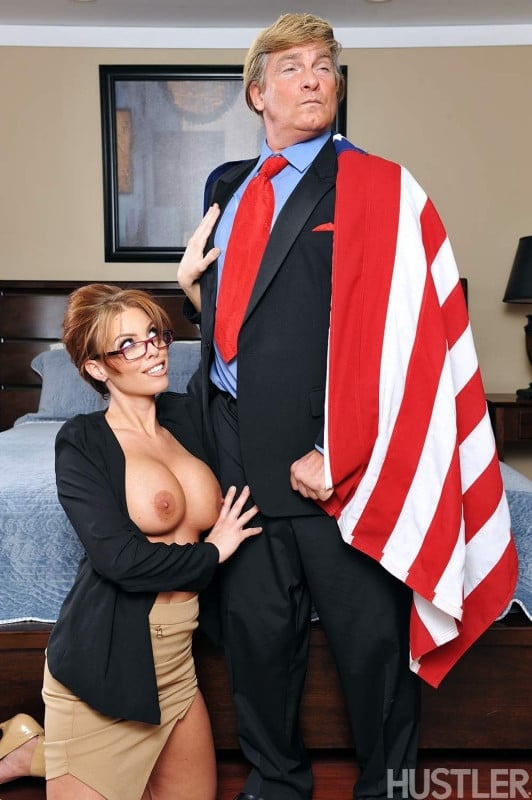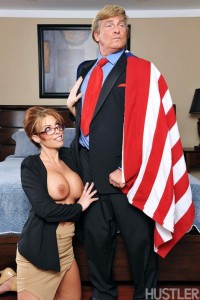 In the fourth scene we finally get to see the main character in a naughty action. This time Stone gets naughty with a couple of younger hotties – Natasha Starr and Subil Arch. The scene includes some lesbian action, as well as hardcore banging, so the sex is intense the whole time. As she gets banged from behind, Subil's tongue is buried deep inside Natasha's pussy. After that Natasha goes through the same process, which certainly made this scene more enjoyable. At the end Stone cums on Natasha's bush and his cock is sucked dry.
The last scene is probably the highlight of the entire movie, because this is where we get to see sexy Britney Amber and Evan Stone together. It's both funny and hot, as they're both great actors and skilled porn stars. However, there isn't any hardcore sex in this scene. Britney makes herself cum by rubbing her clit and fingering her wet pussy, with Evan watching the whole show and playing with her tits a bit. I was hoping for a cumshots on her glasses, but it ended only with Britney's earth-shaking orgasm.
Conclusion
The America's election process is in the full swing, and with so many controversy going around, it doesn't surprise me that there's a parody about the most controversial candidate – Donald Trump. Evan Stone, who's playing Donald Trump, is a great actor and the main reason why all the goofy parts are so entertaining. Amazing cast was picked for this movie, with Amber Stone leading the female cast, but I believe that you'll love all the models in this movie. It was produced by one of the leaders in this business – Hustler, which means that you'll be able to stream and download the movie from their site in amazing HD quality.
Details
Release date
Directed by
Produced by
Running time
Release date

15 April 2016

Directed by

Steve Matts

Produced byHustler Video
Running time

120 min.

Country

U.S.A

Language

English

Awards