Shy Girl, shy girl, don't lie to me...
Alyce Anderson was born in February 23, 1999 in California, USA. Since her father was a soldier, her family often moved from town to town. It made an impact to her personality because she couldn't keep friends for long and she became quite shy. It's a bit odd for a shy girl to start career in the adult industry, but we like the fact that she did. She picked her adult industry alias, Alyce Anderson, because her hade made her look like Alice in Wonderland. Add her blue eyes, nice tits and fit body on top of that and it's clear why she has the potential to become a real star in the future. She lost her virginity when she was 15 years old. She only had sex with 7 men before entering the porn world and that's why her first scene looks like she isn't much experienced. But, as the time passes, we're seeing more and more talent from this Californian beauty.
Mmm... Tasty!
Even if she had recorder her first scene in September 2017, she made over 10 videos in only a couple of months, which is a proof that this girl is here to work hard. Those are mostly boy/girl scenes, plus one threesome with Brooke Haze. One of her fetishes is the taste of semen, which she allows swallowing so I think there's a nice potential here to excel in some wonderful porn categories.  Another one of her fetishes is when her partner cums in her pussy, especially if they both cum at the same time.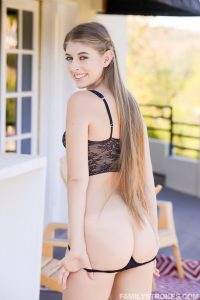 Her favorite pose is doggy, but she says it actually depends on the size of the dick, because she likes to feel it whole inside her. This young girls surely has excellent predispositions for porn career, especially because she likes exploration in sex, which means we're about to see much more from her in the future.
Walking and Exploring...
...Are the things she likes to do in her free time. She likes to hang out in Hollywood, loves nature and listens to hip-hop music. Her favorite food are pizza and mozzarella sticks. She likes cinema and movies and says for herself that she is just an ordinary girl next door. She fantasizes about fucking Johnny Depp and she'd like to do a lesbian scene with Blake Lively scene if she ever decides to explore lesbian category. We can hardly wait to see more of her!
Date posted: February 8, 2018