Early Life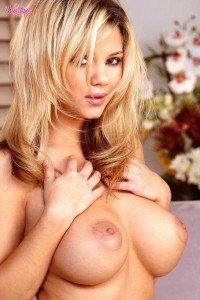 Ashlynn was born in Choctaw, Oklahoma, on August 14, 1985. For nine years she was a cheerleader. Before her porn career that started in 2006, she worked at a used car dealership near Oklahoma City. Brooke has stated that she is "genuinely bisexual".
Porn Career
Brooke's first contact with porn industry was during a photoshoot for an Oklahoma-based magazine. Afterwards she worked as a stripper, but it was for a brief time only. In 2007, Ashlynn became an exclusive contract performer with
New Sensations
/ Digital Sin in and two years later she had her debut in
Ashlynn Brooke's Lesbian Fantasies
. In 2010, she had her first child, which led to her decision to retire from the industry. On her Twitter page she introduced herself as "Ashley. Formerly known as Ashlynn Brooke" stating that she will no longer perform and that her former website will remain without updates.For a brief time, Ashlynn used to star and produce female-only porn films, but didn't really worked for her to be part of these features because it wasn't "real lesbian" thing at all. In 2011, CNBC listed her as one of the
12 most popular stars in porn
. CNBC also noted her role in Piranha 3D, mentioning her current focus on directing, including porn parody versions of Little Red Riding Hood and Wonder Woman.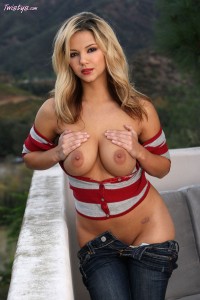 During her career of six years, Ashlynn won many awards including 2007 Adultcon Top 20 Adult Actresses;  2008 F.A.M.E. Award – Favorite Breasts; 2009 AVN Award – Best Continuing Video Series Ashlynn Goes to College; 2009 AVN Award – Best Interactive DVD My Plaything: Ashlynn Brooke; 2009 AVN Award – Best New Series Ashlynn Goes to College; 2009 Exotic Dancer Award – Best Newcomer (Sherwin Escurel).
Personal Life
Even before she had her child, Brooke already knew that she would retire from porn. She knew that she will no longer continue filming and have child at the same time, stating that she was beyond happy with her baby and it was as if though "God just reached down and literally removed me from 'that world' and put me back into the 'real' one. I knew that from that point on my life would be peaceful, happy, and full of love again!"Ashlynn has breast implants and several tattoos including dice on her left bikini line, tiny lizard on the right of her pubes, kneeling fairy on the small of her back, an open circle around her left ankle with star on top and a small tribal top on her right foot. Also, her navel and her clit are pierced. Ashlynn, who is currently known under her married name, Ashley Rogers, is a published author (her book title is
Taking Life by the Balls
)
, but also works as a relationship and sex coach, mentor, and hypnotherapist.
Date posted: September 29, 2016