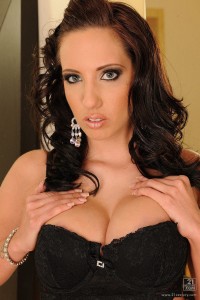 Kelly Divine the type of grown woman who doesn't look like a top model, but who could fuck your brains out. She has massive boobs, wide hips, big ass, and meaty legs, and she's just perfect for a real man who wants a woman that can take some serious dick without complaining. Kelly is 31 years old, she was born in Pennsylvania where her family made her attend catholic school. Ever since her school years, she noticed that her sexuality was too big to be confined between the walls of a church, so she broke free and explored herself a little. Thanks to that we can now watch her sexual beauty in hardcore adult movies. And there are many things worth watching when it comes to Kelly Divine. She's a tall woman, 5 feet and 8 inches or 173 cm, she has green eyes and brows hair, and at the beginning of her adult career she augmented her boobs to 36F. But her body is not the only secret of her success. Her explosive sexuality is what made her famous. Read more about her journey to porn glory in the following paragraph.
Kelly's Career and Achievements
At first, Kelly was just a swimsuit model, attending local events as a non-adult hotsess and posing for local magazines. However, her online modelling resume was discovered by several LA porn agencies, who kept contacting her with gig offers. She used to turn them all down for about a year, until 2007 when she decided to take a leap of faith in the world of adult entertainment. And she was right to do so! She was 23 at the time and in just a couple of years, she went from local model to internet sensation. She was so popular that she launched two official sites for her fans, and got featured in all kinds of adult related shows, including "Night Calls" and "In Bed with Jessica Drake", produced by Playboy Radio. Although she's mostly featured in Big Boobs and Big Ass porn, she's very popular for her Blowjob scenes, winning the Cock Sucker Supreme award at the Miss BangBross 2013 gala.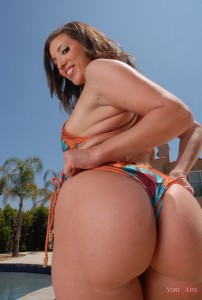 However, her kinkiness might be the secret of her success. Although she used to be a catholic girl, she does some of the most extreme sexual things in front of the camera. Blowjobs, lesbian scenes, or even anal became too boring for Kelly. She began performing in Bondage porn, which slowly lead her to double penetration and even fisting scenes. Kelly has been featured in over 350 scenes during her 9 years in the business. Amongst the big studios she worked with you will find
Vivid Entertainment
,
Zero Tolerance
,
Brazzers
,
Penthouse
 and
Reality Kings
.
From Porn Star to Stripper
Although most of the porn stars start their career in adult entertainment as exotic dancers, Kelly didn't follow the same path. After graduating her cosmetology studies she worked as a cosmetician for a while, prior to her modeling cater and porn debut. While in porn, many of her colleagues tried to convince her to start stripping. She had her stripping debut in 2010 and now her shows are attended by hundreds of fans. Besides that, she's working on her acting career. However, things are going slow at the moment, with only several gigs in pilots and not so popular series. She wants to follow the examples of
Sasha Gray
or Katie Morgan who made a break through into mainstream acting. We wish her luck but we hope she won't give up on porn like Sasha did.
Date posted: August 22, 2016