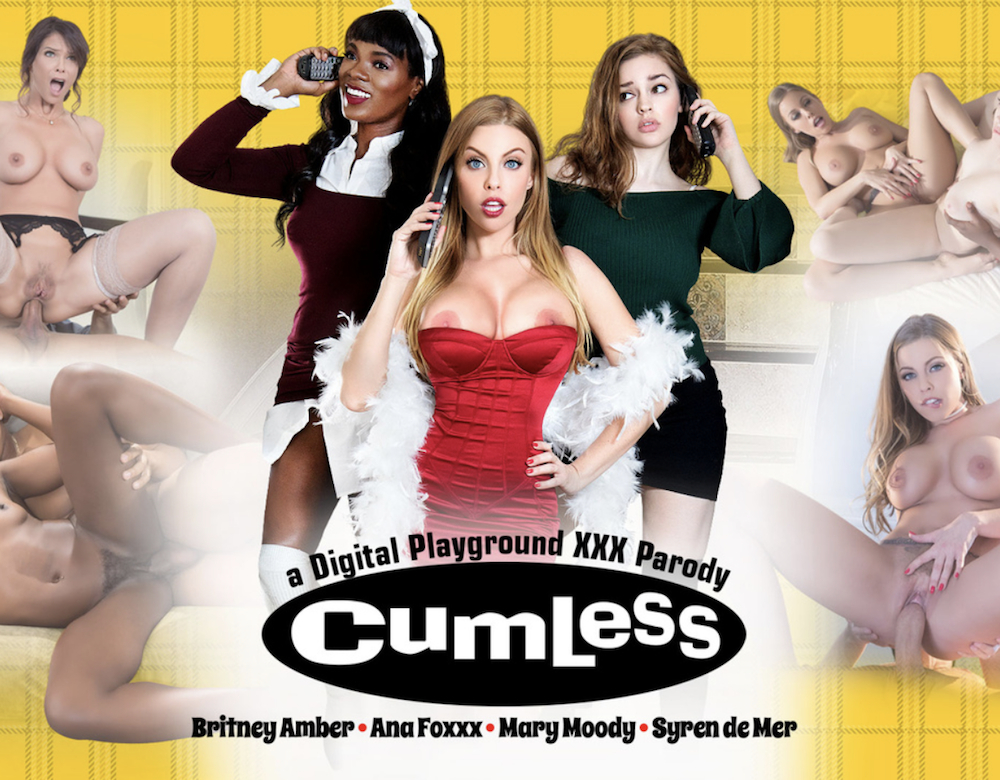 Studio
Based on
Clueless (1995) - Teen film/Romance
Starring
Britney Amber, Ana Foxxx, Mary Moody, Syren De Mer, Justin Hunt, Ricky Johnson, Tommy Gunn
StudioDigital Playground
StarringBritney Amber, Ana Foxxx, Mary Moody, Syren De Mer, Justin Hunt, Ricky Johnson, Tommy Gunn
Based on

Clueless (1995) - Teen film/Romance
Do you remember a classic teenage comedy/drama from the 90's called Clueless that stars beautiful Alicia Silverstone? Or the spinoff series of that movie with cute Rachel Blanchard? The story revolves around the popular and rich high school student Cher and her best friend Dionne, and the new girl in school Tai who's the exact opposite of these two. In the Digital Playground's parody we get to see these gorgeous girls, but since this is a porn parody the girls are now 18+ year old and horny college students. Britney Amber is the popular blonde Charlotte, Ana Foxxx plays her best friend and Mary Moody is the sexy newcomer who needs a lesson or two on how to become one of the most popular girls on the campus. Syren De Mer is the slutty professor who hooks up with her colleague Tommy Gunn thanks to the great matchmaker Charlotte. This parody is made up of four steamy hot hardcore scenes that offer various types of hard action, including lesbian threesome, deepthroating, pussy licking, big tit worshiping and more. There are both funny moments and top-notch sex scenes in this movie as we're used to seeing in Digital Playground comedy/drama parodies.
The Movie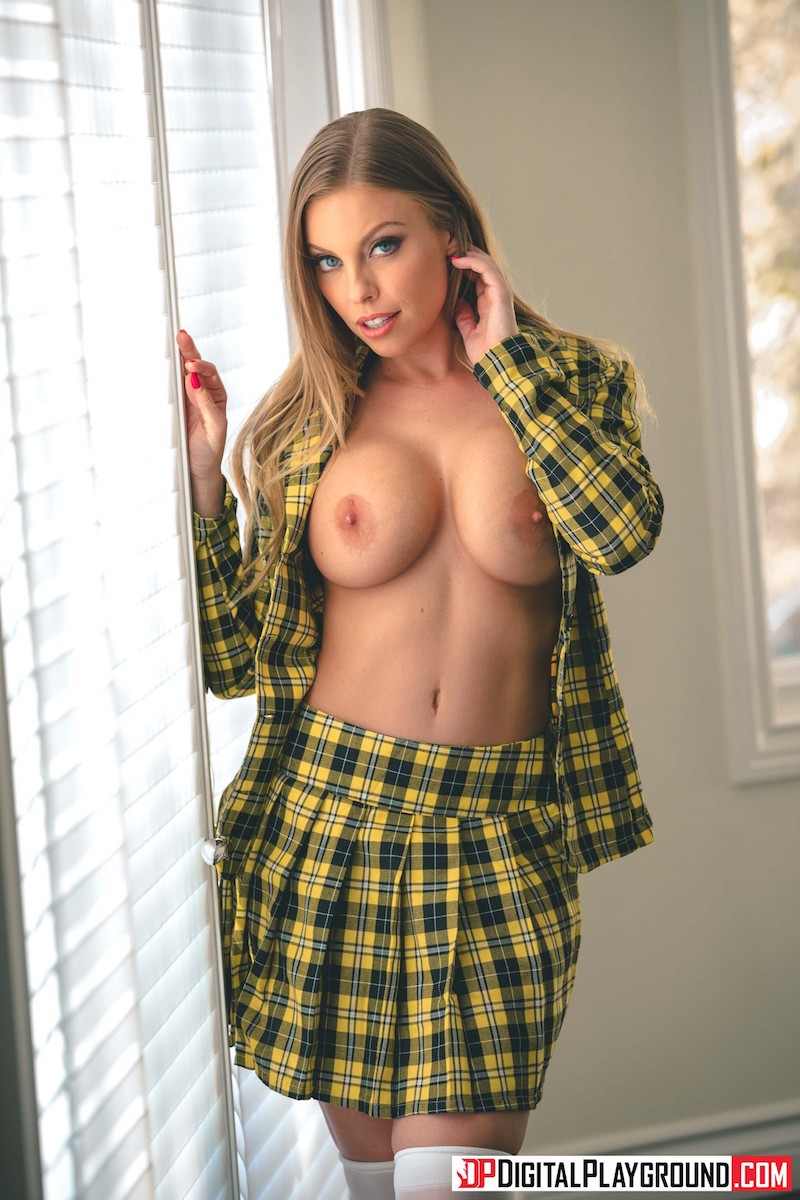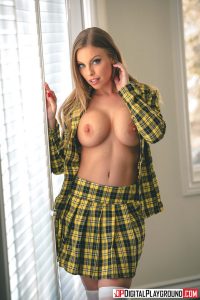 Charlotte is rich, popular and beautiful, but it seems that she's also unhappy with her love life. She's a virgin, and after her best friend Deeana loses her virginity she can't stop thinking about doing it with her stepbrother Joseph, the guy she's had a crush on for forever. Busty Britney Amber is playing spoiled girl Charlotte, and Ana Foxxx is her hot friend Deeana. Unlike the Hollywood movie, this one is about college girls who are over 18. However, it looks like they have problems like real teens – finding true love and getting more and more popular at school. With such hot bodies it seems that this shouldn't be a big problem for them. When it comes to finding the perfect guy to lose virginity though, a girl such as Charlotte could definitely be in trouble and we can see that in Cumless: A DP XXX Parody.
The Cast
The cast is as amazing as you'd expect from a Digital Playground's porn parody. Besides two main characters Charlotte and Deeana you'll find the newbie Mary Moody who's been shooting porn for a short period of time, and a porn veteran Syren De Mer, who looks really hot as a slutty professor in a tight pencil skirt. There aren't any special effects here, so the focus is on acting and fucking, which is pretty decent. Lesbian threesome with all three naughty coeds is probably the hottest part of this movie, but I'm sure you'll love the rest of it if you like one-on-one boy/girl scenes.
The Scenes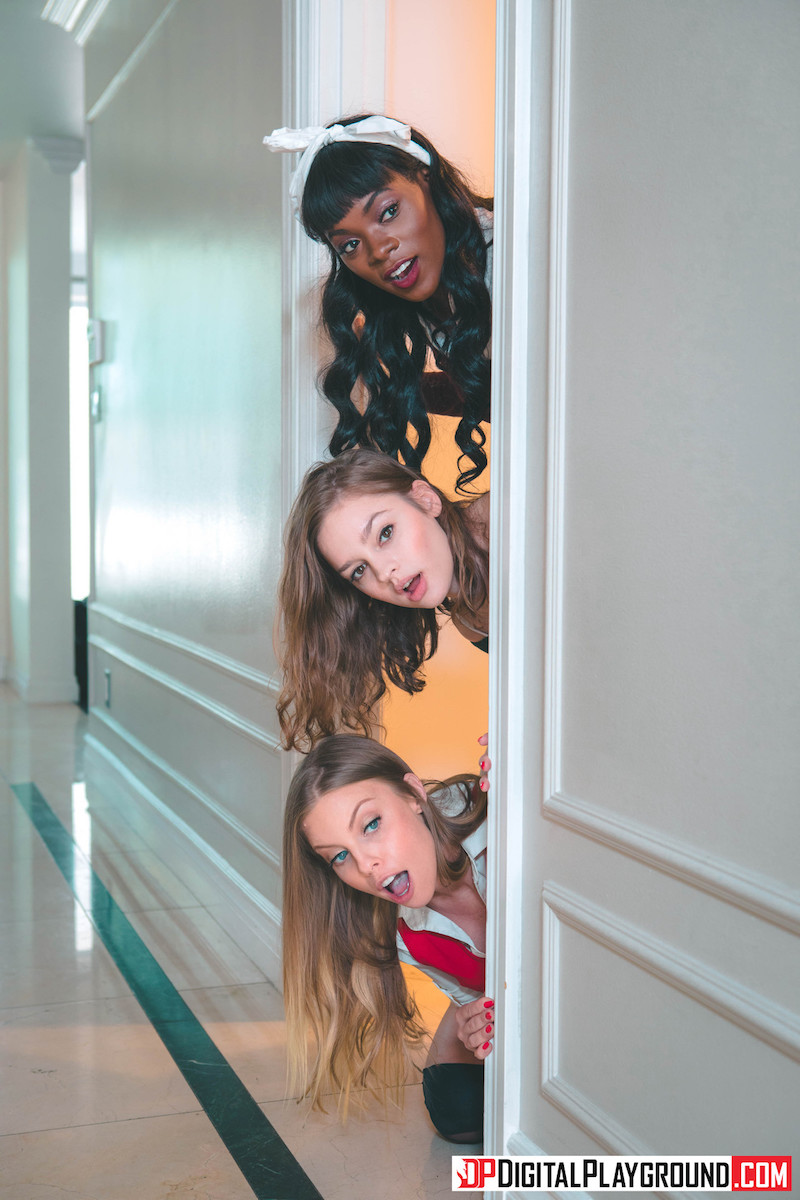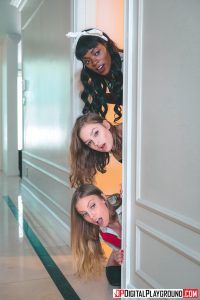 In the opening scene we can see the whole crew of 21-year-old rich and popular people, including Charlotte and Deeana and her boyfriend Mason (Ricky Johnson), as well as Charlotte's new stepbrother Joseph.
Charlotte and Deeana are virgins. Deeana's boyfriend has been patient for a year, but he can't wait any longer, so in the first scene they decide to do it for the first time. Ana Foxxx is known for her fit body and her tight ass, and Ricky is known for his big dick, so this scene is definitely one of the hottest and a great start of this sexy parody. There's some muff eating, deepthroating and pussy plowing, and even though Ana doesn't look like a virgin, the scene is still pretty entertaining. They end it with a big facial.
The new girl Mary Moody joins the crew. She needed friends and a makeover and during the process Charlotte and Deeana start liking her. As a matter of fact, they like her so much so they start making out with her, which turns into a steamy lesbian threesome. Marry is so cute, her booty is amazing and she definitely looks like a 21-year-old. There's some pussy eating and rimming in this scene and the girls really seem to enjoy this type of fun, especially Britney.
Girls' professor Mr. Hall (Tommy Gunn) is annoying them, so they decide to set him up with their slutty teacher Mrs. Geller (Syren De Mer) and of course they're successful. Syren is really good at giving head and that makes Mr. Gunn really happy. After some hard pussy plowing, there's some hot anal banging (reverse cowgirl style), and they end it with a big creampie.
The last scene is all about Charlotte and her stepbrother Joseph. She finally decides to make a move and loose her virginity, so she uses her sexy body to seduce him. He fucks her with her fingers first, preparing her for the real thing. She wants to feel his huge cock inside her mouth first, so she deepthroats him. They fuck on the stairway, which was not the best option if you ask me as the camera couldn't catch the whole action properly. Also, the cumshot on her ass wasn't the best choice, but it was still pretty hot thanks to sexy girl Amber.
Conclusion about Cumless XXX Parody
Clueless was a good movie for teenagers in the 90s, and I'm glad to see that Digital Playground made a parody of this movie over 20 years later. Even though only Mary Moody looks like a 21-year-old and Ana and Amber don't look anything like virgins, this movie is pretty entertaining, especially if you loved the Clueless movie. There's a bit of lesbian action, hard pussy banging and even some anal. I wish there were more of those hot hardcore scenes in this movie, but it looks like four of those were just enough to make this parody look great.
Details
Release date
Directed by
Produced by
Running time
Release date

February 21, 2018

Directed by

-

Produced byDigital Playground
Running time

1h 53min

Country

USA

Language

English

Awards

-