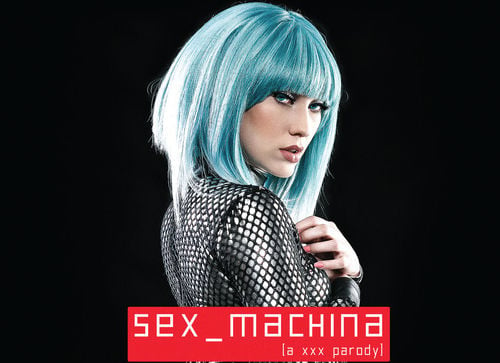 Studio
Based on
Ex Machina (2015) directed by Alex Garland
Starring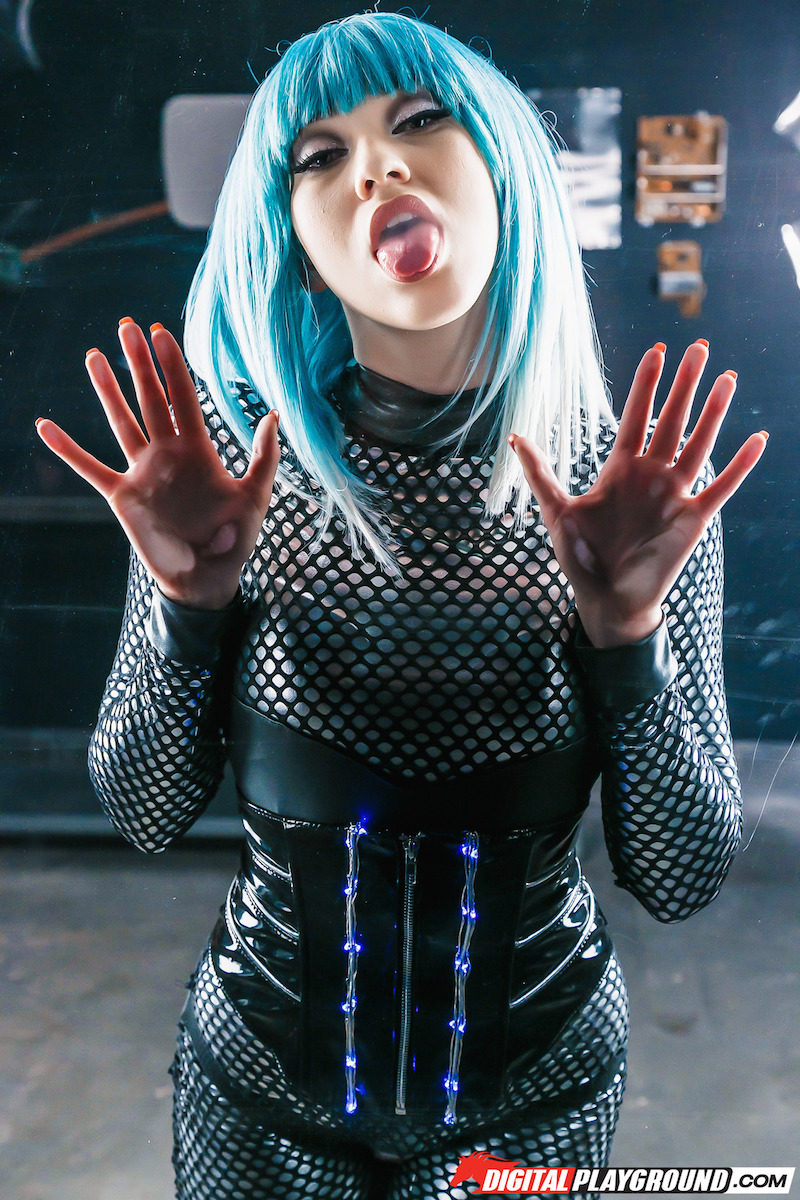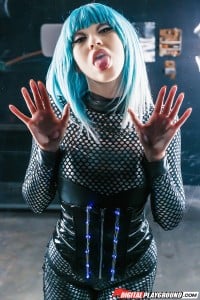 Robots are ready to take over! I'm not talking about The Terminator, even though the story involves artificial intelligence and human-robot relationships. This time the robots are taking care of the entertainment and hardcore fun, and it looks amazing. The movie I'm talking about is called Ex Machina, with Alicia Vikander in the leading role. It was simply made to be spoofed and pornified, and that's exactly what one of the most notable porn studios Digital Playground did in May, 2016. They add one letter to the title, and whole lotta nasty hardcore action to the story and made it a huge XXX blockbuster. Two contract girls Aria Alexander and Eva Lovia lead the female cast, and along with a few amazing porn stars make this parody so entertaining. The movie is a mix of erotic, hardcore and fun, which is, in my humble opinion, the perfect combo. Variety in action is present, just like in all the parodies from DP we've had the chance to enjoy. You'll find some lesbian sex, threesomes, DP, messy facials and lots of teasing in between. Everything is wrapped up with some top-notch (at least for porn industry) acting, especially by those more experienced porn stars such as Eva and Aria.
About The Parody
Even though the idea of the mainstream movie is not unique, it was told differently, which is exactly what all the fans of the genre found surprisingly refreshing. Ex Machina isn't about action and effects, which we're used to see in AI and robot related movies, but it's more about showing what's like to be a human. Sex Machina, a hardcore parody, follows that story pretty much through the entire movie, but adds some action we're all here for – the hardcore sex. The movie is made by one of the most notable adult film studios, so you can expect only top notch sex and the hottest porn stars of today. There might not be any sex machines in this movie, but there are some vibrators and toys and loads of steamy hot trysts that we're used to seeing in DP's movies. This movie is filmed by a studio that brought us spoofs such as Anchorwoman: A XXX Parody, Kill Bill: a XXX Parody and Pirates, which should tell you how amazingly it's produced. The only thing that fans didn't like about this movie is that there are only five girls in the sex scenes, but that's only because the Hollywood's counterpart has a small cast, and this parody pretty much stays true to the main story and characters. The story starts "when a young hacker wins the trip of a lifetime to a secret facility owned by one of the world's tech geniuses" and that's where "he learns important lessons about his own humanity" thanks to a beautiful robot girl.
There aren't many hilarious parts, because this movie does not spoof a comedy, but a very serious movie. However, there are several amazing sex scenes that cover many categories of hardcore porn. You'll be able to see one-on-one boy/girl scenes, BJs and deepthroating, lesbian and rimming, FFM and FMM threesomes and plenty of cumshots. There's some top-notch acting shown by the leaders of this movie – Aria and Eva, but in my opinion all the girls contributed equally to this movie's great success.
Scenes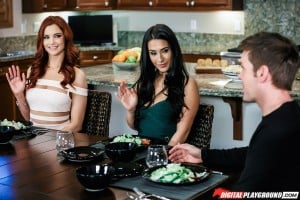 There are only five scenes in this movie, but they surely offer everything you need from a porn movie. Threesomes and lesbian sex is only a couple of nasty niches that are covered by their scenes. There isn't any stuff such as BDSM or interracial, but you'll see some anal and double penetration, though.
The opening scene shows young and brilliant guy called Caleb (Ryan Ryder) arriving at a private mountain retreat, where he's going to participate in a strange and fascinating experiment in which he must interact with a hot robot girl. But first, he makes acquaintances with a sexy hostess played by Mia Lelani, a sexy cougar that gives this guy a nice treat he's been waiting for a long time.
The story moves forward and Caleb meets the sexy robot girl for the first time. However, it's not her time yet to have some fun with this young fellow. First we get to see two world class sluts – Eva Lovia and Jayden Cole, giving this guy a demonstration of a nasty lesbian intercourse. Plenty of fingering, sucking, rimming and dildo play can be seen in this scene, and they both end up cumming after some naughty scissoring.
Next scene is all about the main girl – Aria Alexander. She represents "the world's first true artificial intelligence", but now she's taken advantage by the owner of the company that created her, played by Alec Knight. This is probably the sexiest part of the movie, and Aria looks like a real eye candy.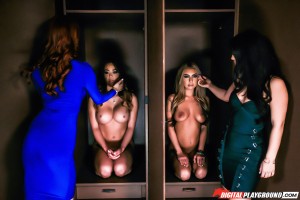 Fourth scene gives us the threesome and even more than that. One of the robot girls – Kat Dior got banged this time by three horny guys. The scene starts as a threesome with Kat Dior, Ryan Ryder and Tommy Gun, and that threesome is the nastiest part of this movie. It's because soon after she prepared their cocks for sweet and hard sex, they started spreading her ass cheeks and banging her in the backdoor. When she got ready, they started banging her in both holes, making it look like the perfect double penetration action. Unfortunately, they got interrupted by the CEO of the company and his assistant Mia Lelani. They look super thrilled, but as they don't have much time, she only gives him a sloppy blowjob, which we get to enjoy from his point of view as the scene is shot mostly POV style.
Perhaps the third scene should have been the highlight of this movie, but I believe that they saved the best for the last. In the fifth scene we get to see the two hottest girls in the movie – Aria Alexander and Eva Lovia in steamy threesome that offers the mix of lesbian and hardcore boy/girl sex. You can never go wrong with these two amazing hotties, and that's why I loved this scene the most. The robot girls got saved from the evil CEO by the young fellow Caleb, and these two girls had to thank him for being so brave. They gave him a double blowjob and let do whatever he pleases. He fucked them alternately, and they sucked each other's clits in the meantime. If you ask me, that's exactly what every FFM threesome should look like.
Conclusion about Ex Machina – XXX Parody
People who loved Ex Machina will definitely enjoy every second of this xxx parody, because this movie fallows the mainstream counterpart the entire time, and the acting is pretty good, too. It's because the cast looks amazing, as well as the production of this sexy parody. You'll find both erotic and nasty segments, including lesbian, threesomes and even double penetration. Eva Lovia and Aria Alexander made this movie look as hot as ever, and I really enjoyed all their sex scenes. The movie is already available (Exclusively) on Digital Playground's site, so if you want to see why it's so great, you can watch it and download it in 1080p HD quality.
– Use the link below to join Digital Playground One Month for only 

$19.95

(33% OFF)
Join DIGITAL PLAYGROUND >>
Details
Release date
Directed by
Produced by
Running time
Release date

05-12-2016

Directed by

N/A

Produced byDigital Playground
Running time

2h 48min

Country

U.S.A

Language

English

Awards