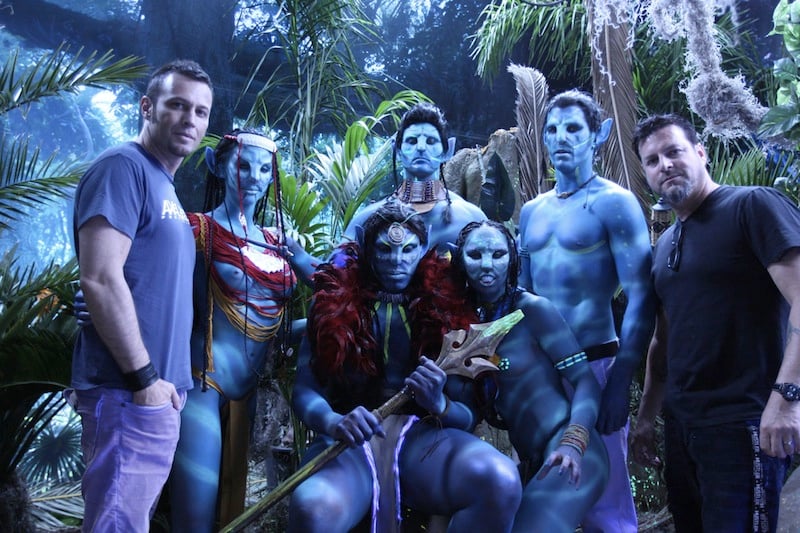 Studio
Based on
Starring
Evan Stone (Colonel Quarich), Danica Dillan (Trudy), Nicki Hunter (Grace), Eric Swiss (Norm), Chris Johnson (Jake), Misty Stone (Nye'tiri)
StudioHustler
Starring

Evan Stone (Colonel Quarich), Danica Dillan (Trudy), Nicki Hunter (Grace), Eric Swiss (Norm), Chris Johnson (Jake), Misty Stone (Nye'tiri)

Based on

Avatar by James Cameron
Another Axel Braun's parody
This Ain't Avatar XXX is another Axel Braun's parody of Hollywood's blockbuster, produced by Larry Flint of the famous adult studio – Hustler Video. These spoofs were originally proposed as a joke by Axel, but after the success those movies had had, Hustler and Braun began serious discussions about the creation of an Avatar parody. The movie takes place after the end of the mainstream counterpart and the sex scenes are shown through video logs before and during the original Avatar.
There are some things to know before watching – you need to find those blue female characters attractive while doing it, because three of the five scenes involve at least some of them (fun fact – the dicks are not blue) and the story is pretty weak, so you in that sense you shouldn't get your hopes up.
The Story
The first scene takes place on the ship where Colonel Quarich (Evan Stone) explains why they actually came to the planet Panswhora and what's viagratanium. Colonel asks Trudy (Danica Dillan) if she's willing to be his eyes on Panswhora and gives her the blue pill. Then he tears her top off and the action starts – she drops on her knees and gives him a sloppy blowjob with some nut sucking, then gets on top of him in reverse cowgirl and classic cowgirl position, after which she gets on all four for some anal pounding. After riding him some more (anally) she received a load on her mouth and tits.
In scene two Grace (Nicki Hunter) and Norm (Eric Swiss) were left stranded in the forest when Jake ran after Nye'tiri and that's when Grace saw an opportunity to seduce Norm. The scene takes place in the jungle and the performers wear heavy makeup. After a short time sitting there alone, they start kissing and groping and then he stands up so she can give him a proper blow. First she turns around so he can do her from behind, then sits on him in reverse cowgirl position for a ride and a few minutes later she is on her knees getting a facial. The scene is just average, nothing special there.
In scene three Grace is up again, but this time without the makeup, with Jake (Chris Johnson), on their ship. When the Avatar capsule malfunctioned, Grace had to try to revive Chris and use the emergency protocol – including some blowing and hand action. There was also some 69 satisfying, which led to another hot fucking in various positions, both vaginally and anally, with cum dropping on her mouth and hand.
Scene four takes place on Panswhora, Jake and Nye'tiri (Misty Stone). Alone in the Willow Glade, they finally have some time for themselves in the dark of the jungle. Nye'tiri wants to show him the affection by intermingling their hair braids, but Jake has a different approach of doing it – he pushed her head down so she can blow him. The sex in this one was good, the cowgirl, reverse-cowgirl and from behind, ending with a cumshot delivered to her face and mouth.
The last scene shows us who Na'vi really are, a tribe of pervert, orgy-loving creatures. The orgy includes Chanel Preston, Misty Stone, Juelz Ventura, Lexington Steele, Dale DaBone, Chris Johnson and several others. There isn't much of a story, but apparently Juelz Ventura is a human slave of the natives. The sex is good and each of them contributes with their performing skills.
Interesting stuff
The first ever adult movie made specifically for 3D TV
The Na'vi are referred to as Na'bi, the planet Pandora was renamed to Panwhora, and instead of being after unobtainium, the humans are after viagratanium.
Summary
Everyone hoped this movie was going to be a blast, but besides the effort they put in costumes and make up and some fine sex in most of the scenes, it doesn't have much to offer in terms of story and it makes you fast-forward at some point. 3D is done in old-style way which doesn't give much of experience, but it's the first movie in 3D ever, so in that sense it should be commended.
Details
Release date
Directed by
Produced by
Running time
Country
Language
Awards
Venus Award 2010 - Special Jury Award Movie and Film / AVN Awards 2011 - Best 3D Release / XBIZ Awards 2011 - Best Art Direction / XBIZ Awards 2011 - Marketing Campaign of the Year
Release date

September 2010

Directed by

Axel Braun

Produced by

Larry Flint

Running time

129 minutes

Country

U.S.A

Language

English

Awards

Venus Award 2010 - Special Jury Award Movie and Film / AVN Awards 2011 - Best 3D Release / XBIZ Awards 2011 - Best Art Direction / XBIZ Awards 2011 - Marketing Campaign of the Year