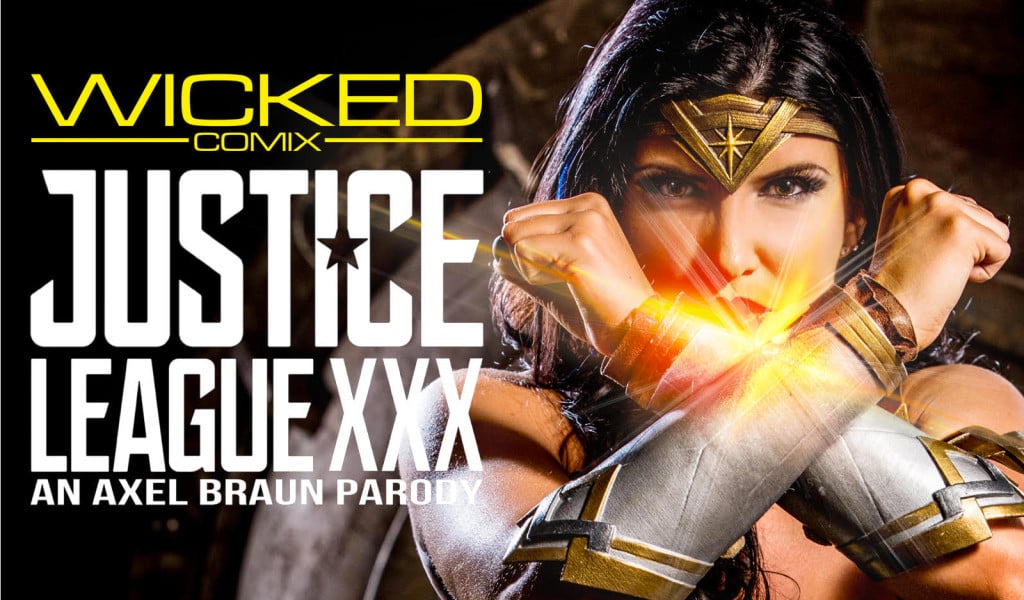 Studio
Based on
Justice League 2017 ‧ Fantasy/Science movie
Starring
Katrina Jade, Jessica Drake, Romi Rain, Lena Paul, August Ames, Jessa Rhodes, Dana Vespli, Charlotte Stokely, Aiden Ashley, Xander Corvus, Tyler Nixon, Ryan Driller, Derrick Pierce, Donnie Dakota
StudioWicked Pictures
StarringKatrina Jade, Jessica Drake, Romi Rain, Lena Paul, August Ames, Jessa Rhodes, Dana Vespli, Charlotte Stokely, Aiden Ashley, Xander Corvus, Tyler Nixon, Ryan Driller, Derrick Pierce, Donnie Dakota
Based on

Justice League 2017 ‧ Fantasy/Science movie
Justice League XXX An Axel Braun Parody
Justice League isn't even out yet, but fans of DC comics are already able to check out this movie's porn parody. It was produced by Wicked Pictures and directed by award-winning director Axel Braun. As always the cast looks awesome and all the characters are there, including the sexy Wonder Woman, Batman, Superman, Green Lantern, The Flash, Batwoman, Catwoman and many other popular DC comic's heroes and villains. The nasty villains want to destroy the world, and the heroes need to join their forces and fight… I mean fuck their way out of that madness and save the day. This is a high-budget parody that features some of the most popular pornstars in the world. Costumes, settings and directing is superb and as you'd expect from The King of Parody there are plenty of funny and entertaining moments. It also has all you need from a porn movie, including anal and gangbang action, so I'm sure you wouldn't want to miss this great flick. It's a bit different than the Hollywood's counterpart when it comes to movie characters and the whole story of the film, but you can still expect a lot of action in this Axel's newest masterpiece.
A masterpiece that has all you need from a porn parody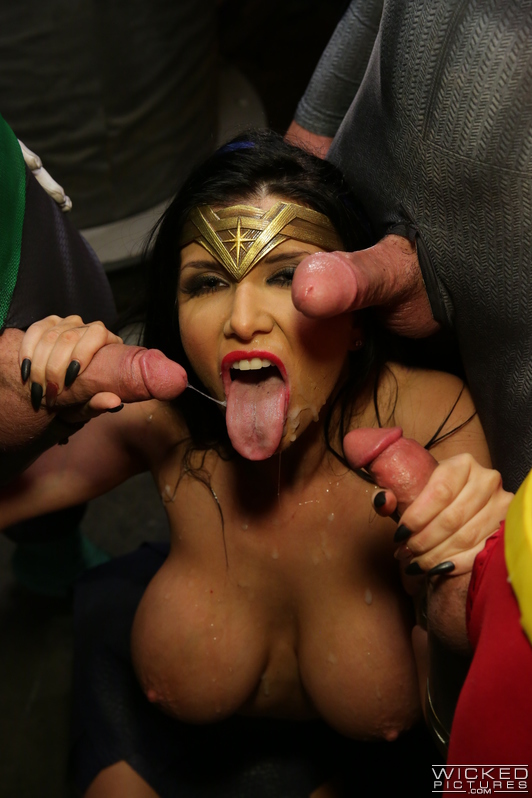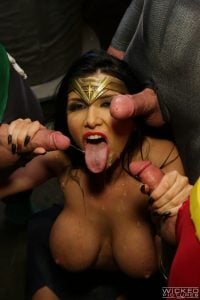 Once again Axel Braun has created a parody that could amuse both fans of comics and hardcore porn and all the guys and girls that love watching people in costumes fuck one another. This latest project of his spoofs one of the most anticipated movies in 2017 called Justice League. The movie tells us that all superheroes from the DC Universe have to team up if they're to save the world from the greatest threat that we've ever seen. Mr. Braun has created his "DC AxelVerse" where the heroes are united "in more ways than one in this epic Wicked Comix mega-production." The main character is obviously Wonder Woman played by gorgeous busty MILF Romi Rain, who got involved in most of the League's action. Honestly, I expected to see some big guy as Aquaman who could destroy some young girl's pussy, but that didn't happen in this movie unfortunately. You can, however, find Ryan Driller as Superman once again, Derrick Pierce who was awesome as Lex Luthor and Xander Corvus as Green Lantern who was the first to get nasty with the slutty Wonder Woman. Some characters that you won't be able to see in the Hollywood's movie can be seen in this parody and they fit this story perfectly. Jessa Rhodes plays one of them – the Knockout, and she absolutely nailed it. The whole cast is just great and one thing is sure – you can't go wrong with Axel Braun's parodies.
Everything you need from a porn parody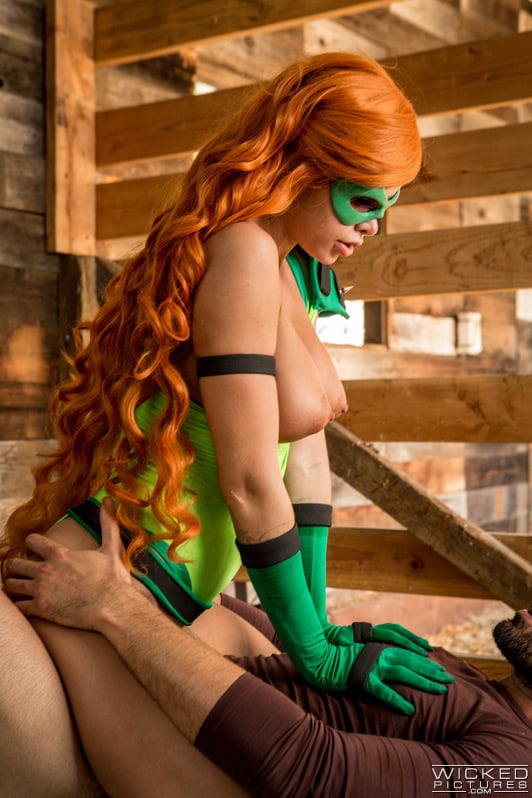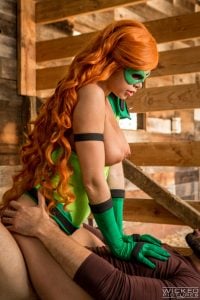 This flick has everything you need from a porn movie and a parody. It has five hardcore scenes connected with an entertaining story and it's something you could watch multiple times without feeling bored. Lesbian sex, hardcore one-on-one scenes, sex with costumes, threesomes and group scenes, anal, facials and blowjobs – this movie has it all.
In the first scene we see Wonder Woman (Romi Rain) and Lefty (Dana Vespoli) sparing in the ring. The fight turns into making out, but the Green Lantern (Xander Corvus) shows up looking for Wonder Woman trying to recruit her. They chat for a few seconds, but we all know that they're going to fuck like crazy after that. Their costumes stay on the whole time. First Wonder Woman takes his cock down her throat as deeply as possible and then gives him some titty-fuck. After some standing doggy-style they switch to reverse-cowgirl with anal, and there's a lot of ass fucking all the way till the cumshot. She got her pretty face covered in cum!
Later on we find Superman (Ryan Driller) working on his farm and drinking distilled kryptonite that keeps him powerless. Slutty villain Knockout (Jessa Rhodes) tries to take Superman to the dark side, so she uses her pussy and big tits to persuade him. She also deepthroats his cock before riding him without taking her costume off. At the end Superman drops his super-load of cum all over her tits and passes out.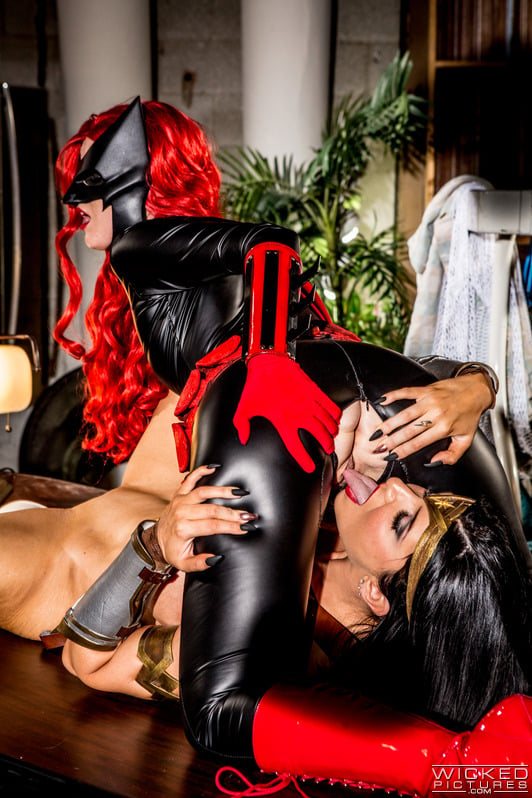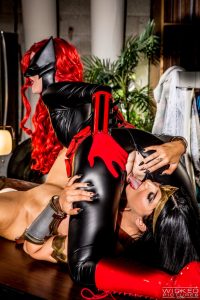 After failing to recruit Batman for the Justice League, Wonder Woman tracks down Batwoman (Charlotte Stokely) and tries the same with her. However, this time she's much more persuasive. Batwoman clearly likes women, so they start making out in the dark. A lot of pussy eating and ass licking was involved and this time Romi Rain loses most of her costume so we can enjoy her sexy body, which was in the spotlight. It's an extremely hot lesbian encounter!
In the fourth scene we get to see Lex Luthor (Derrick Pierce) who's on a talk show hosted by gorgeous Cat Grant (Jessica Drake). Once the show is over, Lex, his assistant Mercy (Katrina Jade) and Cat go to the backstage. The interview went well, so they're all in a good mood, and obviously they start a steamy threesome that includes pussy licking, cock sucking and kissing. Lex fucked both girls equally before letting them share his jizz. Girls kissing with cum on their face is probably the hottest part of this scene.
In the last scene Bruce Wayne (Giovanni Francesco) suits up and invites The Flash (Tyler Nixon) to join the good guys. Wonder Woman and Green Lantern show up at his den attempting to finally form the Justice League. However, the guys first need to satisfy this insatiable slut called Wonder Woman. Batman starts fucking her throat first, and then The Flash and Green Lantern join the party. Romi has no problems satisfying those three cocks at the same time. Sadly, no DP or anal here, but at the end Romi receives three big cumshots all over her face and it was the perfect ending.
Superman and Batwoman show up at the end, but we don't get to see the Justice League fighting the bad guys in this movie. Batman and Superman start a fight right before the movie ends, so hopefully there will be sequel, which I'm sure will be just as good as this one. I'd like to mention the performers that had the non-sex parts in this movie, and still contributed greatly. We can see August Ames as Lashina, Dana Vespoli as Lefty, Lena Paul as Lana Lang and Aiden Ashley as Catwoman. Indeed, this movie has a stellar cast.
Conclusion about Justice League XXX
Justice League is something all parody fans would want to see and there are many reasons for that statement. First, the movie has awesome cast led by busty hottie Romi Rain, and second there are all the things you need including lesbian sex and threesome and foursome action. You'll only need to prepare yourself for some funny moments and condoms, which is something that Wicked is known for. Axel Braun did a great job once again and I can't wait to see the next big thing he'll make, which could probably be the sequel to this awesome parody.
Details
Release date
Directed by
Produced by
Running time
Country
Language
Awards
AVN Awards 2018 - Best Parody
AVN Awards 2018 - Best Makeup
AVN Awards 2018 - Best Marketing Campaign
AVN Awards 2018 - Best Special Effects
Release date

October 25, 2017

Directed by

Axel Braun

Produced byWicked Pictures
Running time

150 min.

Country

USA

Language

English

AwardsAVN Awards 2018 - Best Parody
AVN Awards 2018 - Best Makeup
AVN Awards 2018 - Best Marketing Campaign
AVN Awards 2018 - Best Special Effects