Early Life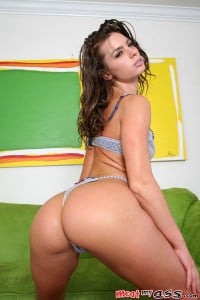 Naomi is a Californian girl, born in Los Angeles on September 25, 1983. She is Jewish and her father was a rabbi. It wasn't until she became a porn star she had sex with women; prior porn she has never had never had such experience.
Porn Career
Naomi started her career in 2005 (age 22). During the six years she was in porn, Naomi performed in over 250 explicit films, a lot of them including lesbian sex. In 2007, she won an AVN for her nomination in the category Best New Starlet of the Year award. She didn't attend the event and didn't accept her award. Naomi has stated that she had other more important things to do than attend an award event and claim her AVN.Besides never being with a woman before porn, Naomi has also never had anal sex. Her first anal scene was in
Naomi: There's Only One
. She stated that thanks to the industry she discovered that she really enjoyed anal sex (just as the fact that she started enjoying sex with women). Naomi was criticized for her body weight; she responded that prior her porn career she used to be slender and athletic. She retired from porn in 2011.
Date posted: September 24, 2016